2021 Topps Now Star Wars Visions Checklist and Details
When you click on links to various merchants on this site, like eBay, and make a purchase, this can result in this site earning a commission.
2021 Topps Now Star Wars Visions represents the first trading cards for the series of Disney+ anime shorts. Releasing to coincide with their streaming premier, the line takes a print-to-order format with a bit of a twist. Rather than one larger set, each episode gets its own group of five cards.
Available through the Topps website for one week (September 23-30), each episode's set costs $19.99. There are discounts for ordering three, five, ten or 20 of the same set but, as of now, there isn't a bundle available with all of the episodes together.
Whatever is ordered during the sales window is what's ultimately printed. Exact print runs will be announced after the sale is done.
The layout is the same for all nine mini sets. Still from each episode are mainly a mix of characters and some action. Backs have a short synopsis of what's going on.
This isn't the first time that there have been Topps Now Star Wars cards. Both season one and season two of The Mandalorian had small sets released after each episode.
2021 Topps Now Star Wars Visions Checklist
Episode 1: The Duel
Print Run: TBA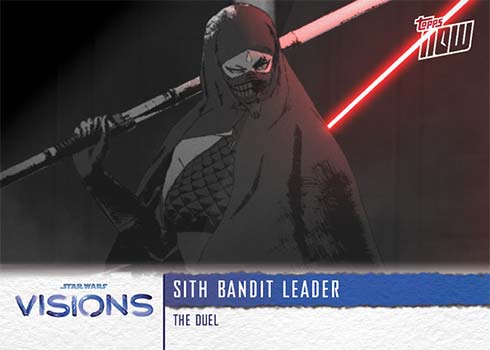 1 The Ronin
2 Prepared for Battle
3 The Ronin, B5-56 & Sullustan Shopkeeper
4 Sith Bandit Leader
5 The Village
Episode 2: Tatooine Rhapsody
Print Run: TBA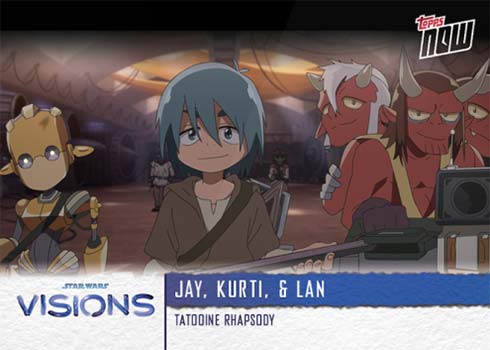 1 Jay Is a Big Dreamer
2 Jabba the Hutt
3 The Band Prepares to Play
4 Jay, Kurti & Lan
5 Boba Fett in Pursuit
Episode 3: The Twins
Print Run: TBA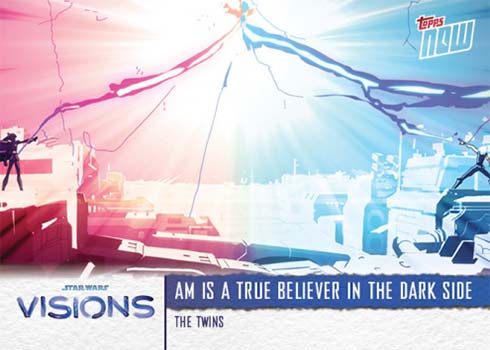 1 Am Enters the Room
2 Am Is a True Believer in the Dark Side
3 Karre Pushes Against the Dark Purpose
4 The Star Destroyer
5 R-DUO Is a Trusty Companion
Episode 4: The Elder
Print Run: TBA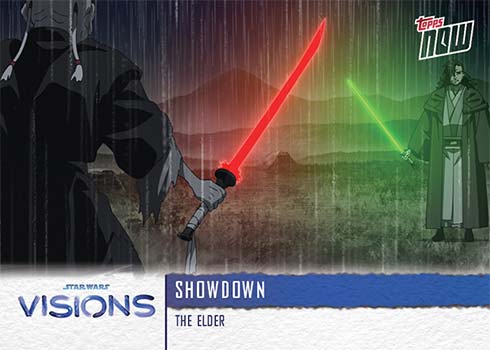 1 Dan & Tajin
2 The Elder
3 Dan & His Lightsaber
4 Showdown
5 The Elder Is Stronger Than He Looks
Episode 5: The Village Bride
Print Run: TBA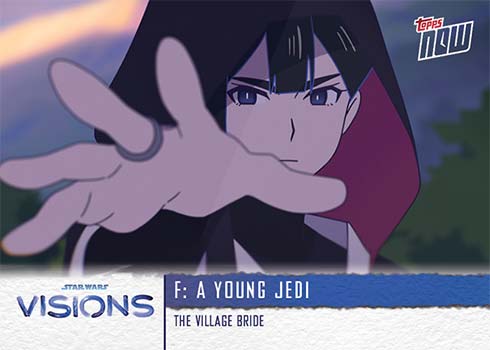 1 F & Valco
2 F: A Young Jedi
3 Saku & the Villagers
4 Izuma
5 Haru & Asu
Episode 6: Akakiri
Print Run: TBA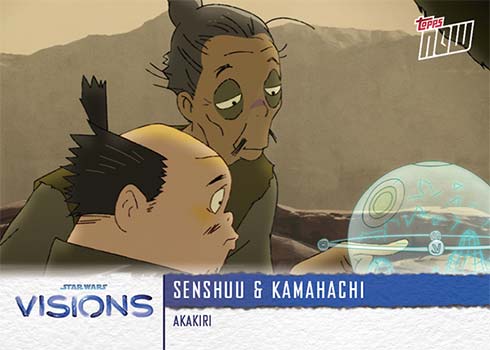 1 Tsubaki & Masago Battle
2 Tsubaki & Misa
3 Masago & His Army
4 Tsubaki: A Jedi with a Dark Destiny
5 Senshuu & Kamahachi
Episode 7: T0-B1
Print Run: TBA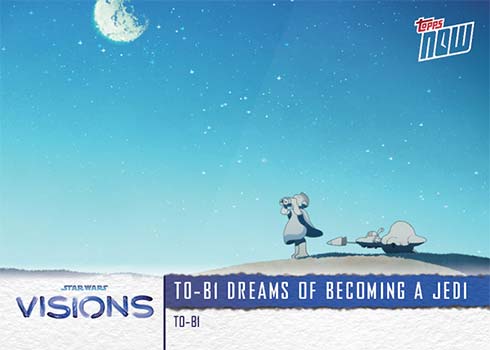 1 The Inquisitor Arrives
2 T0-B1: A Cybernetic Boy
3 Mitaka: A Loving, Protective Scientist
4 Mitaka & T0-B1
5 T0-B1 Dreams of Becoming a Jedi
Episode 8: The Ninth Jedi
Print Run: TBA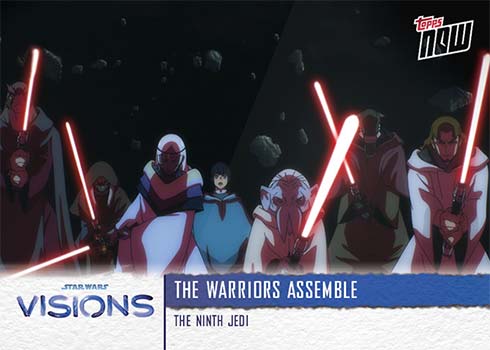 1 Ethan Summoned by Mysterious Jedi Master
2 Zhima
3 The Warriors Assemble
4 Juro & Roden Clash
5 Juro & Kara
Episode 9: Lop & Ocho
Print Run: TBA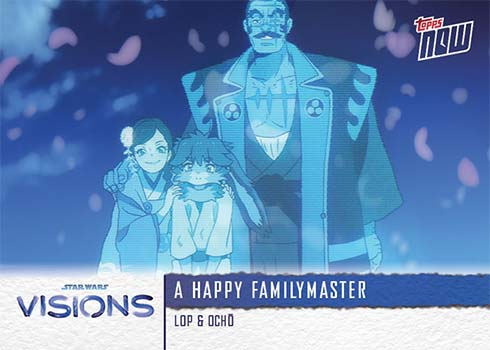 1 A Happy Family
2 Lop Training
3 Lop, TD-4 & Yasaburo
4 Lop & TD-4
5 The Encroaching Empire