2020 Topps Now Star Wars: The Mandalorian Season 2 Checklist and Details
2020 Topps Now Star Wars: The Mandalorian Season 2 trading cards mean that you won't have to wait long for cards from the show's second batch of episodes.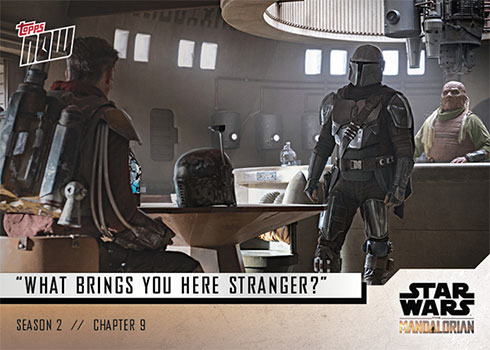 Each week, a new group of five cards will be available on the Topps website covering the latest episode. It won't make for a deep dive into all of the biggest moments and major spoilers may be minimal, but there are plenty of key images and Baby Yoda The Child Grogu.
Cards have a seven-day sales window. When it's over, cards are printed and production runs are announced. Each episode's set cost $19.99 each, although bulk discounts are available for groups of three ($49.99), five ($59.99), ten ($99.99) and 20 ($159.99) sets. This structure means that some episodes will have more cards than others.
The first season of The Mandalorian also got the Topps Now treatment. It started out as a bit of a sleeper before getting a massive boost once The Child began appearing on cards. These cards have since seen a lot of growth on the secondary market.
2020 Topps Now Star Wars: The Mandalorian Season 2 Checklist
Chapter 9
Available: November 2
Print Run: 1,527 sets
1 Gamorreans Prepare to Fight
2 "What brings you here stranger?"
3 The Child Looks On
4 Plotting with Tusken Raiders
5 The Krayt Dragon Fights Back
Chapter 10
Available: November 9
Print Run: 1,540 sets
6 Offering Safe Passage
7 Forbidden Snack
8 Flanked by X-Wings
9 The Razor Crest Takes on Damage
10 Ice Spiders Attack
Chapter 11
Available: November 16
Print Run: 1,459 sets
11 A Happy Reunion
12 Meeting Bo-Katan
13 Food Fight
14 Planning the Raid
15 Overtaking the Imperial Gozanti
Chapter 12
Available: November 23
Print Run: 1,468 sets
16 Return to Nevarro
17 A New Student
18 Paying Off Debts
19 Speeder Bike in Pursuit
20 A Familiar Foe Returns
Chapter 13
Available: November 30
Print Run: 1,982
21 In Search of Information
22 An Offer of Beskar
23 A Strong Attachment
24 Ahsoka vs. The Magistrate
25 "May the Force Be with You"
Chapter 14
Available: December 7
Print Run: 1,844 sets
26 Connecting with the Force
27 "I Want My Armor Back"
28 Boba Fett Takes Out Stormtroopers
29 Dark Troopers on a Mission
30 Moff Gideon Confronts The Child
Chapter 15
Available: December 14
Print Run: 1,582 sets
31 Reunited with an Old Enemy
32 Surveying the Rhydonium Facility
33 Fighting Off Pirates
34 Behind Enemy Lines
35 Snipers at the Ready
Chapter 16
Available: December 21
Print Run: 2,172 sets
36 Recruiting for the Rescue Mission
37 Aboard the Imperial Shuttle
38 Activating the Dark Troopers
39 Confrontation on the Bridge
40 A New Journey Awaits