2019 Topps Now Star Wars: The Mandalorian Breaks Down First Season
2019 Topps Now Star Wars: The Mandalorian takes a print-a-demand look at the Disney Plus show's first season. With each new episode chapter comes a new group of cards highlighting key moments and storyline turning points.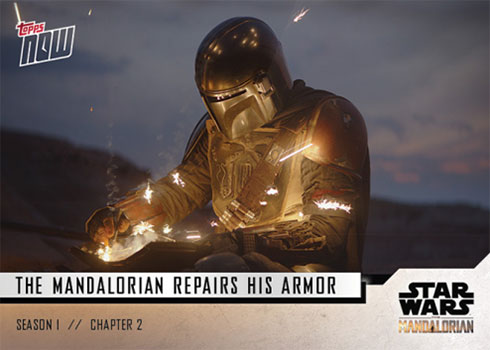 Available exclusively through the Topps website, each chapter's set has a one-week sales window. It's at that time that orders are cut off, print runs are determined and the cards made.
Episodes get five cards with a screen shot from the show on the front and a very brief  caption on the back. It's more of a quick recap than it is a deep dive into the first live-action Star Wars series. It's also one of the first places to find merchandise of the show's breakout star, Baby Yoda The Child. Its introduction with the Chapter 3 cards provided a boost to the print runs, almost tripling Chapter 2's sales.
Starting with the first episode, autographs are also available. Sold separately, these offer up the first autograph cards connected to the show. These have set print runs and may sell out sooner than the one-week sales window.
2019 Topps Now Star Wars: The Mandalorian Season 1 Checklist
More cards will be added as they're released.
Base Set
Chapter 1
Date Available: November 13
Print Run: 714 sets
1 The Mythrol Discovers He Is Wanted
2 The Razor Crest Attacked
3 The Mandalorian Draws His Weapon
4 Kuiil Leads the Way
5 IG-11 Is After the Bounty
Chapter 2
Date Available: November 18
Print Run: 553 sets
6 Fighting Off Trandoshan Warriors
7 The Mandalorian Repairs His Armor
8 Scaling the Sandcrawler
9 Fighting the Beast
10 Recovering the Egg
Chapter 3
Date Available: November 25
Print Run: 1,315 sets
11 Returning to the Client
12 The Child Looks On
13 Delivering the Bounty
14 Backup Arrives
15 This Is the Way
Chapter 4
Date Available: December 2
Print Run: 1,004 sets
16 Landing on Sorgan
17 Cara Dune and the Mandalorian Meet
18 Ready for Battle
19 Facing the Imperial Walker
20 Leaving the Village
Chapter 5
Date Available: December 9
Print Run: 1,179 sets
21 Meeting Mechanic Peli Motto
22 The Mark – Assassin Fennec Shand
23 Toro Calican and the Mandalorian Ride Off
24 Showdown with Shand
25 The Child Survives the Shootout
Chapter 6
Date Available: December 16
Print Run: 998 sets
26 Attacked by Security Droids
27 The Mandalorian and Mercenaries Confronted
28 Sneaking Up Behind Mayfield
29 Saved by The Mandalorian
30 Tracked by the New Republic
Chapter 7
Date Available: December 19
Print Run: 884 sets
31 Discussing the Situation on Navarro
32 Bringing The Mandalorian In
33 The Client Hears from Moff Gideon
34 Moff Gideon Demands The Child
35 Imperial Troopers Assemble
Chapter 8
Date Available: December 30
Print Run: TBA
36 Taking Out the Stormtroopers
37 Receiving the Jetpack
38 IG-11's Sacrifice
39 TIE Fighter Trouble
40 A Clan of Two
Autographs
Autographs
GC-A Gina Carano as Cara Dune (/49, Purple /25, Red /10, Orange /5, Gold 1/1)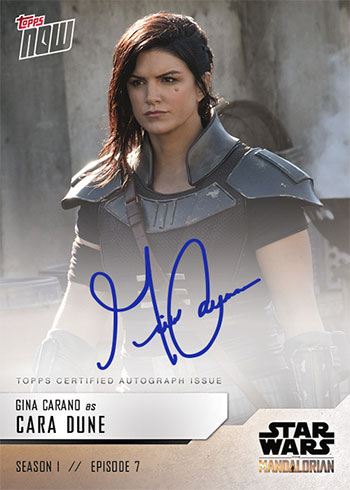 GE-A Ginacarlo Espsito as Moff Gideon (/49, Purple /25, Red /10, Orange /5, Gold 1/1)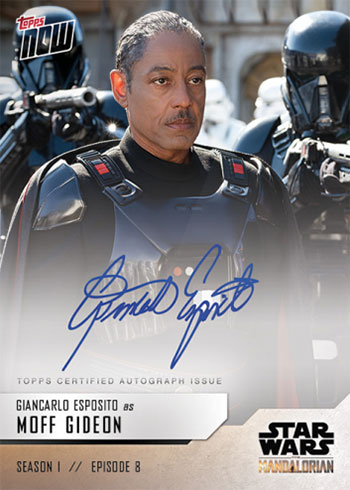 OA-A Omid Obtahi as Dr. Pershing (/49, Purple /25, Red /10, Orange /5, Gold 1/1)