Topps adds surprises to upcoming Archives
When you click on links to various merchants on this site, like eBay, and make a purchase, this can result in this site earning a commission.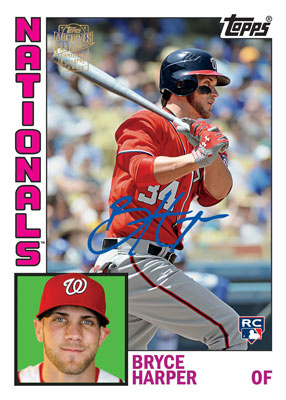 By Chris Olds | Beckett Baseball Editor
Topps Archives will arrive on May 23 with many nods to the past on the baseball diamond, but Topps unveiled plans for even more to appear in the product chock-full of designs from the last 60 years of baseball cards.
It will include nods to pop culture of the 1980s — as well as even more baseball — in its return.
For starters, it will include 100 "Touched By Greatness" autograph cards of Cal Ripken Jr. These over-sized cards will be signed and include an actual hand print of the Hall of Famer. In addition, Archives also will include 100 original signed Topps player card contracts as case-toppers in the product. But that's not all …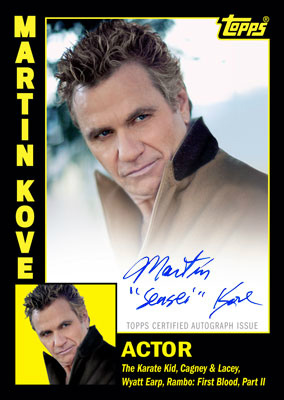 The product also will include autographed box-toppers for one 1980s movie, The Karate Kid, with Martin Kove and Billy Zabak among the signers. A selection of 50 cut signatures added to the product will include Vanna White, Bob Barker and James Earl Jones.
For the baseball fans, the company announced that it will be adding 10 1/1 six-player autographed booklet cards to the product and that Yu Darvish will appear on a Fan Favorites autograph card using the 1986 design. That was the year he was born. As previously announced, Bryce Harper will have a short-printed Rookie Card in the set as well as an autograph using the 1984 Topps design.
The company also announced that it will be adding redemption cards for 50 uncut sheets of base cards to the product and autographed buybacks will include Hall of Famer Frank Robinson for starters. He'll sign 88 cards for inclusion in the product.
Interested in the Fan Favorites autograph checklist? It includes some big names as well as nine Jose Oquendo cards — marking the time he played all nine positions in a single game back in 1988.
Fan Favorites Autographs
Hank Aaron Atlanta Braves
Sandy Koufax Los Angeles Dodgers
Willie Mays San Francisco Giants
Ken Griffey Jr. Seattle Mariners
Jose Oquendo St. Louis Cardinals
Jose Oquendo St. Louis Cardinals
Jose Oquendo St. Louis Cardinals
Jose Oquendo St. Louis Cardinals
Jose Oquendo St. Louis Cardinals
Jose Oquendo St. Louis Cardinals
Jose Oquendo St. Louis Cardinals
Jose Oquendo St. Louis Cardinals
Jose Oquendo St. Louis Cardinals
Don Mattingly New York Yankees
Jim Abbott California Angels
Vida Blue Oakland Athletics
Bill Buckner Chicago Cubs
Jay Buhner Seattle Mariners
Will Clark San Francisco Giants
Chili Davis California Angels
Cecil Fielder Detroit Tigers
George Foster Cincinnati Reds
Ron Gant Atlanta Braves
Ken  Griffey Cincinnati Reds
Tom Herr St. Louis Cardinals
John Kruk Philadelphia Phillies
Ray Lankford St. Louis Cardinals
Jack McDowell Chicago White Sox
Roger McDowell New York Mets
John Olerud Toronto Blue Jays
Terry Pendleton Atlanta Braves
Boog Powell Baltimore Orioles
Luis Tiant Boston Red Sox
Robin Ventura New York Mets
Mitch Williams Philadelphia Phillies
Buddy Bell Texas Rangers
Bob  Boone Philadelphia Phillies
Brett Butler Los Angeles Dodgers
Doug DeCinces Baltimore Orioles
Doug Drabek Pittsburgh Pirates
Oscar  Gamble New York Yankees
Bobby Grich California Angels
Von Hayes Philadelphia Phillies
Frank Howard Washington Senators
Carney Lansford Oakland Athletics
Bud Harrelson New York Mets
Dennis Martinez Montreal Expos
Ben Oglivie Milwaukee Brewers
Lance Parrish Detroit Tigers
Bobby  Richardson New York Yankees
Dave Righetti New York Yankees
Bobby Thigpen Chicago White Sox
Andy  Van Slyke Pittsburgh Pirates
Maury Wills Los Angeles Dodgers
Willie Wilson Kansas City Royals
Wally  Backman New York Mets
Steve Balboni Kansas City Royals
George Bell Toronto Blue Jays
Sid Bream Atlanta Braves
Joe Charboneau Cleveland Indians
Jack Clark St. Louis Cardinals
Cecil  Cooper Milwaukee Brewers
Shawon Dunston Chicago Cubs
Dick Groat Pittsburgh Pirates
Cleon Jones New York Mets
Wally Joyner California Angels
Jimmy Key New York Yankees
Dave Kingman New York Mets
Ron Kittle Chicago White Sox
Ed Kranepool New York Mets
Bill  Lee Boston Red Sox
Mickey Lolich Detroit Tigers
Greg Luzinski Philadelphia Phillies
Bill Madlock Pittsburgh Pirates
Bake McBride Philadelphia Phillies
Al Oliver Pittsburgh Pirates
Amos Otis Kansas City Royals
Steve Rogers Montreal Expos
Mike Scott Houston Astros
Ken  Singleton Baltimore Orioles
Jim Wynn Houston Astros
Framed 1983 Minis
Ryne Sandberg Chicago Cubs
Reggie Jackson California Angels
Mike Schmidt Philadelphia Phillies
Jim Rice Boston Red Sox
Dennis Eckersley Boston Red Sox
Carlton Fisk Chicago White Sox
Paul Molitor Milwaukee Brewers
Fergie  Jenkins Chicago Cubs
Nolan Ryan Houston Astros
Bert Blyleven Cleveland Indians
Albert Pujols Angels
Justin Verlander Detroit Tigers
Clayton Kershaw Los Angeles Dodgers
Matt Kemp Los Angeles Dodgers
Chipper Jones Atlanta Braves
Adrian Gonzalez Boston Red Sox
Robinson Cano New York Yankees
David Ortiz Boston Red Sox
Jose Bautista Toronto Blue Jays
Nelson Cruz Texas Rangers
Felix Hernandez Seattle Mariners
Eric Hosmer Kansas City Royals
Starlin Castro Chicago Cubs
Tony Gwynn San Diego Padres
Ryan Zimmerman Washington Nationals
Other autographs
1986 Yu Darvish
1975 Gary Carter
1984 Bryce Harper
Chris Olds is the editor of Beckett Baseball magazine. Have a comment, question or idea? Send an email to him at colds@beckett.com. Follow him on Twitter by clicking here.