2018 Topps Now WWE showcases big events as they happen. From title changes to pay-per-view showdowns, notable debuts and some returning surprises, it's all fair game in the online-exclusive set.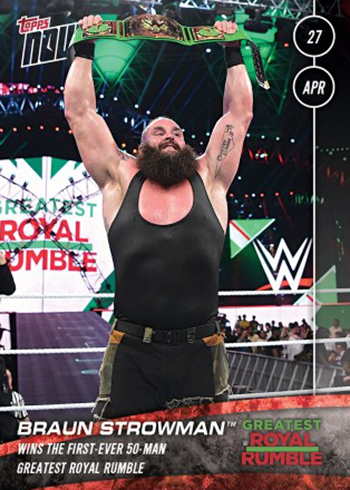 Available only through the Topps website, usually for just 24 hours, this is a continuation of sorts for the print-on-demand line that debuted in 2016.
Kicking off at the Royal Rumble, 2018 Topps Now WWE marks a restart for the numbering. The original set went more than a year and spanned more than 150 cards. The majority put the spotlight on PPV victors.
Regular cards run $9.99 each (less for bulk purchases of the same card). Print runs are limited to only the cards that are ordered during the sales window. This makes for staggered quantities that can have quite a difference. In the first Topps Now WWE set, the most popular cards may have over 200 copies. Some have less than 40.
2018 Topps Now WWE also has mat relic versions of select cards. These cost more.
2018 Topps Now WWE Checklist
Print runs are noted. Looking to add a specific card to your collection? Click on the link to see what's currently available on eBay.
1 AJ Styles – Defeats Kevin Owens & Sami Zayn to Retain WWE Championship (Royal Rumble, January 28) – 99
2 Shinsuke Nakamura – Wins the 2018 Men's Royal Rumble Match (Royal Rumble, January 28) – 127
3 Cesaro & Sheamus – Defeat Seth Rollins & Jason Jordan for the RAW Tag Team Championship (Royal Rumble, January 28) – 82
4 Lita – Returns to Join the 2018 Women's Royal Rumble Match (Royal Rumble, January 28) – 102
5 Trish Stratus – Returns to Join the 2018 Women's Royal Rumble Match (Royal Rumble, January 28) – 186
6 Asuka – Wins the First-Ever Women's Royal Rumble Match (Royal Rumble, January 28) – 145
7 Alexa Bliss – Wins the First-Ever Women's Elimination Chamber Match (Elimination Chamber, February 25) – 171
8 Asuka – Defeats Nia Jax (Elimination Chamber, February 25) – 140
9 Woken Matt Hardy – Defeats Bray Wyatt (Elimination Chamber, February 25) – 56
10 Roman Reigns – Wins the First-Ever Seven-Man Elimination Chamber Match (Elimination Chamber, February 25) – 59
11 AJ Styles – Wins the WWE Championship Six-Pack Challenge (Fastlane, March 11) – 53
12 Asuka – Challenges Charlotte Flair for Her Title at WrestleMania 34 (Fastlane, March 11) – 103
13 Charlotte Flair – Defeats Ruby Riott, Retaining the Smackdown Women's Championship (Fastlane, March 11) – 101
14 Randy Orton – Defeats Bobby Roode for the United States Championship (Fastlane, March 11) – 67
15 Shinsuke Nakamura – Defeats Rusev (Fastlane, March 11) – 50
16 Daniel Bryan – Cleared for In-Ring Competition (Smackdown, March 20) – 125
17 Woken Matt Hardy – Wins Andre the Giant Memorial Battle Royal (WrestleMania, April 8) – 76
18 Cedric Alexander – Def. Mutafa Ali for the WWE Cruiserweight Championship (WrestleMania, April 8) – 74
19 Naomi – Wins First-Ever WrestleMania Women's Battle Royal (WrestleMania, April 8) – 87
20 Seth Rollins – Def. The Mix and Finn Balor to Become the New Intercontinental Champion (WrestleMania, April 8) – 77
21 Charlotte Flair – Smackdown Women's Champion Charlotte Flair Def. Asuka (WrestleMania, April 8) – 261
22 Jinder Mahal – Jinder Mahal Def. Randy Orton, Rusev and Bobby Roode to Win the United States Championship (WrestleMania, April 8) – 64
23 The Bludgeon Brothers – Def. The Usos and The New Day to Win the Smackdown Tag Team Titles (WrestleMania, April 8) – 67
24 The Undertaker – Defeats John Cena (WrestleMania, April 8) – 145
25 Daniel Bryan – & Shane McMahon Defeat Kevin Owens and Sami Zayn (WrestleMania, April 8) – 93
26 Nia Jax – Def. Alexa Bliss to Becom the New Raw Women's Champion (WrestleMania, April 8) – 115
27 AJ Styles – WWE Champion AJ Styles Def. Shinsuke Nakamura (WrestleMania, April 8) – 85
28 Braun Strowman – & Nicholas Def. Sheamus & Cesaro to Win the Raw Tag Team Championship (WrestleMania, April 8) – 67
29 Brock Lesnar – Universal Champion Brock Lesnar Def. Roman Reigns (WrestleMania, April 8) – 44
30 Ronda Rousey – with Kurt Angle Defeat Triple H & Stephanie McMahon (WrestleMania, April 8) – 1,342
31 Braun Strowman – Wins the First-Ever 50-Man Greatest Royal Rumble (Greatest Royal Rumble, April 27) – 66
32 Daniel Bryan – Breaks the Record for the Longest Time in a Royal Rumble Match (Greatest Royal Rumble, April 27) – 52
33 Undertaker – Def. Rusev in a Casket Match (Greatest Royal Rumble, April 27) – 62
34 AJ Styles – Fights Shinsuke Nakamura to a Double Count-Out (Greatest Royal Rumble, April 27) – 52
35 John Cena – Def. Triple H (Greatest Royal Rumble, April 27) – 66
36 Seth Rollins – Def. The Miz, Retaining the Intercontinental Championship (Backlash, May 6) – 37
37 Daniel Bryan – Defeats Big Cass (Backlash, May 6) – 30
38 Roman Reigns – Defeats Samoa Joe (Backlash, May 6) – 33
39 Alexa Bliss – Wins the Women's Money in the Bank Ladder Match (Money in the Bank, June 17) – 301
40 AJ Styles – Def. Shinsuke Nakamura in a Last Man Standing Match (Money in the Bank, June 17) – 101
41 Alexa Bliss – Cashes In to Win the Raw Women's Championship (Money in the Bank, June 17) – 304
42 Braun Strowman – Wins the Men's Money in the Bank Ladder Match (Money in the Bank, June 17) – 101
43 Bobby Lashley – Defeats Roman Reigns (Extreme Rules, July 16) – 47
44 Alexa Bliss – Defeats Nia Jax in an Extreme Rules Match (Extreme Rules, July 16) – 175
45 AJ Styles – Defeats Rusev to Retain the WWE Championship (Extreme Rules, July 16) – 58
46 Dolph Ziggler – Defeats Seth Rollins in a 30-Minute WWE Iron Man Match (Extreme Rules, July 16) – 48
47 Seth Rollins – Def. Dolph Ziggler to Become the New Intercontinental Champion (SummerSlam, August 19) – 80
48 Charlotte Flair – Becomes the New Smackdown Women's Champion (SummerSlam, August 19) – 191
49 Ronda Rousey – Def. Alexa Bliss to Become the New Raw Women's Champion (SummerSlam, August 19) – 970
50 Roman Reigns – Def. Brock Lesnar to Become New WWE Universal Champion (SummerSlam, August 19) – 79
51 Becky Lynch – Def. Charlotte Flair to Win the Smackdown Women's Championship (Hell in a Cell, September 16) – 172
52 Dolph Ziggler & Drew McIntyre – Retain the Raw Tag Team Championship (Hell in a Cell, September 16) – 73
53 AJ Styles – Def. Samoa Joe (Hell in a Cell, September 16) – 74
54 Ronda Rousey – Raw Women's Champion Def. Alexa Bliss (Hell in a Cell, September 16) – 299
55 John Cena – & Bobby Lashley Def. Kevin Owens & Elias (Super Show-Down, October 7) – 64
56 The IIconics – Def. Asuka & Naomi (Super Show-Down, October 7) – 146
57 AJ Styles – Def. Samoa Joe, Retaining the WWE Championship (Super Show-Down, October 7) – 64
58 Ronda Rousey & The Bella Twins – Def. The Riott Squad (Super Show-Down, October 7) – 166
59 Triple H – Def. The Undertaker (Super Show-Down, October 7) – 72
60 Buddy Murphy – Def. Cedric Alexander to Win the WWE Cruiserweight Championship (Super Show-Down, October 7) – 64
61 Trish Stratus & Lita – Def. Mickie James and Alicia Fox (Evolution, October 28) – 212
62 Nia Jax – Won the Women's Evolution Battle Royal (Evolution, October 28) – 139
63 Toni Storm – Def. Io Shirai to Win the 2018 Mae Young Classic (Evolution, October 28) – 239
64 Shayna Baszler – Def .Kairi Sane to WIn the NXT Women's Championship (Evolution, October 28) – 149
65 Becky Lynch – Def. Charlotte Flair (Evolution, October 28) – 325
66 Ronda Rousey – Def. Nikki Bella (Evolution, October 28) – 324
2018 Topps Now WWE Relics Checklist
2A Shinsuke Nakamura – 2018 Royal Rumble Mat /25
2B Shinsuke Nakamura – 2018 Royal Rumble Mat Gold – 1/1
6A Asuka – 2018 Royal Rumble Mat /25
6B Asuka – 2018 Royal Rumble Mat Gold – 1/1
24A Undertaker – 2018 WrestleMania Mat /25
24B Undertaker – 2018 WrestleMania Mat Gold – 1/1
25A Daniel Bryan – 2018 WrestleMania Mat /25
25B Daniel Bryan – 2018 WrestleMania Mat Gold – 1/1
29A Brock Lesnar – 2018 WrestleMania Mat /25
29B Brock Lesnar – 2018 WrestleMania Mat Gold – 1/1
30A Ronda Rousey – 2018 WrestleMania Mat /25
30B Ronda Rousey – 2018 WrestleMania Mat Gold – 1/1
48A Charlotte Flair – 2018 SummerSlam Mat /25
48B Charlotte Flair – 2018 SummerSlam Mat Gold – 1/1
49A Ronda Rousey – 2018 SummerSlam Mat /25
49B Ronda Rousey – 2018 SummerSlam Mat Gold – 1/1
50A Roman Reigns – 2018 SummerSlam Mat /25
50B Roman Reigns – 2018 SummerSlam Mat Gold – 1/1