2018 Topps Advent Calendar Offers Up New Online-Exclusives Leading Up to Christmas
'Twas about a month before Christmas and Spring Training was still far away. 2018 Topps Advent Calendar came out with a new card each day.
An online-exclusive on the Topps site, each one's available for just one night.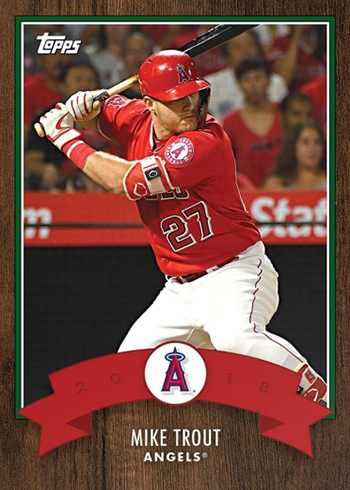 Print runs are based on what's bought. That means some likely short prints and some that are not.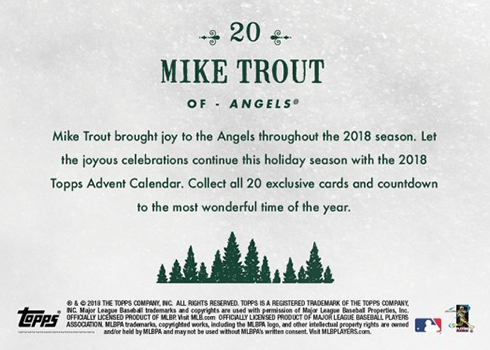 $7.99 is the cost if you buy less than two. But the price comes down per card if you opt for a few.
2018 Topps Advent Calendar at a glance:
Set size: 20 cards
Release date: November 27, 2018
2018 Topps Advent Calendar Checklist
20 cards.
Print runs for individual cards noted.
Looking for a specific card? Click on the links to see what's currently available on eBay.
More will be added as they're announced.
20 Mike Trout, Los Angeles Angels – 1,275
19 Clayton Kershaw, Los Angeles Dodgers – 509
18 Mookie Betts, Boston Red Sox – 631
17 Jacob deGrom, New York Mets – 528
16 Bryce Harper, Washington Nationals – 601
15 Aaron Judge, New York Yankees – 1,140
14 Kris Bryant, Chicago Cubs – 641
13 Rafael Devers, Boston Red Sox – 541
12 Ozzie Albies, Atlanta Braves – 618
11 Jose Altuve, Houston Astros – 528
10 Ronald Acuna Jr., Atlanta Braves – 1,669
9 Miguel Andujar, New York Yankees – 700
8 Christian Yelich, Milwaukee Brewers – 514
7 Francisco Lindor, Cleveland Indians – 490
6 Juan Soto, Washington Nationals – 1,303
5 Walker Buehler, Los Angeles Dodgers – 629
4 Javier Baez, Chicago Cubs – 542
3 Jose Ramirez, Cleveland Indians
2 Gleyber Torres, New York Yankees
1 Shohei Ohtani, Los Angeles Angels