2018 Topps Archives Baseball Checklist, Team Set Lists, Details
2018 Topps Archives Baseball is arriving a little later in the season. But it's still bringing with it a retro vibe that covers several decades and spans multiple generations. And this time it's bringing along the stars of The Sandlot for some inserts and autographs.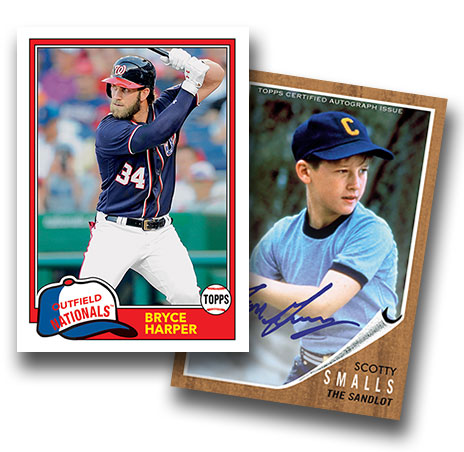 Sticking with tradition, hobby boxes have a pair of on-card autographs.
Getting Down to Basics with the 2018 Topps Archives Baseball Base Set
The 2018 Topps Archives Baseball main set has 300 cards. Like usual, it's split between three past baseball designs: 1959, 1977 and 1981. Each has 100 cards.
On top of these are a pair of ten-card subsets: 1959 Topps Combos and 1977 Topps Turn Back the Clock. Both of these are moderate short prints.
Parallels for the first 300 cards include Purple (/175), Silver (/99), Blue (/25) and Gold Foil (1/1). There are also a couple of stealth parallels that are dependent on the card's design. 1959 cards (#1-100) have Venezuelan Back, that are more brown on the reverse than normal. 1959 and 1977 (#101-200) cards can be found without the facsimile signature on the front. Finally, there are Topps Logo Swap parallels for 1981-style cards (#201-300).
A handful of cards have variation versions as well.
The Sandlot
Over the past few years, baseball movies have found a home in Topps Archives. There was Major League in 2014 and Bull Durham in 2016. Now, it's The Sandlot, which is celebrating its 25th anniversary in 2018.
2018 Topps Archives The Sandlot cards start with a set of inserts highlighting characters from the movie. They use the 1962 Topps Baseball design.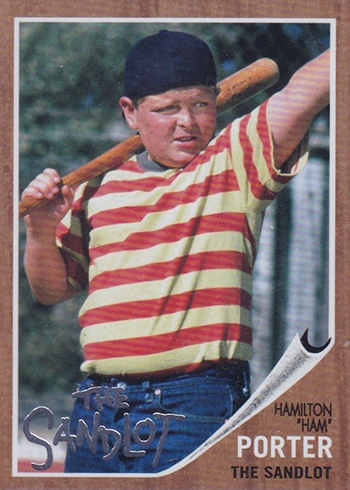 Inserts have Green (/99), Blue (/25) and Gold Foil (1/1) parallels.
Autographs are also randomly inserted with Silver (/99), Blue (/25) and Gold (1/1) versions to go with the regular ones.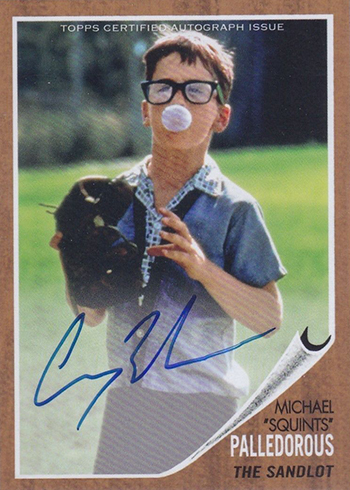 Topps also had Chauncey Leopardi (Squints) at their booth during the 2018 National Sports Collectors Convention in Cleveland. He signed an exclusive card that noted the event on the back.
Autographs
Fan Favorites Autographs are back. Living up to the theme, many of these go back in time to offer signatures from popular players. But they're not always the biggest names and sometimes you have to look locally to understand the appeal they had. Active players are also part of the mix.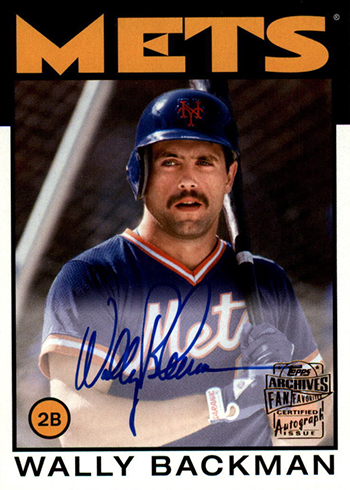 These have on-card signatures and come with Purple (/15), Silver (/99), hobby-exclusive Blue (/25) and Gold (1/1) parallels.
1993 Topps All-Stars Dual Autographs go back 25 years from a design perspective to offer sigs from a pair of players. Base versions have 25 copies each while Gold Foil parallels are one-of-ones.
Topps Originals (/10) are old cards from the 1950s through the '90s that have since been given the autograph treatment.
Time Traveling with Other 2018 Topps Archives Baseball Inserts
2018 Topps Archives Baseball has some additional insert sets that borrow from various years (or a mix of several). It starts with 1981 Topps Future Stars. These bring together three rookies with the 37-year-old design.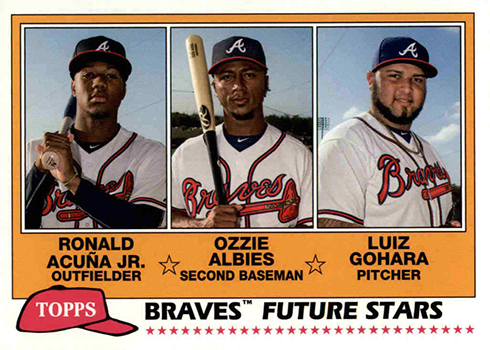 Coming Attraction takes it to a 1993 subset to spotlight this year's rookie crop. Coming Attraction Autographs are also available. These come numbered and have Blue (/25) and Gold Foil (1/1) parallels.
In case you're looking for rookie reprints, they're in Topps Rookie History. These come with an insert note on the front so there's no confusion about them being originals. Parallels come with different foil stamp colors including Purple (/150), Green (/99), Blue (/50), Red (/10) and Gold (1/1).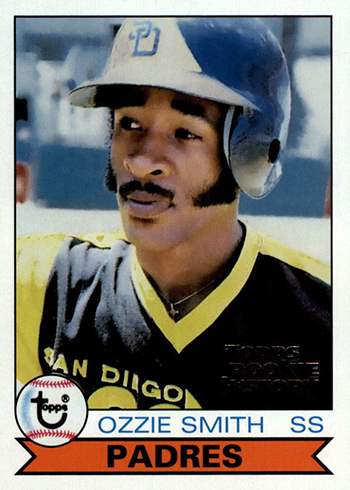 Topps Rookie History Autographs are only in hobby packs. These land one per case and have Red Foil (/10) and Gold Foil Stamp (1/1) parallels.
Retail value/blaster boxes come with a pair of exclusive Topps Coins.
2018 Topps Archives Baseball at a glance:
Cards per pack: Hobby – 8, Retail Blaster – 8, Retail Fat Pack – 18
Packs per box: Hobby – 24, Retail Blaster – 7
Boxes per case: Hobby – 10, Retail Blaster – 16
Set size: 320 cards
Release date: Retail – August 15, 2018 | Hobby – October 24, 2018
What to expect in a hobby box:
• Autographs – 2
2018 Topps Archives Baseball Checklist
Please note that only the cards found in retail are currently listed. An update to the 2018 Topps Archives Baseball checklist is expected when the hobby version releases in September.
Odds are listed for blaster and retail value packs. More will be added should they become available.
Base
Autographs
Inserts
Team Sets