2018 Topps Chrome Baseball Variation Short Print Gallery
2018 Topps Chrome Baseball Variation Refractors use different images to highlight ballpark fun. Of course, they're a lot tougher to pull than regular Refractors and base cards as well, adding a chase for those who choose to undertake it.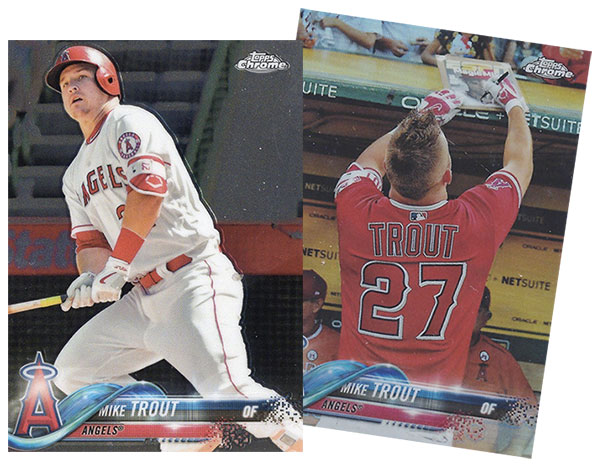 Similar to the 2018 Topps Series 1 and Series 2 variations, images center on things happening before games and on the sidelines, usually out of view of TV cameras. Players getting ready, having fun and signing autographs are just some of the examples of the 2018 Topps Chrome Baseball Variation Refractors.
As with recent years, the variation short prints in 2018 Topps Chrome Baseball aren't done for regular base cards. They're all Refractors with a rainbow background.
And with Refractors usually comes rainbows. In this instance, variations have additional parallels in the colors Green (/99), Orange (/25), Red (/5), Superfractors (1/1). The main 2018 Topps Chrome variations are not serial numbered.
2018 Topps Chrome Baseball Variations Code
Still not 100 percent sure you've got a Variation Refractor (or don't want to memorize the images)? Look on the back. The code at the end of the fine print is similar to a fingerprint. In production, it helps identify card types. So collectors can use them as a tip-off.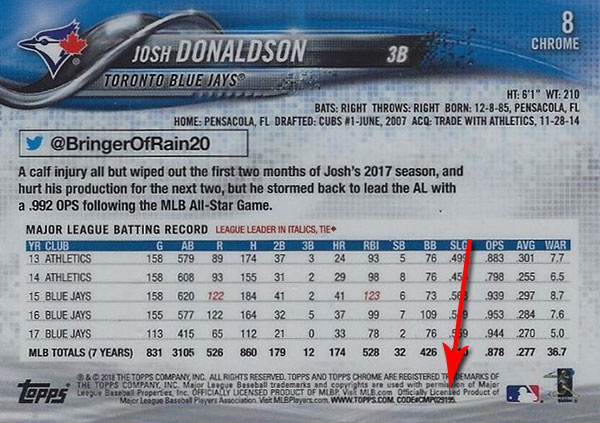 Codes for regular base cards and Refractors end in 161. Variation short print codes end with 195.
2018 Topps Chrome Factory Set Variations
These aren't the only variations to have the 2018 Topps Chrome Baseball logo and design. Select 2018 Topps Baseball factory sets sold at Walmart have some different Rookie Variations than the ones here. The easiest way to tell these is that the numbering matches the 2018 Topps flagship set. Also, below the number on the back, it reads "Complete Set."
Of course, the images are different as well.
2018 Topps Chrome Baseball Variations Checklist
1 Aaron Judge
8 Josh Donaldson
25 Rafael Devers
29 Buster Posey
49 Anthony Rizzo
50 Kris Bryant
52 Robinson Cano
60 Amed Rosario
70 Rhys Hoskins
72 Ozzie Albies
73 Francisco Lindor
94 Manny Machado
99 Noah Syndergaard
100 Mike Trout
121 Clayton Kershaw
139 Bryce Harper
147 Nick Williams
148 Clint Frazier
150 Shohei Ohtani
151 Andrew Benintendi
162 Dominic Smith
167 Alex Verdugo
175 Victor Robles
186 Giancarlo Stanton
200 Jose Altuve
2018 Topps Chrome Baseball Variations Gallery
1 Aaron Judge, New York Yankees
8 Josh Donaldson, Toronto Blue Jays
25 Rafael Devers, Boston Red Sox
29 Buster Posey, San Francisco Giants
49 Anthony Rizzo, Chicago Cubs
50 Kris Bryant, Chicago Cubs
52 Robinson Cano, Seattle Mariners
60 Amed Rosario, New York Mets
70 Rhys Hoskins, Philadelphia Phillies
72 Ozzie Albies, Atlanta Braves
73 Francisco Lindor, Cleveland Indians
94 Manny Machado, Baltimore Orioles
99 Noah Syndergaard, New York Mets
100 Mike Trout, Los Angeles Angels
121 Clayton Kershaw, Los Angeles Dodgers
139 Bryce Harper, Washington Nationals
147 Nick Williams, Philadelphia Phillies
148 Clint Frazier, New York Yankees
150 Shohei Ohtani, Los Angeles Angels
151 Andrew Benintendi, Boston Red Sox
162 Dominic Smith, New York Mets
167 Alex Verdugo, Los Angeles Dodgers
175 Victor Robles, Washington Nationals
186 Giancarlo Stanton, New York Yankees
200 Jose Altuve, Houston Astros