Heading into the 2018 season, there's plenty of attention surrounding the Shohei Ohtani Rookie Card and autograph lineup.
He's one of the most hyped players to arrive in the majors in some time. Ohtani also arrives with a large fanbase thanks to his years as a superstar in Japan beforehand. So collectors in Japan are already very familiar with Shohei Ohtani cards.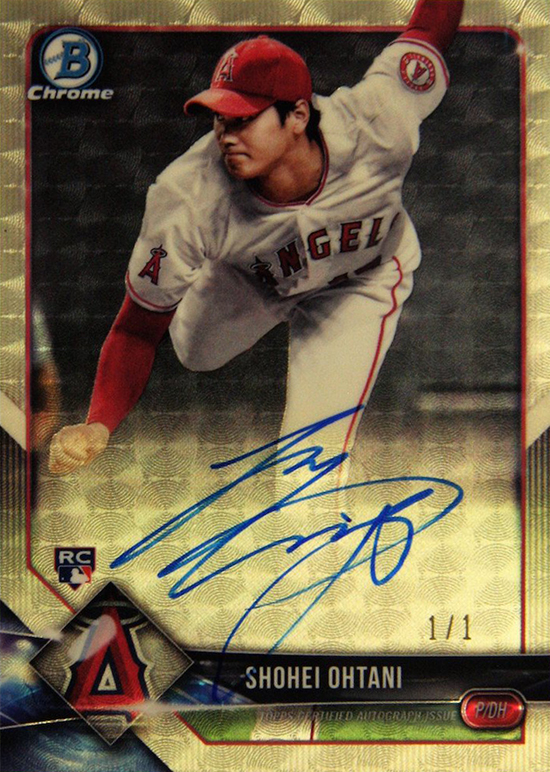 Now it's time for major league cards.
By the time his rookie season with the Los Angeles Angels comes to a close, collectors will have a lot of Shohei Ohtani Rookie Cards, inserts and autographs to choose from.
Here is where you will find a detailed Shohei Ohtani Rookie Card breakdown as well as highlights of other cards. We'll be updating lots in the months ahead as new sets come out and more Shohei Ohtani Rookie Cards are released.
Shohei Ohtani Rookie Card Guide and Where to Find Them
The Shohei Ohtani Rookie Cards are listed alphabetically. The ones in this section are limited to those with the 'RC' designation in the Beckett Baseball Card Database and Price Guide. Inserts and parallels are not included.
---
---
---
---
---
---
---
---
---
---
---
---
---
---
---
---
---
---
---
---
---
---
---
---
---
---
---
---
---
---
---
---
---
---
---
---
---
---
---
---
---
---
---
Early Shohei Ohtani Cards of Note
Looking for other early Shohei Ohtani cards? Here's what came out before and around his MLB debut. This is not a complete list of cards. Rather, it's some of the more popular or notable Shohei Ohtani cards. A full Shohei Ohtani checklist can be found in the Beckett Baseball Card Database and Price Guide.
---
---
---
---
---
---
---
---
---