Heading into the 2018 season, there's plenty of attention surrounding the Shohei Ohtani Rookie Card and autograph lineup.
He's one of the most hyped players to arrive in the majors in some time. Ohtani also arrives with a large fanbase thanks to his years as a superstar in Japan beforehand. So collectors in Japan are already very familiar with Shohei Ohtani cards.
Now it's time for major league cards.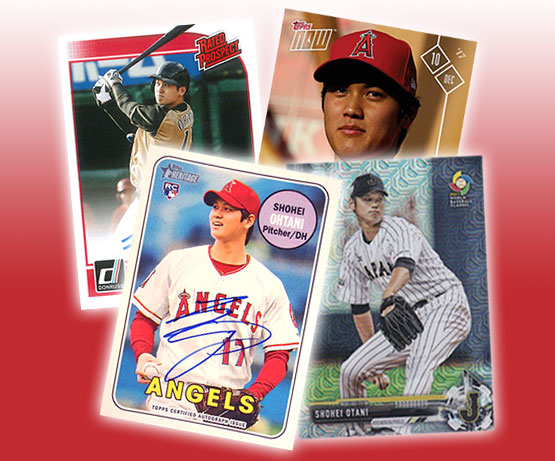 By the time his rookie season with the Los Angeles Angels comes to a close, collectors will have a lot of Shohei Ohtani Rookie Cards, inserts and autographs to choose from. Right now, the selection is limited, but the cards are out there.
Here is where you will find a detailed Shohei Ohtani Rookie Card breakdown as well as highlights of other cards. We'll be updating lots in the months ahead as new sets come out and more Rookie Cards are released.
Shohei Ohtani Rookie Card Guide and Where to Find Them
The Shohei Ohtani Rookie Cards are listed alphabetically. The ones in this section are limited to those with the 'RC' designation in the Beckett Baseball Card Database and Price Guide. Inserts and parallels are not included.
2018 Diamond Kings Shohei Ohtani Rookie Cards #73 and 76
2018 Diamond Kings has a pair of Shohei Ohtani Rookie Cards in the base set, one with him pitching and the other with him batting. Neither is a short print or part of a subset so both get the RC tag and are held on equal footing as far as value goes. Diamond Kings takes an artistic approach with both the images and the canvas-style stock the cards are printed on.
In addition to a full slate of parallels, both cards have four different variations in the set. And those have parallels too.
Parallels: Artist Proof Red, Blue Frame, Red Frame, Artist Proof Gold – /99, Gray Frame – /99, Brown Frame – /49, Artist Proof Blue – /25, Green Frame – /5, Artist Proof Masterpiece – 1/1, Black Frame – 1/1
Buy on: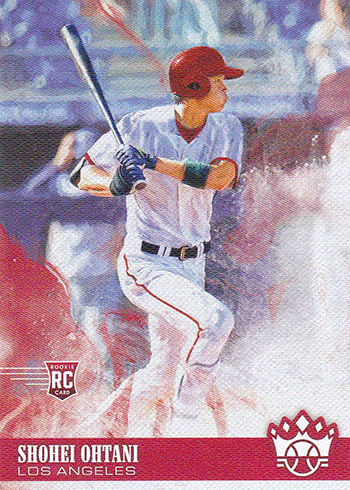 ---
2018 Topps Gypsy Queen Shohei Ohtani Rookie Card #89
2018 Topps Gypsy Queen Baseball brings the second Shohei Ohtani Rookie Card to the table. It's got an old-time look about it, albeit with a more modern approach to color. Not a short print, there are plenty out there. When it comes to parallels, there are several. However, some are a little more stealth than others and might require a slightly closer look. The product also has an Ohtani autograph.
Parallels: Bazooka Back, Green, GQ Logo Swap, Missing Blackplate, Missing Nameplate, Indigo (/250), Black and White (/50), Red (/10), Black (1/1)
Buy on: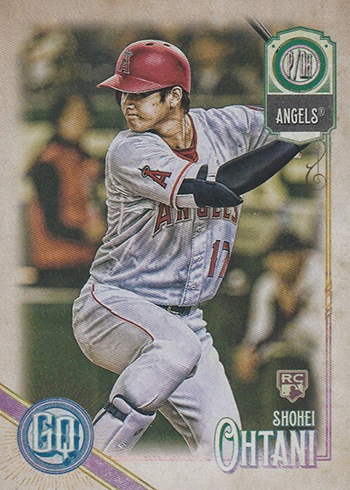 ---
2018 Topps Opening Day Shohei Ohtani Rookie Card #200
The first traditional Shohei Ohtani Rookie Card is likely to end up as one of the most affordable. 2018 Topps Opening Day Baseball is an entry-level release that comes with cheap packs and a no-frills base set. Usually in the modern era players make their MLB debut before appearing in a MLB base set. This is a notable exception, releasing a few weeks before the start of the 2018 season.
Parallels: Opening Day Edition (/2018), Opening Day 1/1 Edition (1/1), Printing Plates Black (1/1), Printing Plates Cyan (1/1), Printing Plates Magenta (1/1), Printing Plates Yellow (1/1)
Buy on: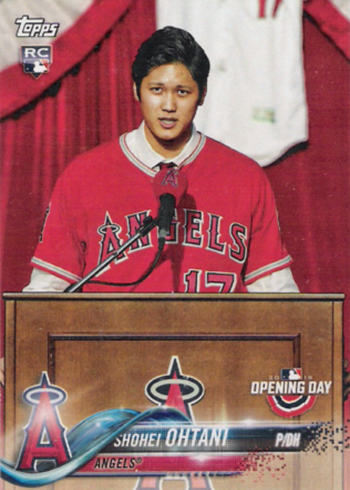 ---
Early Shohei Ohtani Cards of Note
Looking for other early Shohei Ohtani cards? Here's what came out before and around his MLB debut. This is not a complete list of cards. Rather, it's some of the more popular or notable Shohei Ohtani cards. A full Shohei Ohtani checklist can be found in the Beckett Baseball Card Database and Price Guide.
2017 Bowman Mega Box Prospects Shohei Otani #BCP31
The first American Shohei Ohtani card showed up as something of a surprise. Then it seemed to have disappeared from shelves before reappearing once again. The 2017 Bowman Mega Box Shohei Ohtani (or Otani as the card has him) could only be found in special boxes at Target. These mixed five regular 2017 Bowman packs with a pair of exclusive Mega Box Chrome packs with their own patterned versions of the Prospect cards.
Part of the reason for the surprise was that Ohtani wasn't among the 2017 Bowman Prospects. He was going to represent Japan at the World Baseball Classic but an injury kept him out of the tournament. A couple of international players did get Bowman cards in the main release. Ohtani was added only to the Bowman Mega Boxes. A similar Team Japan card was not in 2017 Bowman Chrome or Bowman Draft.
This card has proven to be extremely popular. Not only was it the first to market but the abnormal distribution added to it. Ohtani has international appeal. Japan does have hobby channels, but overseas collectors would have to look to the secondary market to get one of these.
Because it's his first American card, some collectors treat this as a Shohei Ohtani Rookie Card. Others point to other Bowman Prospect cards and how they're more like inserts. Either way, this has been a popular card since its release.
Parallels: Purple Refractors (/250), Green Refractors (/99), Orange Refractors (/25), Black Refractors (1/1)
Buy on:
• eBay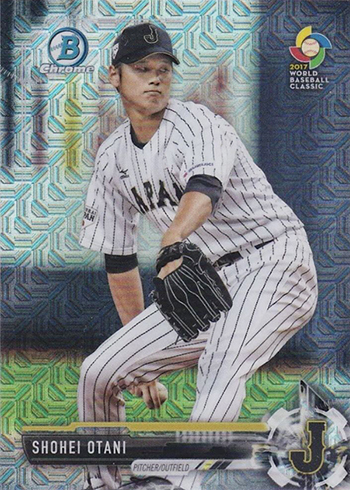 ---
2017 Topps Now Off-Season Shohei Ohtani #OS-80
The first Shohei Ohtani card with him in an Angels uniform came as part of the print-on-demand 2017 Topps Now Off-Season set. Originally available on the card maker's website for 24 hours, only the copies that were ordered were printed.
That ended up being 17,323 copies.
It set a new record for a Topps Now card.
As one can imagine, there's no shortage of them out there. It has also kept prices in line with what they were originally sold for as singles. Barring huge numbers from Ohtani, this looks to be a card that's more about history that it is about value.
Buy on: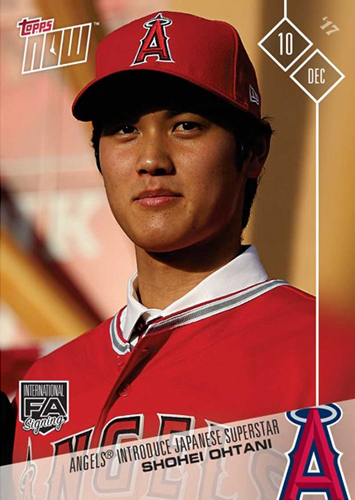 ---
2018 Donruss Whammy! Shohei Ohtani #W2
The 2018 Donruss Whammy! Shohei Ohtani isn't your usual insert. It's a throwback to those caricature shirts you'd find in the early '90s. The illustrations make them unique and the spotted foil backdrop helps put it over the top that much more.
Another factor with this particular set is that they're some of the toughest inserts in the product, adding rarity to the mix.
Buy on:
• eBay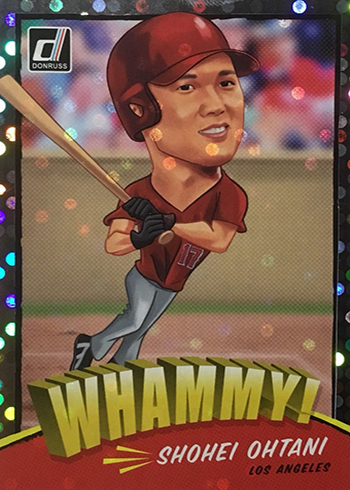 ---
2018 Topps Angels Team Set Shohei Ohtani #A-17
For those looking for a reasonably priced early Shohei Ohtani card, this might be one of the easier options. It's part of the pre-packaged 2018 Topps Angels Team Set. These come in blister packs and are available at both retail and hobby. Normally at retail, the local teams are most plentiful. But with the interest in Shohei Ohtani cards, it's possible it could see wider distribution. They're also available to card shops.
It also offers a glimpse at what the eventual 2018 Topps Shohei Ohtani Rookie Card could look like. The team set cards adopt the flagship design, although the numbering on the back is different and sometimes the photos change.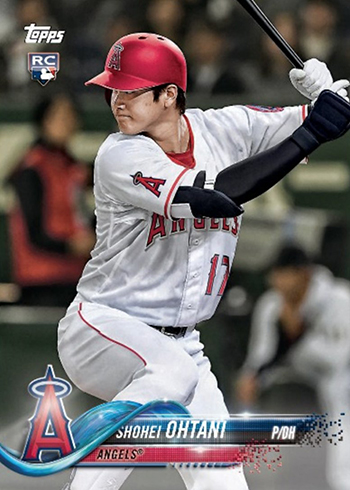 ---
2018 Topps Heritage Action Image Variation Shohei Ohtani #17
The first traditional, pack-inserted MLB Shohei Ohtani cards are in 2018 Topps Heritage. This card is a variation of the base set, an alternate card of sorts. Part of the Action Image Variation checklist, it's only available in hobby packs. These aren't the rarest variations in the product, however they're still short prints versus regular base cards.
Ohtani is also one of 11 Angels players included on a 2018 Topps Heritage 1969 Poster boxloader. Each poster has 50 copies.
Buy on: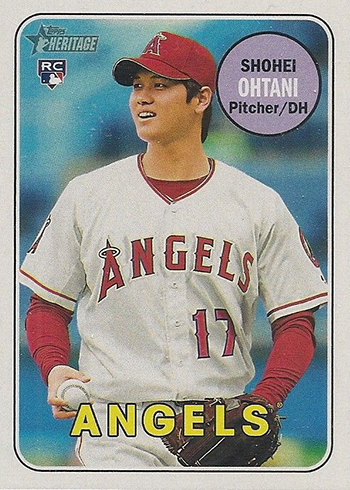 ---
2018 Topps Heritage Real One Autographs Shohei Ohtani #ROA-SO
Several Shohei Ohtani autographs are on the way. Topps, Panini and Leaf all have him slated for various products releasing in the early part of 2018. The first to arrive is in 2018 Topps Heritage as part of the Real One Autographs set.
Signed on-card, it's based on the 1969 Topps Baseball design. Traditionally, Heritage's Real One Autographs are popular for big names. Expect this one to take that to an extreme. The combination of Ohtani, his international appeal, Heritage's built-in and passionate audience and the fact that it's first should be an early-season perfect storm.
Parallels: Red (/69)
Buy on:
• eBay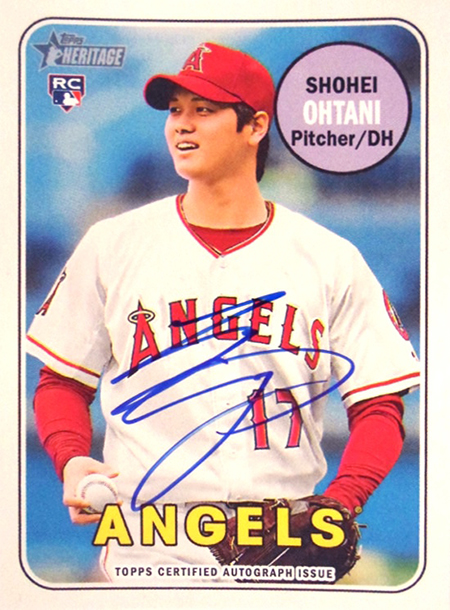 ---
2018 Topps Living Set Shohei Ohtani #7
The Topps Living Set is one that's intended to go on indefinitely. We're talking years. And a key part of it is that a player only appears once on the checklist unless they change teams. Available through the Topps website, the Topps Living Set Shohei Ohtani came early, in just the third week of the set's existence. Sold for a week through the Topps website, its production run of 20,966 copies is based on the number ordered.
Buy on:
• eBay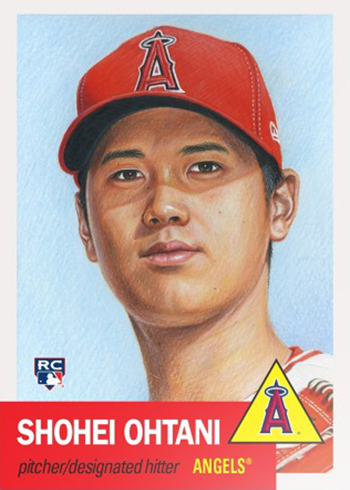 ---
2018 Topps Now Shohei Ohtani
It's safe to say that there are probably going to be a lot of 2018 Topps Now Shohei Ohtani cards. These capture big moments within hours of them occurring. Available on the Topps website for just 24 hours, these are more print-on-demand cards.
Topps is doing some a little different with Ohtani. The plan is for all of his cards to have both English and Japanese versions. Each much be purchased individually.
Ohtani also has autographs in the line as well, the first two of which sold out very quickly.
Buy on:
• eBay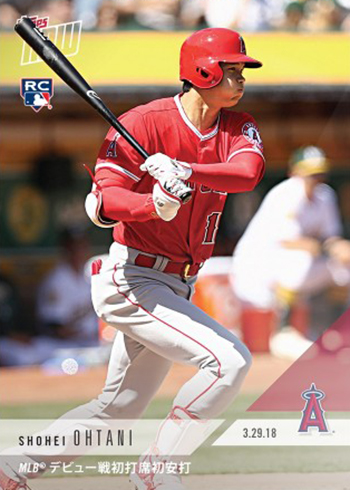 ---
2018 Topps Now Road to Opening Day Shohei Ohtani
As Spring Training kicked off, Topps released a series of team sets focusing on the earliest parts of the season. Ohtani appears twice in the Angels team set, one on a solo card and a second alongside Mike Trout. Like other Topps Now sets, these team sets are printed to order after the sales window closes. They're available on the Topps website for the duration of Spring Training.
The Angels also have an upgrade version of the team set that includes an autograph. Ohtani is one of four players available for Los Angeles. Although there's no guarantee which signature you'll get, those that order two Angels autograph sets are guaranteed to get either an Ohtani or a Trout autograph.
Buy on:
• eBay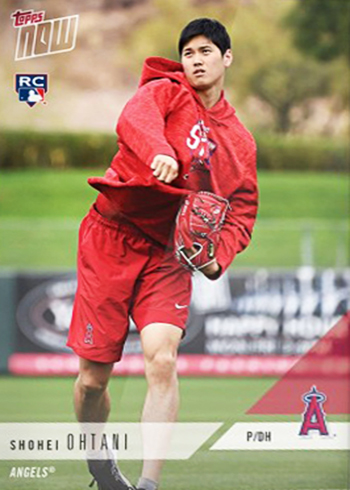 ---
2018 Topps Now Spring Training Shohei Ohtani
Following his first official MLB pitching appearance in Spring Training, Topps quickly got Ohtani into Topps Now (#ST-4). Similar to his signing card, it was available for just 24 hours. While the print run didn't quite reach the same heights as the first one, it still sold 11,384 copies. This makes it another one of the most ordered Topps Now cards to date.
A couple of days later, another card was made for Ohtani's first Spring Training at bats (#ST-7). It sold 6,842 copies.
Buy on:
• eBay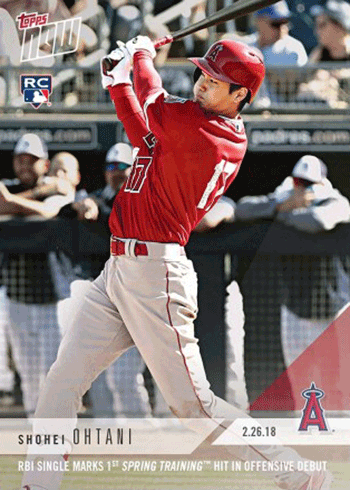 Shohei Ohtani Autographs
As mentioned, collectors will have several options when it comes to early Shohei Ohtani autograph cards. Topps Heritage might be kicking it off, but within a few weeks there will be several more.
2018 Donruss Baseball from Panini has several Ohtani cards announced including multiple signed cards. Panini has plans to include Ohtani signatures in their products throughout the year.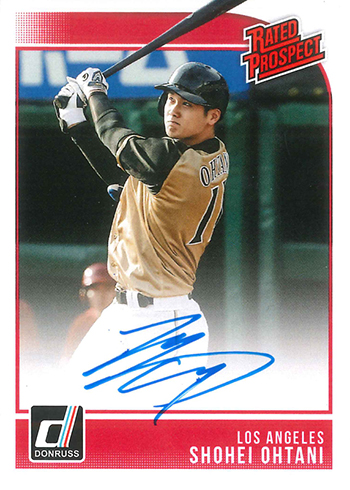 Both 2017 Leaf Trinity Baseball and the multi-sport 2017 Leaf Pearl have small numbers of Ohtani autographs as well. The ones in Trinity come with inscriptions.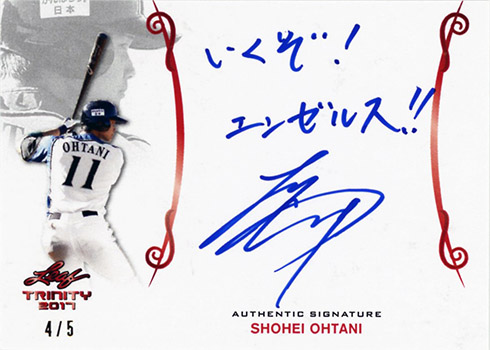 Expect plenty more Shohei Ohtani autographs throughout the season as well. Topps has confirmed them for multiple sets including 2018 Bowman, which will have the first Bowman Chrome Shohei Ohtani signatures.
Comments? Questions? Contact Ryan Cracknell on Twitter @tradercracks or by email.