2018 Topps Baseball Silver Packs – Checklist, How to Get Them and Program Details
When you click on links to various merchants on this site, like eBay, and make a purchase, this can result in this site earning a commission.
2018 Topps Baseball Silver Packs are a bonus for collectors buying 2018 Topps Series 1, 2018 Topps Series 2 and 2018 Topps Update hobby boxes. The cards are an added incentive, providing exclusive cards not available anywhere else.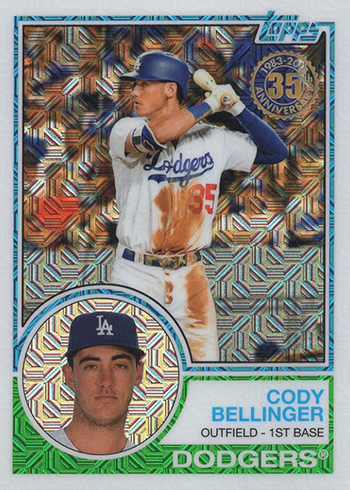 Special 1983 Topps Silver Pack cards are done in chrome. This makes different from the 1983 Topps inserts found in regular packs. The Series 1 Silver Pack versions also have a patterned background similar to last year's cards to make them quickly recognizable. For Series 2, the background patterns give way to more traditional Refractors. Update Series shifts back to the pattern design.
For Series 1, the checklist has 50 cards covering superstars, rookies and some big-name retired players. Refractor parallels come in Blue (/150), Green (/99), Purple (/75), Gold (/50), Orange (/25), Red (/5) and Superfractors (1/1).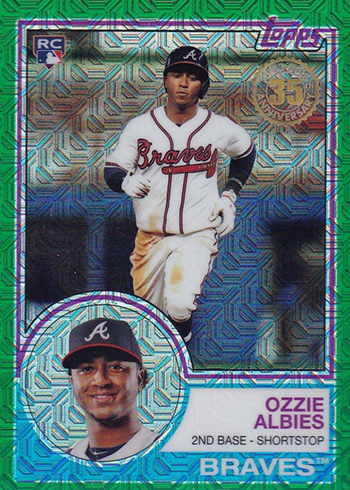 Autographs are also randomly inserted. A total of 40 players have signatures in the bonus packs. Parallels for these include Orange Refractors (/25), Red Refractors (/5) and Superfractors (1/1).
This is the second year for the program. 2017 Topps Silver Packs delivered special 1987 Topps Chrome cards. Rather than keeping with the 30th anniversary theme, and moving ahead to 1988, they're jumping backwards. Although 1988 has its fans, 1983 Topps Baseball is considered by many to not only be one of the most attractive sets of the decade but all-time.
How to Get 2018 Topps Baseball Silver Packs
2018 Topps Silver Packs are hobby-only. But it's not a card shop-exclusive promotion. Online dealers are also eligible for the program.
Collectors buying a 2018 Topps Baseball hobby box from a participating dealer get one of the special Silver Packs. Hobby jumbo boxes are good for two Silver Packs.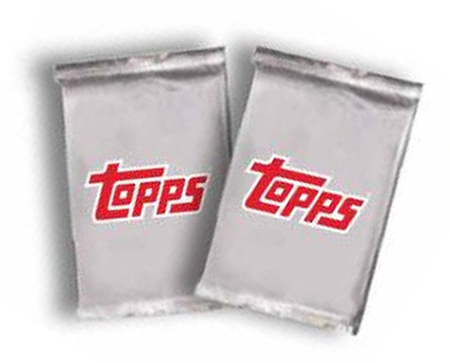 Like any promotion, it's best to check with shops and dealers to see if they're participating in the promotion. And even if they are, it's not a bad idea to confirm they still have the bonus packs available.
2018 Topps Series 1 Baseball released on January 31. The program continues with a second batch of exclusive cards for Series 2 (June 13 release). This year, the Silver Packs program continues all the way through to Update Series as well (October release).
2018 Topps Baseball 1983 Silver Packs Checklist
This checklist will expand with the release of and 2018 Topps Update Baseball.
Base Set Checklist
150 cards.
Series 1 – #1-50
Series 2 – #51-100
Update Series – #101-150
Series 1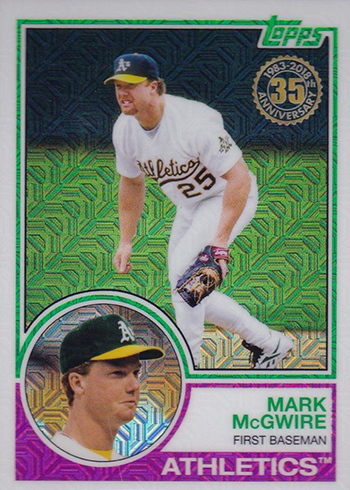 Parallels:
• Blue Refractors – /150
• Green Refractors – /99
• Purple Refractors – /75
• Gold Refractors – /50
• Orange Refractors – /25
• Red Refractors – /5
• Superfractors – 1/1
1 Derek Jeter, New York Yankees
2 Mike Trout, Los Angeles Angels
3 Ichiro, Miami Marlins
4 Brandon Woodruff, Milwaukee Brewers
5 Mark McGwire, Oakland Athletics
6 Cal Ripken Jr., Baltimore Orioles
7 Kris Bryant, Chicago Cubs
8 Carlos Correa, Houston Astros
9 Manny Machado, Baltimore Orioles
10 Clayton Kershaw, Los Angeles Dodgers
11 Anthony Rizzo, Chicago Cubs
12 Nicky Delmonico, Chicago White Sox
13 Aaron Judge, New York Yankees
14 Jack Flaherty, St. Louis Cardinals
15 Jose Altuve, Houston Astros
16 Cody Bellinger, Los Angeles Dodgers
17 Noah Syndergaard, New York Mets
18 Andrew Benintendi, Boston Red Sox
19 Clint Frazier, New York Yankees
20 Rafael Devers, Boston Red Sox
21 Garrett Cooper, New York Yankees
22 Javier Baez, Chicago Cubs
23 Giancarlo Stanton, Miami Marlins
24 Amed Rosario, New York Mets
25 Luis Severino, New York Yankees
26 Ozzie Albies, Atlanta Braves
27 Victor Robles, Washington Nationals
28 Trey Mancini, Baltimore Orioles
29 Ian Happ, Chicago Cubs
30 Paul Goldschmidt, Arizona Diamondbacks
31 Harrison Bader, St. Louis Cardinals
32 Zack Granite, Minnesota Twins
33 Walker Buehler, Los Angeles Dodgers
34 Paul DeJong, St. Louis Cardinals
35 Rhys Hoskins, Philadelphia Phillies
36 Dominic Smith, New York Mets
37 Dustin Fowler, Oakland Athletics
38 Miguel Andujar, New York Yankees
39 Hank Aaron, Atlanta Braves
40 Bryce Harper, Washington Nationals
41 J.P. Crawford, Philadelphia Phillies
42 Joey Votto, Cincinnati Reds
43 Ryne Sandberg, Chicago Cubs
44 Ryan McMahon, Colorado Rockies
45 Andrew Stevenson, Washington Nationals
46 Alex Verdugo, Los Angeles Dodgers
47 Francisco Mejia, Cleveland Indians
48 Wade Boggs, Boston Red Sox
49 Max Fried, Atlanta Braves
50 Parker Bridwell, Los Angeles Angels
Series 2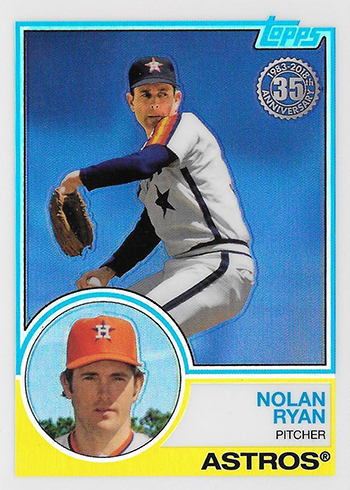 Parallels:
• Blue Refractors – /150
• Green Refractors – /99
• Blue Wave Refractors – /75
• Gold Refractors – /50
• Orange Refractors – /25
• Red Refractors – /5
• Superfractors – 1/1
51 Shohei Ohtani, Los Angeles Angels
52 Kyle Schwarber, Chicago Cubs
53 Sandy Alcantara, Miami Marlins
54 Mookie Betts, Boston Red Sox
55 Charlie Blackmon, Colorado Rockies
56 Ozzie Smith, St. Louis Cardinals
57 Tyler Mahle, Cincinnati Reds
58 Will Clark, San Francisco Giants
59 Matt Olson, Oakland Athletics
60 Lucas Sims, Atlanta Braves
61 Nolan Ryan, Houston Astros
62 Wil Myers, San Diego Padres
63 Gary Sanchez, New York Yankees
64 Yu Darvish, Chicago Cubs
65 Jose Ramirez, Cleveland Indians
66 Rickey Henderson, Oakland Athletics
67 Yadier Molina, St. Louis Cardinals
68 Anthony Banda, Tampa Bay Rays
69 Nick Williams, Philadelphia Phillies
70 Alex Bregman, Houston Astros
71 Darryl Strawberry, New York Mets
72 Robinson Cano, Seattle Mariners
73 George Springer, Houston Astros
74 Adrian Beltre, Texas Rangers
75 Don Mattingly, New York Yankees
76 Chris Sale, Boston Red Sox
77 J.D. Davis, Houston Astros
78 Travis Shaw, Milwaukee Brewers
79 Roberto Clemente, Pittsburgh Pirates
80 Francisco Lindor, Cleveland Indians
81 A.J. Minter, Atlanta Braves
82 Whit Merrifield, Kansas City Royals
83 Austin Hays, Baltimore Orioles
84 Chance Sisco, Baltimore Orioles
85 Josh Donaldson, Toronto Blue Jays
86 Victor Caratini, Chicago Cubs
87 Trea Turner, Washington Nationals
88 Troy Scribner, Los Angeles Angels
89 Yoan Moncada, Chicago White Sox
90 Justin Upton, Los Angeles Angels
91 Michael Conforto, New York Mets
92 Brian Anderson, Miami Marlins
93 George Brett, Kansas City Royals
94 Paul Blackburn, Oakland Athletics
95 Max Scherzer, Washington Nationals
96 Buster Posey, San Francisco Giants
97 Tyler Wade, New York Yankees
98 Corey Seager, Los Angeles Dodgers
99 Byron Buxton, Minnesota Twins
100 Chipper Jones, Atlanta Braves
Update Series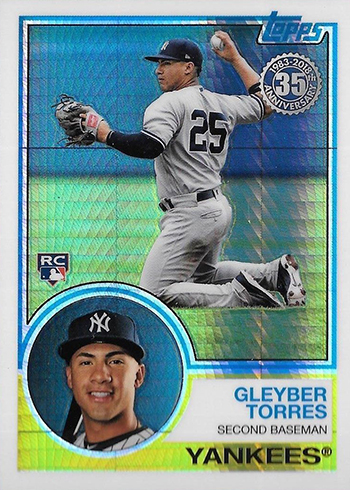 Parallels:
• Blue Refractors – /150
• Green Refractors – /99
• Purple Refractors – /75
• Gold Refractors – /50
• Orange Refractors – /25
• Red Refractors – /5
• Superfractors – 1/1
101 Ronald Acuña Jr., Atlanta Braves
102 Nolan Arenado, Colorado Rockies
103 David Ortiz, Boston Red Sox
104 Jacob deGrom, New York Mets
105 Eddie Murray, Baltimore Orioles
106 Mike Piazza, New York Mets
107 Ichiro, Seattle Mariners
108 Andrew McCutchen, San Francisco Giants
109 Austin Meadows, Pittsburgh Pirates
110 Barry Larkin, Cincinnati Reds
111 Fernando Romero, Minnesota Twins
112 Joey Lucchesi, San Diego Padres
113 Gerrit Cole, Houston Astros
114 J.D. Martinez, Boston Red Sox
115 Mike Soroka, Atlanta Braves
116 Marcell Ozuna, St. Louis Cardinals
117 Justin Verlander, Houston Astros
118 Jake Lamb, Arizona Diamondbacks
119 Chris Stratton, San Francisco Giants
120 Mariano Rivera, New York Yankees
121 Corey Kluber, Cleveland Indians
122 Masahiro Tanaka, New York Yankees
123 Isiah Kiner-Falefa, Texas Rangers
124 Todd Frazier, New York Mets
125 Giancarlo Stanton, New York Yankees
126 Ernie Banks, Chicago Cubs
127 Bo Jackson, Kansas City Royals
128 Chris Archer, Tampa Bay Rays
129 Ian Kinsler, Los Angeles Angels
130 Dustin Pedroia, Boston Red Sox
131 Freddie Freeman, Atlanta Braves
132 Frank Thomas, Chicago White Sox
133 Tyler O'Neill, St. Louis Cardinals
134 Juan Soto, Washington Nationals
135 Stephen Strasburg, Washington Nationals
136 Daniel Mengden, Oakland Athletics
137 Randy Johnson, Seattle Mariners
138 Lourdes Gurriel Jr., Toronto Blue Jays
139 Christian Yelich, Milwaukee Brewers
140 Starling Marte, Pittsburgh Pirates
141 Matt Kemp, Los Angeles Dodgers
142 Jordan Hicks, St. Louis Cardinals
143 Albert Pujols, Los Angeles Angels
144 Didi Gregorius, New York Yankees
145 Shohei Ohtani, Los Angeles Angels
146 Jackie Robinson, Brooklyn Dodgers
147 Gleyber Torres, New York Yankees
148 Miles Mikolas, St. Louis Cardinals
149 Nick Kingham, Pittsburgh Pirates
150 Scott Kingery, Philadelphia Phillies
Autographs Checklist
100 cards.
Known print runs are noted.
Parallels:
• Orange Refractors – /25
• Red Refractors – /5
• Superfractors – 1/1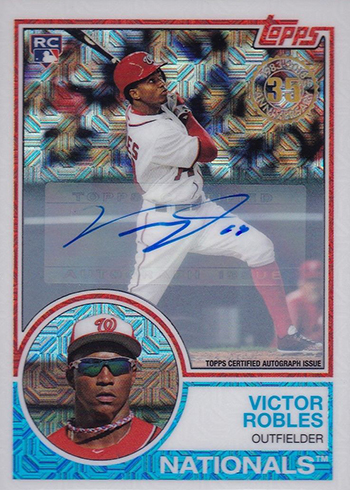 Series 1

83-JF Jack Flaherty, St. Louis Cardinals /199
83-PG Paul Goldschmidt, Arizona Diamondbacks /30
83-VR Victor Robles, Washington Nationals /99
83A-ARI Anthony Rizzo, Chicago Cubs /10
83A-ARO Amed Rosario, New York Mets /99
83A-AST Andrew Stevenson, Washington Nationals /199
83A-AV Alex Verdugo, Los Angeles Dodgers /199
83A-BW Brandon Woodruff, Milwaukee Brewers /199
83A-CF Clint Frazier, New York Yankees /99
83A-CKE Clayton Kershaw, Los Angeles Dodgers /10
83A-CR Cal Ripken Jr., Baltimore Orioles
83A-DFW Dustin Fowler, Oakland Athletics /199
83A-DJE Derek Jeter, New York Yankees
83A-DSI Dominic Smith, New York Mets /50
83A-GC Garrett Cooper, New York Yankees /199
83A-HA Hank Aaron, Atlanta Braves
83A-HB Harrison Bader, St. Louis Cardinals /199
83A-IH Ian Happ, Chicago Cubs /99
83A-JBZ Javier Baez, Chicago Cubs /50
83A-JC J.P. Crawford, Philadelphia Phillies /199
83A-JV Joey Votto, Cincinnati Reds /10
83A-KBR Kris Bryant, Chicago Cubs /10
83A-LS Luis Severino, New York Yankees /30
83A-MA Miguel Andujar, New York Yankees /199
83A-MF Max Fried, Atlanta Braves /199
83A-MMA Manny Machado, Baltimore Orioles /10
83A-MMG Mark McGwire, Oakland Athletics /10
83A-MTR Mike Trout, Los Angeles Angels
83A-ND Nicky Delmonico, Chicago White Sox /199
83A-NSY Noah Syndergaard, New York Mets /50
83A-OAL Ozzie Albies, Atlanta Braves /99
83A-PBR Parker Bridwell, Los Angeles Angels /199
83A-PD Paul DeJong, St. Louis Cardinals /99
83A-RD Rafael Devers, Boston Red Sox /99
83A-RHO Rhys Hoskins, Philadelphia Phillies
83A-RM Ryan McMahon, Colorado Rockies /199
83A-RS Ryne Sandberg, Chicago Cubs /10
83A-TM Trey Mancini, Baltimore Orioles /99
83A-WB Wade Boggs, Boston Red Sox /10
83A-ZG Zack Granite, Minnesota Twins /199
Series 2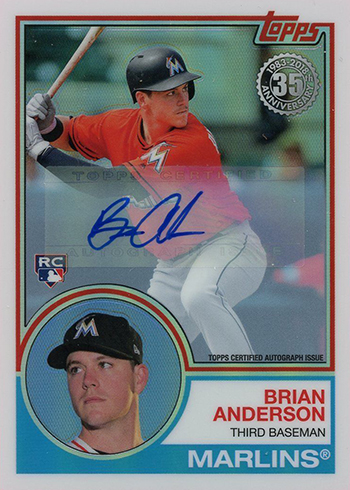 51 Shohei Ohtani, Los Angeles Angels
53 Sandy Alcantara, Miami Marlins
56 Ozzie Smith, St. Louis Cardinals
57 Tyler Mahle, Cincinnati Reds
58 Will Clark, San Francisco Giants
59 Matt Olson, Oakland Athletics
61 Nolan Ryan, Houston Astros
62 Jose Ramirez, Cleveland Indians
63 Gary Sanchez, New York Yankees
66 Rickey Henderson, Oakland Athletics
67 Yadier Molina, St. Louis Cardinals
68 Anthony Banda, Tampa Bay Rays
70 Alex Bregman, Houston Astros
71 Darryl Strawberry, New York Mets
73 George Springer, Houston Astros
74 Adrian Beltre, Texas Rangers
75 Don Mattingly, New York Yankees
76 Chris Sale, Boston Red Sox
77 J.D. Davis, Houston Astros /99
78 Travis Shaw, Milwaukee Brewers
81 A.J. Minter, Atlanta Braves
82 Whit Merrifield, Kansas City Royals
83 Austin Hays, Baltimore Orioles /99
84 Chance Sisco, Baltimore Orioles
88 Troy Scribner, Los Angeles Angels
90 Justin Upton, Los Angeles Angels
91 Michael Conforto, New York Mets
92 Brian Anderson, Miami Marlins /99
94 Paul Blackburn, Oakland Athletics
96 Buster Posey, San Francisco Giants
97 Tyler Wade, New York Yankees
100 Chipper Jones, Atlanta Braves
Update Series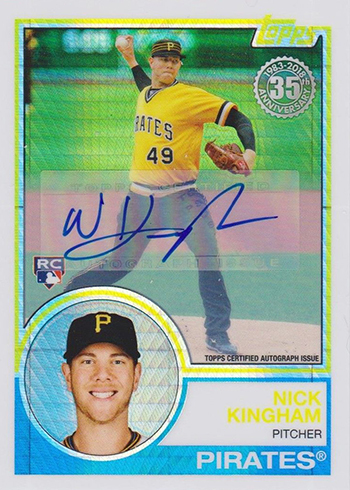 101 Ronald Acuña Jr., Atlanta Braves
103 David Ortiz, Boston Red Sox
104 Jacob deGrom, New York Mets
107 Ichiro, Seattle Mariners
108 Andrew McCutchen, San Francisco Giants
109 Austin Meadows, Pittsburgh Pirates
110 Barry Larkin, Cincinnati Reds
111 Fernando Romero, Minnesota Twins /99
115 Mike Soroka, Atlanta Braves /99
116 Marcell Ozuna, St. Louis Cardinals /99
118 Jake Lamb, Arizona Diamondbacks
119 Chris Stratton, San Francisco Giants /99
120 Mariano Rivera, New York Yankees
121 Corey Kluber, Cleveland Indians /30
123 Isiah Kiner-Falefa, Texas Rangers
127 Bo Jackson, Kansas City Royals
129 Ian Kinsler, Los Angeles Angels
131 Freddie Freeman, Atlanta Braves
132 Frank Thomas, Chicago White Sox
134 Juan Soto, Washington Nationals /99
136 Daniel Mengden, Oakland Athletics
138 Lourdes Gurriel Jr., Toronto Blue Jays
139 Christian Yelich, Milwaukee Brewers
145 Shohei Ohtani, Los Angeles Angels
147 Gleyber Torres, New York Yankees /99
148 Miles Mikolas, St. Louis Cardinals
149 Nick Kingham, Pittsburgh Pirates /99
150 Scott Kingery, Philadelphia Phillies /99