2018 Topps Big League Baseball variations come in a couple of different forms. Players Weekend Image Variations are about as easy as it gets as far as variations go, both in ease of finding them and how quickly they jump out. Error Variations are much harder to find. As for spotting them, you shouldn't have too much trouble.
2018 Topps Big League Players Weekend Image Variations
Players Weekend Image Variations showcase 30 stars in the special uniforms — and with the nicknames that came with them — from games in August, 2017.
Even if it was just the jerseys, these would be simple to spot. They actually come with a totally different design than the main set. Fronts use a splatter element in the name plate, which also runs diagonal. Nicknames are also prominent.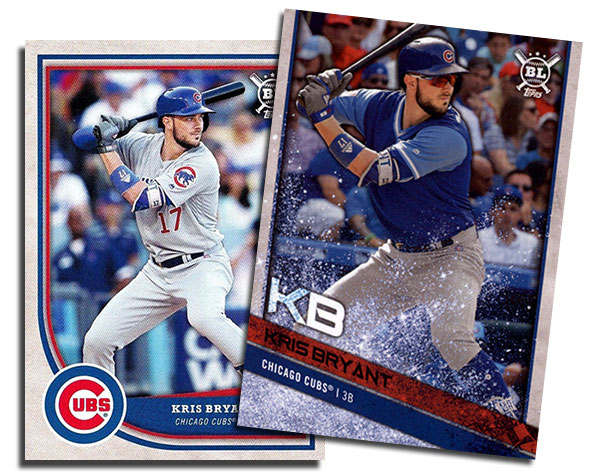 Flip the cards over and the layout is different there, too.
Players Weekend Image Variations are plentiful, landing 1:3 2018 Topps Big League hobby packs.
2018 Topps Big League Error Variations
Those looking for something more challenging have Error Variations. These arrive unannounced by Topps ahead of time. They were also left off the company's public checklist. This puts them more in line with most of their other SSP variations in other sets.
"Errors" vary from card to card. Keeping up with the set's overriding aim for fun and levity, they're similar to one of those spot the difference puzzle you find in magazines and on classroom worksheets. Some of the 2018 Topps Big League Error Variations jump out quickly. Others are a little more subtle.
Either way, they are tough to pull, falling 1:506 hobby packs.
For those who like to use the codes at the end of the fine print on the back, base cards end in 106. Error Variations end in 530. In case the different design and card backs weren't enough, Players Weekend Image Variations end in 529.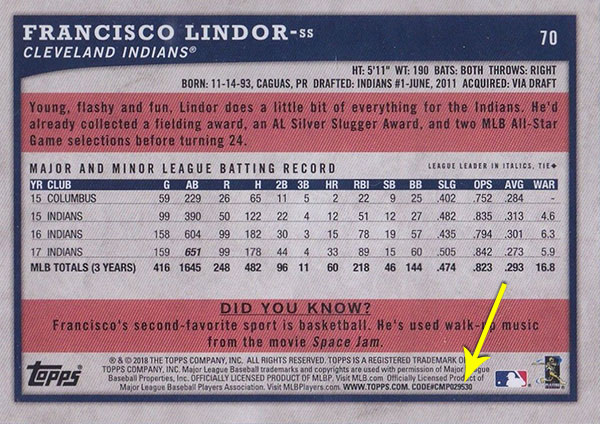 2018 Topps Big League Baseball Variations Checklist
Here's a handy 2018 Topps Big League variations checklist that combines both Players Weekend and Error cards for fast reference. Error cards are in bold to make them a little easier to find on the list. If you're looking for a specific card, click on the link to see what's currently listed on eBay.
The Players Weekend portion is complete. We'll continue to add Error Variations as they're confirmed.
2018 Topps Big League Variations Gallery
Use the tabs to easily navigate between Error and Players Weekend Variations.
Error Variations
Errors Variations
Full Errors checklist TBA.
1 Aaron Judge, New York Yankees
15 Cody Bellinger, Los Angeles Dodgers
25 Bryce Harper, Washington Nationals
50 Clayton Kershaw, Los Angeles Dodgers
63 Amed Rosario, New York Mets
70 Francisco Lindor, Cleveland Indians
104 Jose Altuve, Houston Astros
150 Mike Trout, Los Angeles Angels
171 Giancarlo Stanton, New York Yankees
300 Kris Bryant, Chicago Cubs
Players Weekend Variations
Players Weekend Image Variations
1 Aaron Judge, New York Yankees
19 Matt Olson, Oakland Athletics
28 Joey Votto, Cincinnati Reds
38 Byron Buxton, Minnesota Twins
48 Ozzie Albies, Atlanta Braves
62 Robinson Cano, Seattle Mariners
63 Amed Rosario, New York Mets
70 Francisco Lindor, Cleveland Indians
80 Corey Seager, Los Angeles Dodgers
91 Anthony Rizzo, Chicago Cubs
96 Salvador Perez, Kansas City Royals
99 Jose Abreu, Chicago White Sox
104 Jose Altuve, Houston Astros
105 Manny Machado, Baltimore Orioles
111 Paul Goldschmidt, Arizona Diamondbacks
113 Rhys Hoskins, Philadelphia Phillies
117 Charlie Blackmon, Colorado Rockies
131 Josh Donaldson, Toronto Blue Jays
150 Mike Trout, Los Angeles Angels
159 Mookie Betts, Boston Red Sox
162 Gary Sanchez, New York Yankees
203 Buster Posey, San Francisco Giants
219 Jacob deGrom, New York Mets
230 Adrian Beltre, Texas Rangers
250 Rafael Devers, Boston Red Sox
254 Yadier Molina, St. Louis Cardinals
256 Kenley Jansen, Los Angeles Dodgers
276 Andrew Benintendi, Boston Red Sox
287 Alex Bregman, Houston Astros
300 Kris Bryant, Chicago Cubs