When Edelman's Not Idle – Beckett Pricing Insider
When it comes to football, Julian Edelman didn't have much to celebrate this past Fourth of July. His suspension for performance enhancing drugs was upheld by the NFL. That means he's going to miss the first four games of the season against the Texans, Jaguars, Lions and Dolphins.
This comes after missing all of 2017 with an ACL injury.
Despite all this, Edelman is easily one of the most collected players on the Patriots. Tom Brady and Rob Gronkowski are probably the only veteran players with a bigger hobby following.
Edelman has only a handful of Rookie Cards for collectors to chase after. His most popular is in 2009 Exquisite Collection, has a value of $150. 2009 Playoff Contenders and SP Authentic follow at around $100. The only Julian Rookie Card from Topps is 2009 Topps Platinum.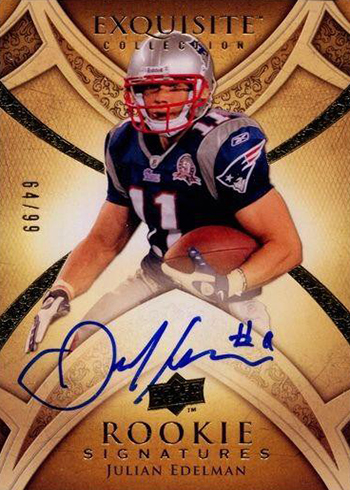 Following his rookie season, Edelman didn't have another autograph card until 2013.
In total,  he has only 25 autograph cards. All of those released after 2009 have print runs of 25 or less.
Outside of signatures, Edelman has plenty of memorabilia cards and inserts for him as well.
And while Edelman is still popular, collectors have understandably softened a little bit on his cards. This usually happens when a player misses time due to injury or suspension. In this case, both have happened.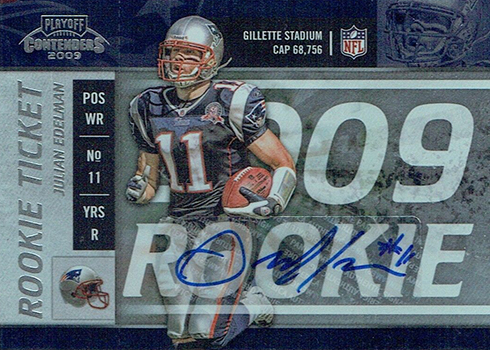 When he comes back, presumably in Week 5, and Edelman can show he can play at a high level again his values should rise again. And with Tom Brady throwing him the ball, it shouldn't take Edelman long to get back into form.