2017 Topps Heritage Minors Variations Gallery, Checklist and Guide
2017 Topps Heritage Minors variations come in a couple of different forms, Facsimile Signatures and Errors.
Both are on the rare side in 2017 Topps Heritage Minors packs and can be easy to miss. But if you know what to look for, they're actually quite simple.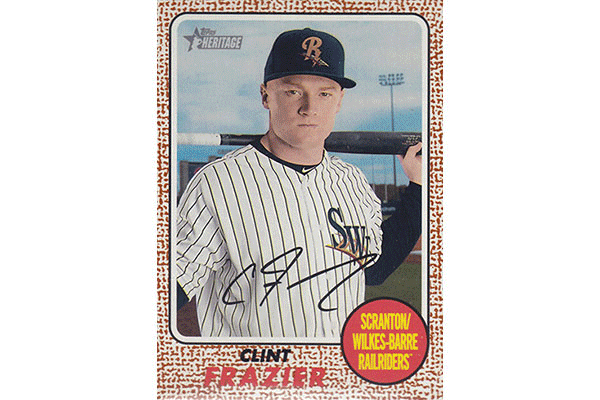 2017 Topps Heritage Minors Facsimile Signature variations make one small change to the base card. Regular cards have no pre-printed autograph on the front. These short prints do. Different from actual signed cards like those found in the product's Real One Autographs, these have a copy of the player's signature. It's done in black and is plain to see versus real autographs.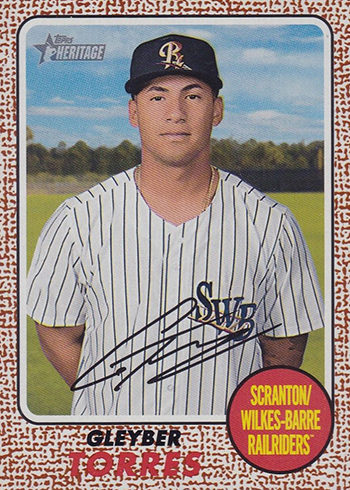 Like MLB version of 2017 Topps Heritage, Error Variations look to the past for inspiration. These are cards done with an intentional mistake, although early ones look like it might be more of a color adjustment for the team name on the front instead. This is something that happened back in 1968 Topps Baseball, which all 2017 Heritage sets are rooted in. All of the 2017 Topps Heritage High Number Error Variations were also simple team name color switches as well.
2017 Topps Heritage Minors Variations Codes and Odds
2017 Topps Heritage Minors variation short prints are not easy to pull. Facsimile Signature Variations land 1:328 packs. Error Variations are more than twice as tough, falling 1:820 packs. That's about 1:34 boxes.
Confirming variations can be done by using the fine print on the back. The code at the end changes depending on the type of card. Regular base cards have two different endings this time around. Some end in 08, others in 13. Both signify basic cards. Short prints (#201-220) have a third, wrapping in 18.
When looking for variations, Facsimile Signature cards can be confirmed by the code ending in 19. Errors end in 20.
First Name Omission Parallels
2017 Topps Heritage Minors introduces First Name Omission parallels. These have the player's first name missing on the front. Although many are selling these as a style of error variation, they're actually a full parallel set. All 200 cards in the main set have one of these cards, which are inserted 1:47 packs.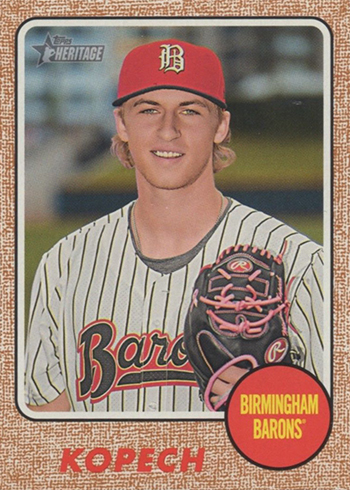 2017 Topps Heritage Minor League Baseball Variations Checklist
Here's a checklist of all the 2017 Topps Heritage Minor League Baseball variations for easy reference at a glance. The Error and Facsimile Signature variation lists were released by Topps and are complete. More First Name Omission Variations may be added.
If you're looking for a specific card, click on the links to see what's currently listed on eBay.
2017 Topps Heritage Minor League Baseball Variations Gallery
The following lists are complete. Missing images will be added as they become available.
Facsimile Signature
2017 Topps Heritage Minors Facsimile Signature Variations
1 Amed Rosario, Las Vegas 51s
10 Mickey Moniak, Lakewood BlueClaws
25 Jason Groome, Greenville Drive
37 Luis Urias, San Antonio Missions
50 Nick Senzel, Daytona Tortugas
73 Blake Rutherford, Kannapolis Intimidators
75 Clint Frazier, Scranton/Wilkes-Barre RailRiders
100 Gleyber Torres, Scranton/Wilkes-Barre RailRiders
125 Eloy Jimenez, Winston-Salem Dash
177 Austin Meadows, Indianapolis Indians
190 Rafael Devers, Portland Sea Dogs
Error
2017 Topps Heritage Minors Error Variations
10 Mickey Moniak, Lakewood BlueClaws
25 Jay Groome, Greenville Drive
50 Nick Senzel, Daytona Tortugas
75 Clint Frazier, Scranton/Wilkes-Barre RailRiders
100 Gleyber Torres, Scranton/Wilkes-Barre RailRiders
110 Mitch Keller, Bradenton Marauders
125 Eloy Jimenez, Winston-Salem Dash
150 Corey Ray, Carolina Mudcats