2020 Topps Opening Day Baseball Variations Short Prints Guide and Gallery
2020 Topps Opening Day Baseball Variations stay the course of recent years. Similar to flagship Series 1, the theme behind them is that there is no theme. They come with dynamic shots, like those often found in Stadium Club. Things like casual ballpark antics, celebrations and in-game action. The 2020 Topps Opening Day base set has a lot of these sorts of shots as well.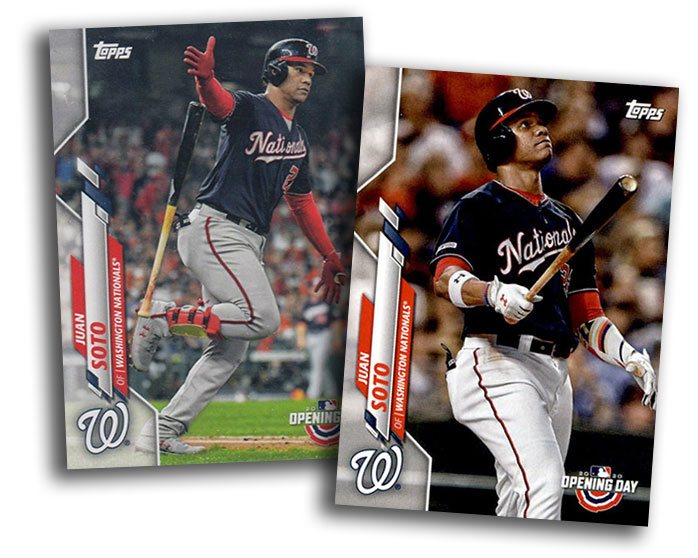 In all, there are 30 different 2020 Topps Opening Day Image Variations. The checklist is a mix of stars and rookies. And while there are plenty of big-name veterans, there are some hobby heavyweights who don't appear like Mike Trout, Mookie Betts, Aaron Judge and Max Scherzer.
The short prints are tough, landing 1:615 for both hobby and retail packs. Combine that with the large checklist and it's safe to expect them to dry up after the initial rush that comes when a set first comes out.
Besides the basic SSPs, 15 of the cards also have Image Variation Autographs. These are scarce, falling 1:30,391.
Confirming 2020 Topps Opening Day Baseball Variations with the Codes on the Back
If you're unsure as to whether you have an SSP, you can use the fine print production codes on the back. Simply go to the end of the block of the text at the bottom with all the copyright info. You'll see a CMP code. These are the endings that matter when it comes to Image Variations in this set:
Base – end in 579
Image Variations – end in 601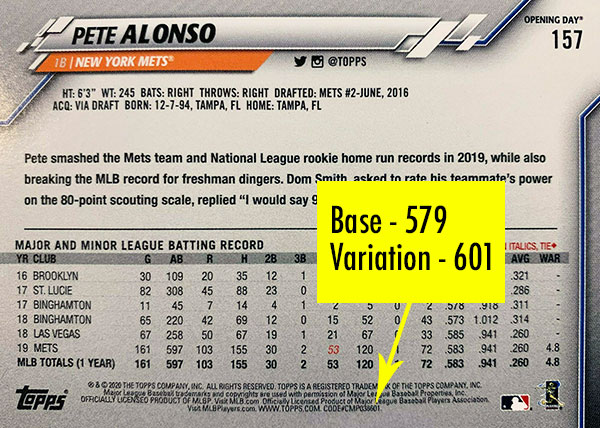 Luis Robert Short Print "Variation"
It's worth noting that Topps lists #201 Luis Robert as a "Short-Print Variation" on the checklist they released. Short print — yes. Variation — not really, at least not how we're breaking them down here. The late addition to the set is in much shorter supply than other base cards. It also seems to be printed on different card stock. However, there is no other card that's #201 in the product, so it's not really a variation.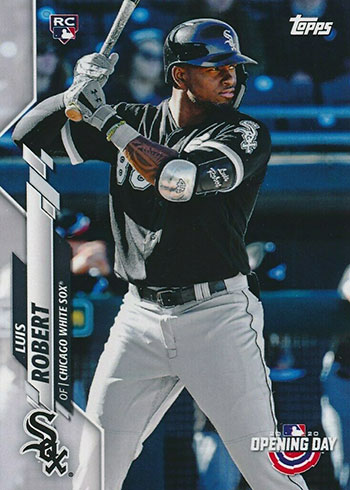 Early reports suggest the Rookie Card lands about 1:10 boxes. So it's tough. The card has been strong on eBay in the early going.
Besides the regular Image Variations, there are also six Canada Variations. These land one per Canadian blister pack and feature six Toronto Blue Jays players. Besides having different images, these have a maple leaf pattern in the nameplate.
2020 Topps Opening Day Baseball Variations Checklist
Here's a quick list of players with variations in 2020 Topps Opening Day Baseball. If you're looking for a specific card, click on the links to see what's currently available on eBay.
1 Brendan McKay
24 Willson Contreras
27 Juan Soto
33 Vladimir Guerrero Jr.
38 Nolan Arenado
39 Carter Kieboom
43 Shohei Ohtani
61 Keston Hiura
63 Yordan Alvarez
67 Ronald Acuña Jr.
78 Matt Chapman
79 DJ LeMahieu
105 Jesus Luzardo
107 Max Muncy
116 Dansby Swanson
117 Kris Bryant
138 Eloy Jimenez
147 Aristides Aquino
156 Rhys Hoskins
157 Pete Alonso
161 Ketel Marte
163 Christian Yelich
165 Brandon Lowe
169 Rafael Devers
172 Walker Buehler
173 Bo Bichette
186 Gleyber Torres
187 Jacob deGrom
188 Bryce Harper
199 Jose Berrios
2020 Topps Opening Day Baseball Variations Gallery
We'll continue to fill the image gaps until the gallery is full.
1 Brendan McKay, Tampa Bay Rays
24 Willson Contreras, Chicago Cubs
27 Juan Soto, Washington Nationals
33 Vladimir Guerrero Jr., Toronto Blue Jays
38 Nolan Arenado, Colorado Rockies
39 Carter Kieboom, Washington Nationals
43 Shohei Ohtani, Los Angeles Angels
61 Keston Hiura, Milwaukee Brewers
63 Yordan Alvarez, Houston Astros
67 Ronald Acuña Jr., Atlanta Braves
78 Matt Chapman, Oakland Athletics
79 DJ LeMahieu, New York Yankees
105 Jesus Luzardo, Oakland Athletics
107 Max Muncy, Los Angeles Dodgers
116 Dansby Swanson, Atlanta Braves
117 Kris Bryant, Chicago Cubs
138 Eloy Jimenez, Chicago White Sox
147 Aristides Aquino, Cincinnati Reds
156 Rhys Hoskins, Philadelphia Phillies
157 Pete Alonso, New York Mets
161 Ketel Marte, Arizona Diamondbacks
163 Christian Yelich, Milwaukee Brewers
165 Brandon Lowe, Tampa Bay Rays
169 Rafael Devers, Boston Red Sox
172 Walker Buehler, Los Angeles Dodgers
173 Bo Bichette, Toronto Blue Jays
186 Gleyber Torres, New York Yankees
187 Jacob deGrom, New York Mets
188 Bryce Harper, Philadelphia Phillies
199 Jose Berrios, Minnesota Twins