2018 Topps Heritage Minors Baseball Checklist and Details
2018 Topps Heritage Minors Baseball is past, present and future all wrapped up into one. Like the MLB version of 2018 Topps Heritage, the product looks back to 1969 for much of its inspiration, at least on the design front. However, the checklist is all about what may be, spotlighting prospects with their minor league teams.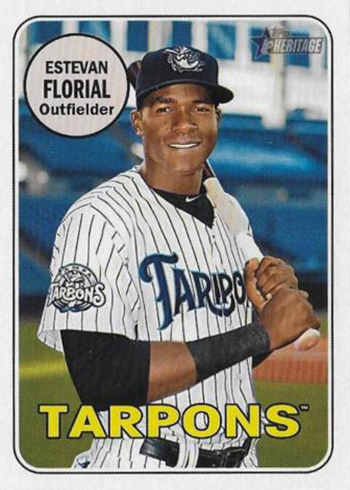 2018 Topps Heritage Minors Base Set Basics
The main 2018 Topps Heritage Minors set consists of 200 cards, all done to mimic the beats of 1969 Topps Baseball. This goes beyond regular player cards and into such subsets as League Leaders and Sporting News Topps News All-Stars.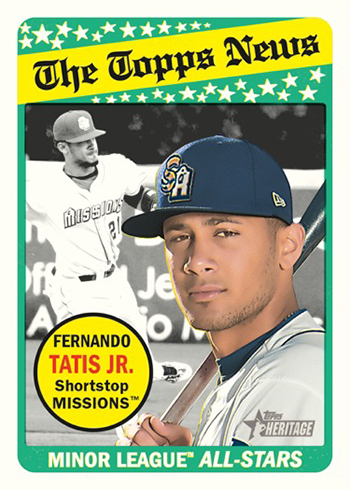 Short prints also exist beyond the common 200-card shell set.
Parallels come in a handful of levels. Blue (/99) Black (/50), Magenta Back, Team Name Color Change (/25) and Red (1/1) are all in regular packs. New to 2018 are three-card Blue Cello box topper packs found in each hobby box. These have a trio of exclusive Glossy Front parallels.
Select base cards also come with variation short print versions.
Autographs and Relics
Autographs and relic cards are both one per 2018 Topps Heritage Minors hobby box.
Like the main Heritage line (and unlike Topps' other MiLB set, Pro Debut), autographs are on-card.
Heading these up are Real One Autographs, which carry a similar design as the base set. Parallels include Blue (/99), Black (/50), Team Color Change (/25) and Red (1/1).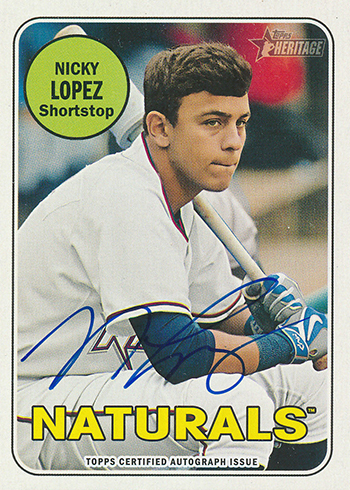 Image Variation Autographs and new Bazooka Autographs all have 50 copies each. Bazooka Autographs also have Red (1/1) versions.
Dual Autographs have signatures from a pair of MiLB standouts and come numbered to 20.
Relics come in a couple of forms. Clubhouse Collection Relics have a swatch of game-used jersey or bat piece. Besides basic versions, these have Blue (/99), Black (/50), Orange Patch (/25) and Red Patch (1/1) parallels.
'69 Mint Relics carry over from the main 2018 Topps Heritage set. These have original 1969 coins embedded in them. Among the versions are Black Quarter (/50), Red Quarter (1/1), and Autographs (/10).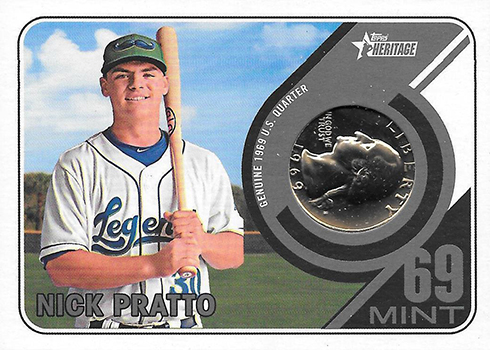 Inserts
1969 Topps Deckle Edge makes the jump over to MiLB baseball cards. Regular versions have the traditional black and white images. However, there are also Color parallels. Select cards have autographs as well (/99) with Color Image Autographs numbered to 25.
1969 Collector Card inserts are based on 1969 Transogram Baseball. These are easily recognizable for their yellow layout.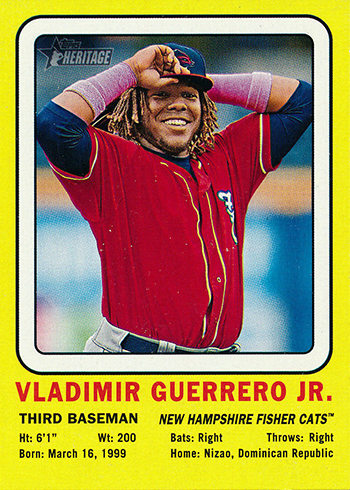 Make Your Pro Debut Contest
2018 Topps Heritage Minors brings back the Make Your Pro Debut contest with a pair of entries in each hobby box.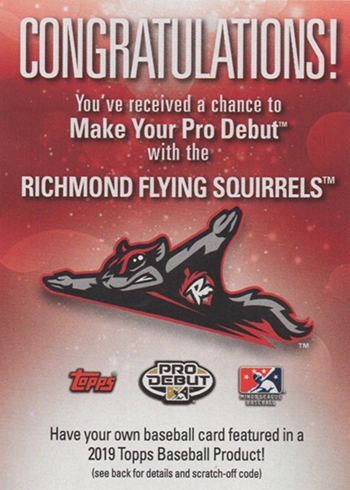 The grand prize is a one-day contract with the Richmond Flying Squirrels as well as a special card included in 2019 Topps Pro Debut Baseball.
2018 Topps Heritage Minors Baseball at a glance:
Cards per pack: 8
Packs per box: 18
Boxes per case: 12
Set size: 220 cards
Release date: September 26, 2018
What to expect in a hobby box:
• Autographs – 1
• Relic Cards – 1
2018 Topps Heritage Minors Baseball Checklist
Base
Autographs
Memorabilia
Inserts