2020 Topps Opening Day Baseball cards care more about showcasing a fun side of the game than offering hits in bulk. The entry-level line returns with a checklist that's, in some ways, very similar to the flagship 2020 Topps Baseball release. But it's different in others — particularly when it comes to the inserts.

2020 Topps Opening Day Baseball Checklist Overview
The base set has 200 cards, which is a condensed version of Topps Series 1 as well as some "previews" for Series 2. As is the case with past Opening Day sets, the design is nearly identical to the corresponding flagship release as well. Outside of card numbers on the back, it's the Opening Day logo on the front that's the biggest difference.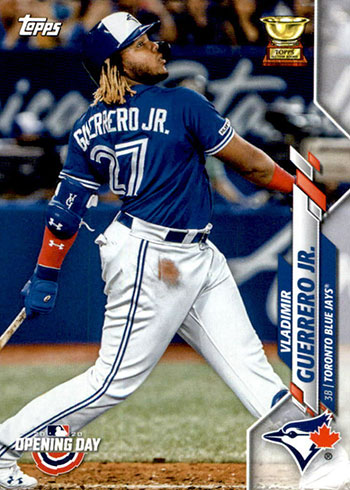 Parallels include Blue Opening Day Edition, Opening Day 1 of 1 Edition (1/1) and Printing Plates (1/1). Special Mega Boxes are back at Target. These come with exclusive Red Foil parallels. Meijer has Purple Foil cards.
Variation short prints are also available for some players. These use different images on the card front and fall at longer odds. Some variations also have autographs. In addition to the standard Image Variations, there are also six more of Toronto Blue Jays players found in Canadian retail blister packs.
Inserts
2020 Opening Day Baseball has one insert card per pack. And there are a lot of them on the checklist.
Among the new themes this year is Spring Has Sprung, which show players during Spring Training. Walk This Way also makes its debut. The premise behind these is walk-off home runs.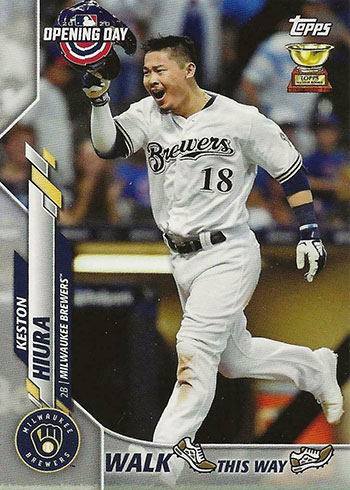 Returning insert sets include Mascots, Opening Day, and Team Traditions and Celebrations.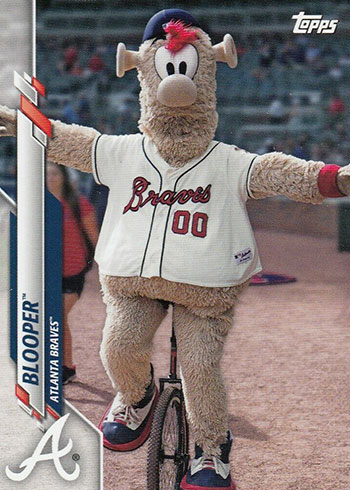 The Lighter Side of Baseball, which looks at funny moments on the field, joins Dugout Peeks as short print inserts that are among the toughest cards to pull in the product.
The 2020 Topps MLB Sticker Collection has some preview inserts available in packs.
Mascot Patch Relics (/99) bring over the commemorative relic concept to Opening Day.
Autographs and Memorabilia Cards
It's important to know that hits aren't a primary focus in 2020 Topps Opening Day Baseball. But that doesn't mean that they aren't in the product.
Basic signature sets include Opening Day Autographs, which highlight current MLB players.
Mascot Autographs return as well as do Mascot Relics and Autograph Relics.
Further expanding on the brand's theme of delving deeper into the MLB experience are Ballpark Profile Autographs. Broadcasters and other baseball nobility are featured with on-card signatures.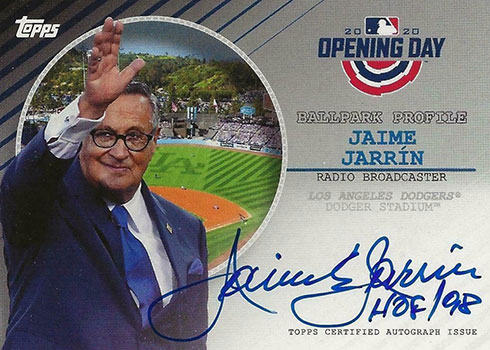 Opening Day Relics use game-used swatches while Diamond Relics has dirt taken from the featured players' home stadium. Select Diamond Relics also have autograph versions.
Major League Mementos make their debut in 2020 Topps Opening Day. These are similar to the Fragments of the Farm relics found in Topps Pro Debut. Rather than uniform pieces, Major League Mementos have memorabilia from MLB stadiums and ballparks.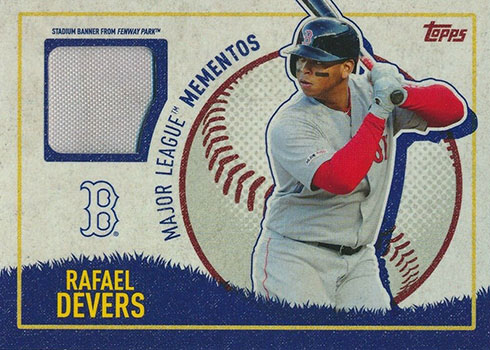 2020 Topps Opening Day Baseball cards at a glance:
Cards per pack: 7
Packs per box: 36
Boxes per case: 20
Set size: 200 cards
Release date: March 11, 2020
Shop for 2020 Topps Opening Day Baseball boxes on eBay:
What to expect in a hobby box:
2020 Topps Opening Day Baseball Checklist
Base
Autographs
Memorabilia
Inserts
Team Sets