2020 Topps Tribute Baseball cards represent the first premium release of the season (barring its February release date getting pushed back as it was in 2019). As usual for the brand, every pack comes with a hit of some kind, whether that's an autograph, relic or autographed relic. Across a six-pack box, collectors will find at least three signatures.

2020 Topps Tribute Baseball Autographs
2020 Tribute Baseball has signatures in several parts of its checklist. However, they're most prominent in Tribute Autographs. As usual for the brand, vets, top rookies and players from the past are all available. The list of parallels includes Blue (/150), Green (/99), Purple (/50), Orange (/25), Red (/10), Printing Plates (1/1) and Black (1/1).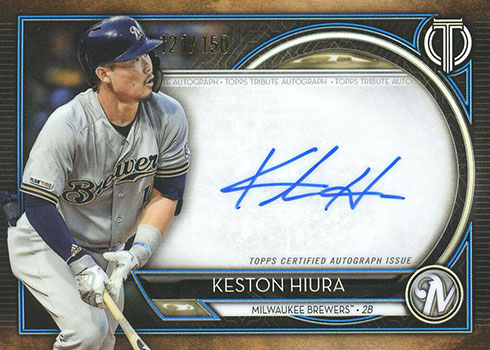 Iconic Perspectives and League Inauguration Autographs both return. Perspectives takes a varied approach to player selection, crossing several generations. Inauguration Autographs, on the other hand, are all about rookies. Base versions for both of these are numbered to 99 with parallels available in Orange (/25), Red (/10) and Black (1/1).
Tribute Tandem Autograph Book cards (/25) have signatures from two players — one veteran and one star from the past who shares a similar trait. The only parallels are Red (/10) and Black (1/1).
Autograph Prime Patches are just that. These are similar to Topps Strata cards in the past where a large relic swatch is in a layer underneath the signature.
The Tribute Career Achievement Award Autograph set continues. This year, it's all about Mike Trout. The Angels outfielder is the first active player to get the spotlight. He follows Sandy Koufax in 2018 and Hank Aaron in 2019. Each card in the set is a one-of-one.
2020 Topps Tribute has a couple of new autograph inserts, both of which are case hits. Franchise Best Autographs (/99 or less) highlight some of the best players for their given team. Tribute to Great Hitters Autographs (/99 or less) goes on the offensive with current and retired stars. Both of these have Orange (/25), Red (/10) and Black (1/1) versions. Tribute to Great Hitters also has Purple parallels (/50).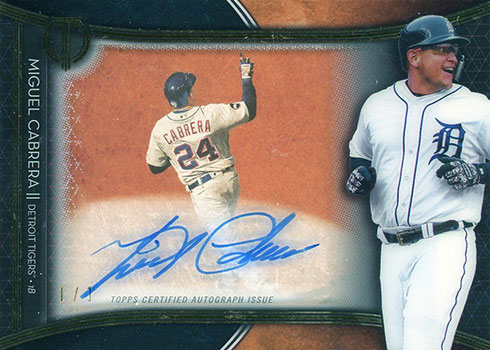 Memorabilia Cards
All of the relics in the product take on some sort of theme or defined approach. For starters, there are Dual and Triple Relics (/150) that come with multiple memorabilia pieces. Stamp of Approval (/150) cards all come with MLB authentication so the swatches can be tracked to the specific game in which they were used.
All three of these insert sets have Green (/99), Purple (/50), Orange (/25), Red (/10) and Black (1/1) parallels.
With just ten copies each, Milestone Relics are much more scarce. These all have a piece of a baseball used (and authenticated) from a specific game with historical significance, which is also noted on the card. Select cards also have one-of-one Black Jumbo Autograph versions.
2020 Topps Tribute Baseball Base Set Basics and Additional Inserts
Most collectors are going to gravitate towards the fancy stuff and overlook the main set, but Tribute typically has some of the highest quality base cards of the season. Current stars mix with greats from the past.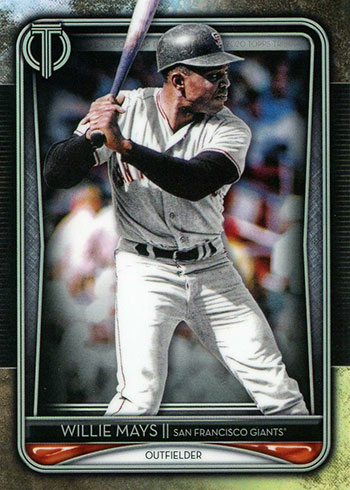 Parallels are available in Green (/99), Purple (/50), Red (/10) and Black (1/1).
2020 Rookies are numbered differently. Each case has two of the ten cards found on this part of the checklist. Parallels mirror those found in the base set.
2020 Topps Tribute Baseball cards at a glance:
Cards per pack: 3
Packs per box: 6
Boxes per case: 6
Set size: 90 cards
Release date: April 10, 2020
What to expect in a hobby box:
Autographs – 3
Additional Autographs or Memorabilia Cards – 3
2020 Topps Tribute Baseball Checklist
Base
Autographs
Memorabilia
Inserts
Team Sets
Odds