2020 Topps X Efdot Iconic Stadium Series Checklist, Print Runs and Details
A lot of baseball card collectors have gotten to know Efdot's art through Topps Project 2020. The two are collaborating on another set, this time looking at some of the most famous MLB ballparks. Like a lot of good art, 2020 Topps X Efdot Iconic Stadium Series digs deeper by getting more personal as well with reflections from the artist.
Iconic Stadium Series launches with five cards, each offering Efdot's interpretation on different parks: the original Yankee Stadium, Dodger Stadium, Fenway, Wrigley and Shea Stadium. The style of the art is instantly recognizable with bold colors, fun lines and plenty of details. Similar to his work in Topps Project 2020, the New York-based mural artist and illustrator packs lots of details into each card. There's a good chance one could look one of the cards, come back to it a while later and notice something new.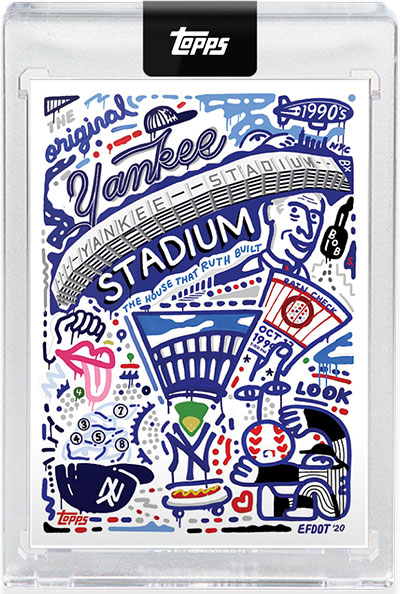 On the back, the write up includes some personal thoughts on the selected ballparks, highlighting not just some of the details but Efdot's own experiences and memories.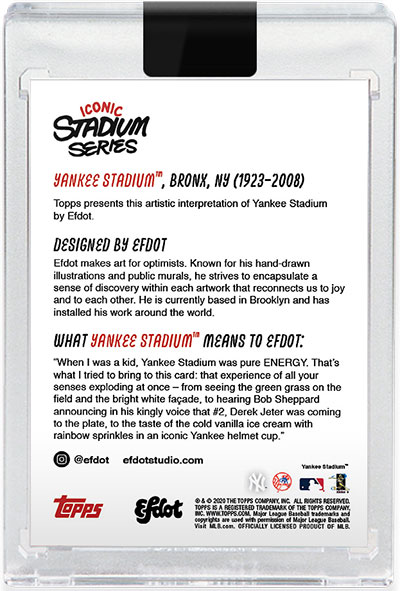 How to Get 2020 Topps X Efdot Iconic Stadium Series Cards
2020 Topps X Efdot Iconic Stadium Series is a limited time release available only on the Topps website. Cards are available through Friday, December 4. Individual cards are $19.99 each. There's also a complete set option that's $75.
Artist Proofs that come with a silver frame have just 50 copies each. These are $299.99.
Iconic Stadium Series cards have a couple of other parallels that are being included randomly with orders. First, there are Gold Frame cards that are one-of-ones. Every 1:20 cards get a Rainbow Foilboard version. Parallels count as the card that's ordered and are not a bonus.
Print runs for all five cards will be announced after the sales window closes.
While nothing has been announced officially, the set could expand with new cards in 2021.
2020 Topps X Efdot Iconic Stadium Series at a glance:
Set size: 5 cards
Release date: November 27, 2020
2020 Topps X Efdot Iconic Stadium Series Checklist
5 cards.
If you're looking for a specific card, click on the links to see what's available on eBay.
Print runs are noted.
1 Yankee Stadium – 1,486
2 Shea Stadium – 1,431
3 Fenway Park – 1,242
4 Wrigley Field – 1,481
5 Dodger Stadium – 1,415