2020 Panini National Treasures Baseball Checklist, Team Set Lists and Details
2020 Panini National Treasures Baseball is sticking with an all-hits checklist. That means that all eight cards in every hobby box have either an autograph, a piece of memorabilia or a combination of the two.

2020 Panini National Treasures Baseball Checklist Overview
Customary for National Treasures Baseball, the checklist delves through different eras of the game. Current vets, rookies, prospects and greats going back to the early days of professional baseball are all among the possibilities.
Rookie Material Signatures return as one of the centerpieces, offering on-card ink from the game's youngsters alongside oversized patch pieces.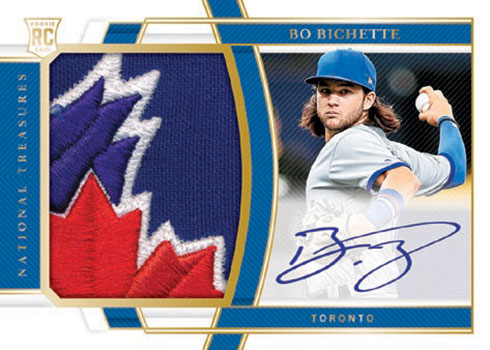 More rookies are in Debut Materials Signature Booklets. These go even bigger with the memorabilia with a swatch taking up a full panel.
The Future isn't exclusively rookies. However, these autograph inserts do have hard signatures from some of baseball's top young stars.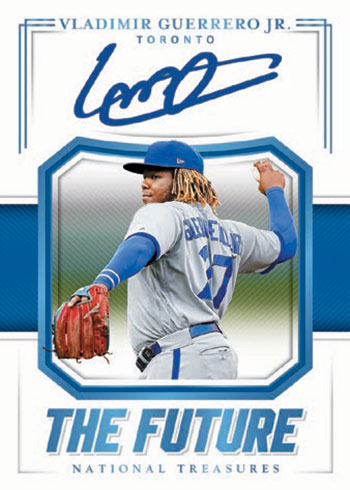 Taking a similar on-card approach only with players from around the world is International Treasures.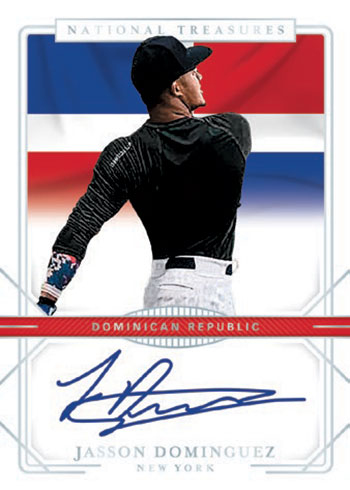 Hall of Fame Signatures is exclusively Cooperstown inductees.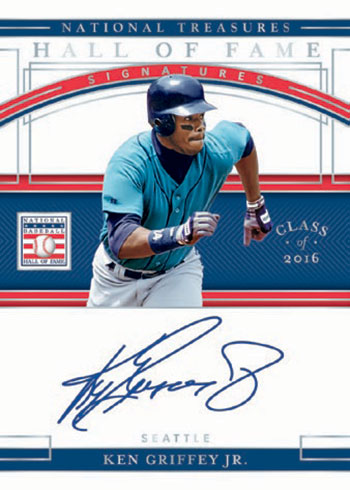 2020 National Treasures has more autograph memorabilia offerings as well. Signature Names show their relics through die-cut windows that spell out phrases that go with the player. These are similar to what you might find in Topps Triple Threads as well.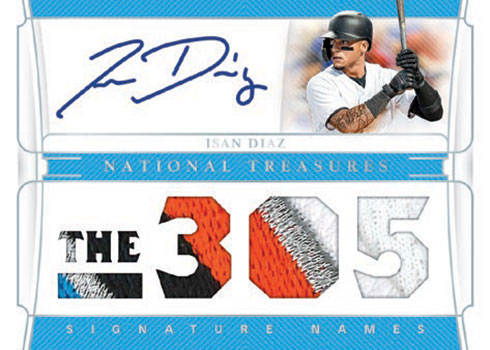 Cut Signature Material Booklets also spell things out with die-cut displays. These include cities, nicknames, stats and more. By bringing in cuts, this also means legends.
Clearly Jumbo Signatures have large swatches and autographs. But another part that helps them standout further is the acetate stock used to make them.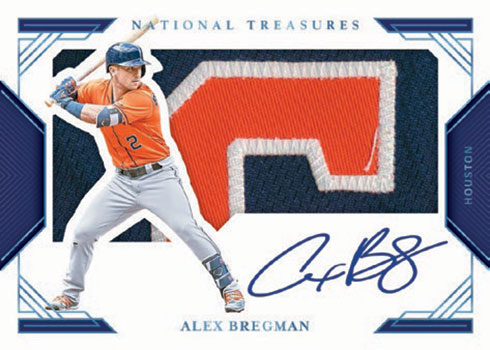 As far as memorabilia cards go, there are unique pieces like bat knobs, barrels, cleats and nameplates.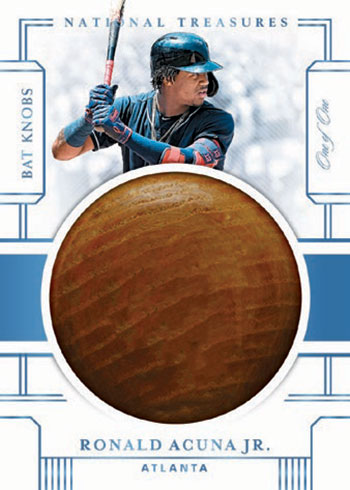 2020 Panini National Treasures Baseball cards at a glance:
Cards per pack: 8
Packs per box: 1
Boxes per case: 4
Set size: 213 cards
Release date: November 4, 2020
Shop for 2020 Panini National Treasures Baseball boxes on eBay:
What to expect in a hobby box:
Autographs or Memorabilia Cards – 8 Total
2020 Panini National Treasures Baseball Checklist
Please note that this checklist includes every card in the product. However, not every card has every parallel and print runs for those that do can vary. Please checklist the spreadsheet copy for this info.
You can also download a customizable spreadsheet version that includes a full master list of parallels and specific print runs for every card:
Base
Autographs
Memorabilia
Team Sets