If you track the history of Allen & Ginter, it goes back to the 1800s. Cards were small and they definitely weren't chromium. But collecting and technology have evolved over the last 120 or so years. Enter 2020 Topps Allen & Ginter Chrome Baseball, a set that gives a new spin on one of the hobby's most popular brands.
While it doesn't reach as far into the realm of strange as the main 2020 Allen & Ginter set, it's not entirely baseball. The configuration is also different than the central set, leaning harder on the chromium turn and inserts rather than hits. Autographs are available, but certainly not in every box.
2020 Topps Allen & Ginter Chrome Baseball Base Set Basics
The main set has a total of 300 cards, mixing current baseball players and rookies, retired greats and some faces from the pop culture realm.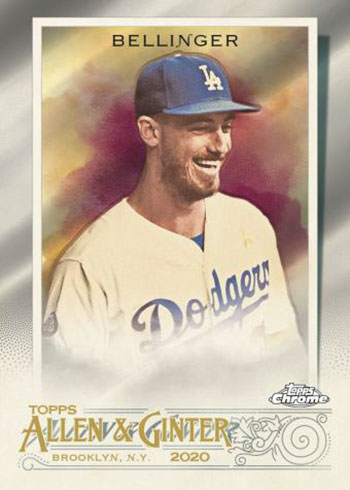 Parallels come as both traditionally sized Refractors and Mini cards.
The Refractor rainbow breaks down to include:
Refractors – 1:3 packs
Green Refractors – /99
Gold Refractors – /50
Orange Refractors – /25
Red Refractors – /5
Superfractors – 1/1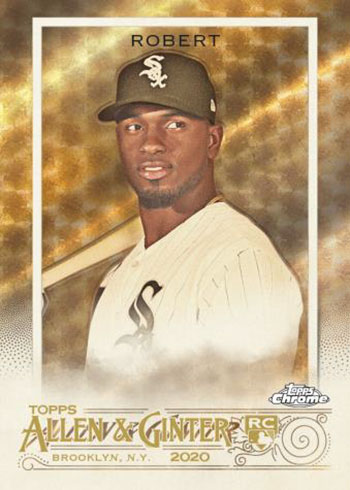 Mini parallels combine to land one per pack. These have their own Red Refractors (/5) and Superfractors (1/1).
Autographs and Inserts
Autographs are tough in Allen & Ginter Chrome. They land just one per case with no other memorabilia cards or Rip Cards like the main A & G line. They're done in a full-sized format and have on-card signatures. Parallels are limited to Orange Refractors (/25), Red Refractors (/5) and Superfractors (1/1).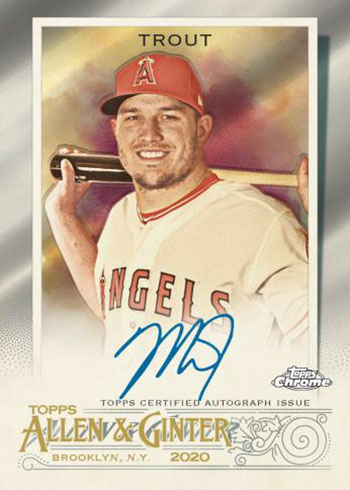 The checklist has three other mini insert sets. None focus on baseball. Instead they go into the historical realms that Ginter is known for. Buggin' Out (20 cards, 1:6 packs) is all about insects and spiders. Safari Sights (15 cards, 1:9 packs) take a trip to Africa with shots of landmarks, culture and wildlife. Finally, there's Booming Cities (15 cards, 1:9 packs) that look at some of the fastest growing spots on the planet.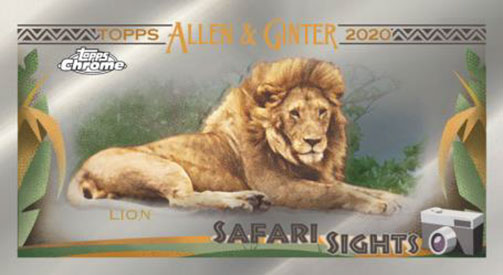 Topps continues to expand its Chrome sets. Besides this set, Topps is also adding Stadium Club Chrome as well as expanding into Chrome inserts and parallels in some other products.
2020 Topps Allen & Ginter Chrome Baseball cards at a glance:
Cards per pack: 4
Packs per box: 18
Boxes per case: 12
Set size: 300 cards
Release date: November 18, 2020
What to expect in a hobby box:
Booming Cities Minis – 2
Buggin' Out Minis – 3
Safari Sights Minis – 2
Mini Parallels – 18
Refractors – 6
The full 2020 Topps Allen & Ginter Chrome Baseball checklist and team set lists will be up when they're available. This is usually shortly before the set comes out.