Who's on your Allen & Ginter autograph dream team?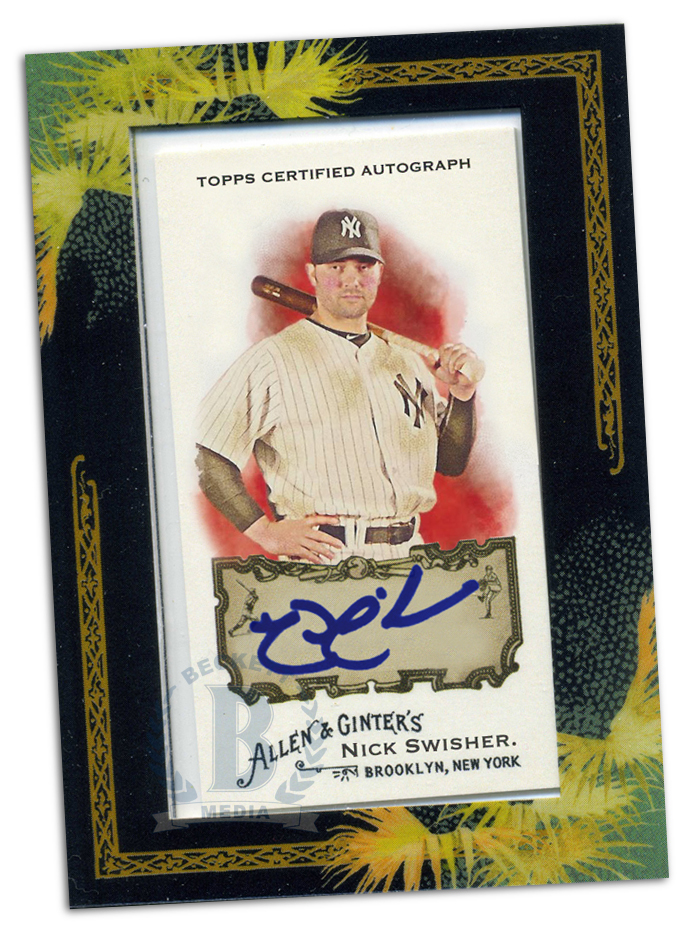 By Chris Olds | Baseball Editor | Commentary
(Note: The card above is 133 percent fake … But you had to see how cool it could look!)
One spring ritual for baseball card collectors is wishing for a certain baseball player or non-athlete to appear on a Topps Allen & Ginter autograph card — whether it be via a traditional signing or via the cut autograph route.
While many players — and some very notable athletes from other sports — have appeared on cards in the popular baseball card line since its arrival in 2006, there are some who have yet to appear on framed mini autographs in the product based on the 1880s cards of the same name. And, given the popularity of the brand — or at least this writer's obsession with mini-sized tobacco cards — that's a shame.
This year's example of Ginter autograph discussions popped up on Twitter recently with collectors offering up their top-five picks for whom they'd want to see on Allen & Ginter cards in the future. For me, the No. 1 Ginter autograph card is easy — and easily predictable if you're a regular reader here — it's one of New York Yankees outfielder Nick Swisher.
Rather than just tweet my top five — in 140 characters or less — I figured I'd rather be windy about it and present my top five. The 2008 Swisher above is a melding two past Ginter cards so I can make my case visually. Would I like to see it happen? Of course, but I know that things happen when it comes to dreams of collectors — their demands may not be as universal or essential to a majority of collectors — meeting realities of budgets, time constraints and players' signing habits/fees.
I didn't whip up cards for the remainder of my Top Five (all living and available signers) — but you can see who and why I picked the five that I did … after the jump.
1. Nick Swisher — OF, New York Yankees
The All-Star is a bit of a cult hero in New York with his Swisher Salute to the Bleacher Creatures and his fan-friendly, easy-going attitude but he's never landed on a Ginter autograph. He has had Ginter Relic cards three times — 2006, 2007 and 2009 — and is slated to have a Relic in the 2011 set when it arrives in July. But no ink for my favorite player. I'm patient … he'll come around — or maybe myself and his other 1,303,134 followers on Twitter should prod him (and Topps) to make it happen.
2. Jose Canseco — former OF, Oakland A's
The former Bash Brother and thorn in MLB's side probably won't be appearing on many — if any — MLB-approved cards any day soon. But that doesn't mean he doesn't have a significant place in the history of the game. In fact, he's perhaps more important in baseball history as the guy who helped bring the sport's performance-enhancement drug issues into the forefront of daily discussion than he was as a borderline Hall of Fame-caliber player. I would lose bladder control if I opened a pack and saw an inked mini of him Bashing forearms with a former Oakland A's teammate. (Doesn't even need to be Mark McGwire … but pencil him in as No. 2b on this list.)
3. Pedro Cerrano — OF Cleveland Indians (aka Dennis Haysbert, actor)
I've written about Major League way too many times in the past — and waxed poetic about the absolute need for a movie studio-approved card tie-in with some of the best baseball movies ever made in the pages of Beckett Baseball — but there's no doubt in my mind that true baseball fans would get a kick out of seeing some of these guys on autographed minis. I mean, heck, Jobu has to be a Creature of Legend, Myth and/or Joy, right? Haysbert has signed for card companies in the past — as has Roger Dorn (Corbin Bernsen) and Ricky "Wild Thing" Vaughn (Charlie Sheen) — so they're familiar with the game. Then again, it could be a challenge … I pulled a redemption for a Harry Doyle autograph years ago and he (Bob Uecker) has never signed … maybe that's a sign. Then again, a different (more positive) sign would be Sheen's lone past autograph showing up on the Baseball Hot List of Beckett Sports Card Monthly … it's an absolute winner these days.
4. Bud Selig & Donald Fehr — MLB Commissioner/former MLB Players Association Executive Director (dual autograph booklet)
We've seen a few baseball executives on cardboard through the years — for example former MLBPA Executive Marvin Miller was on a Ginter card last year — but this duo would be a classic inclusion. Selig has appeared on a handful of obscure baseball cards through the years, even signing some autographs, while Fehr has just one. Pairing these two negotiating combatants probably will never happen, but it would be special for those who appreciate the history of the game.
5. Vince McMahon — Chairman & CEO, World Wrestling Entertainment
We all know that Mr. McMahon is a ruthless villain on-screen, but off-screen the  65-year-old is as hands-on as it gets. In short, he's a busy man — one who even oversees WWE Magazine (imagine this guy as your publisher). All that said, he's definitely too busy to sign autographs — he's never appeared on a certified signed card at all — but he's definitely a "world's champion" in a few ways worthy of inclusion if you consider some of the unusual names who have made the Ginter cut in the past. Love him or hate him, he's a business — and wrestling — icon.
Who are your Allen & Ginter dream autographs? Let us know via a comment below …
Chris Olds is the editor of Beckett Baseball. Have a comment, question or idea? Send an e-mail to him at colds@beckett.com. Follow him on Twitter by clicking here.