2020 Topps Allen & Ginter Baseball Checklist, Team Set Lists and Details
2020 Topps Allen & Ginter Baseball takes a page from past releases. Overall, it doesn't deviate much from recent years. The promise of three autographs, relics or Rip Cards per hobby box remains the same. The look and feel is still rooted in tobacco cards from more than a century ago. And, spoiler alert: the checklist still has a lot more than baseball.

2020 Topps Allen & Ginter Baseball Checklist Overview
Another area where things aren't changing is the base set. It's still 350 cards, which includes 50 short prints.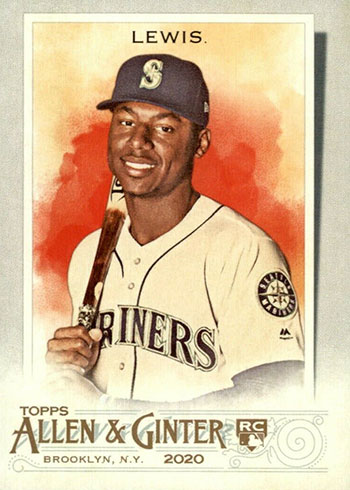 Full-sized parallels come in a couple of forms. Glossy versions, which are noted for their slick feel, are one-of-ones.
Hot boxes return. These are the only place to find Silver Portrait parallels, a change-up in the background color. It appears that short prints don't have Silver Portrait versions.
The parallel lineup grows significantly when the one-per-pack minis are factored in. The minis available in hobby packs include:
Mini
Allen & Ginter Mini (1:5 packs, SP – 1:65 packs)
Black Border (1:10 packs, SP – 1:130 packs)
No Number (50 copies)
Brooklyn Back (/25)
Framed Mini Printing Plates (1/1, four per card)
Glossy (1/1)
Wood (1/1, hobby-exclusive)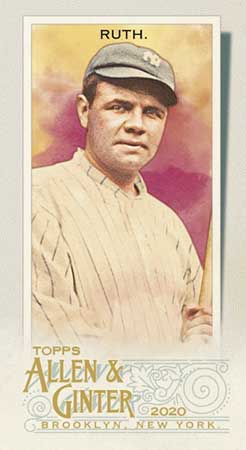 Gold Border Minis are exclusive to retail value packs, of which there are five in each.
Additional partial parallels also exist, each with 150 different cards:
Framed Mini Cloth (/10, hobby-exclusive)
Mini Metal (three copies)
Autographs, Memorabilia Cards and Relics
Framed Mini Autographs are back, something that has been with Allen & Ginter since Topps reintroduced it back in 2006. As usual, the checklist isn't just baseball players. Champions from other sports and activities as well as people from other areas of pop culture are also on there. Parallels include hobby-only Red Ink and Black Frames (/25).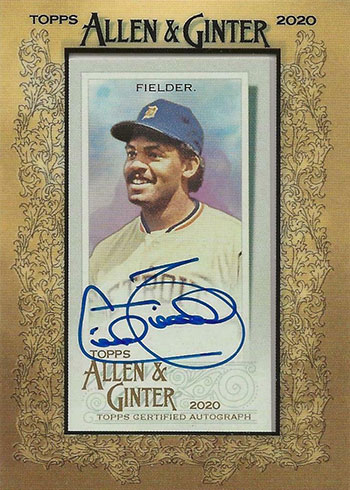 Autographed Relic and Dual Autographed Relic Book cards both return. In both instances, these have ten copies each.
One-of-one Cut Signatures return. Less than two dozen exist across the product's entire production run.
Once again, basic memorabilia cards come with two designs, Framed Mini Relics and Full-Size Relics. Mini relics are a mix of baseball players and non-baseball personalities. Full-Size Relics stick to just baseball.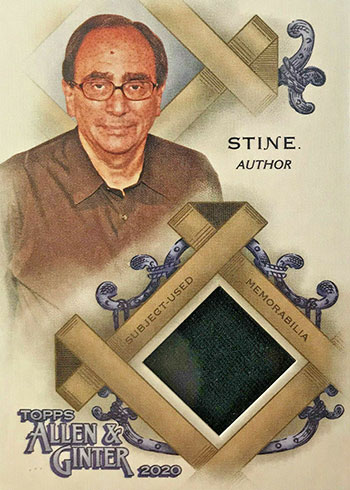 Other memorabilia cards in 2020 Topps Allen & Ginter Baseball embrace the brand's eclectic nature. Hobby-exclusive Have Ball, Will Travel (/5) cards have transit tokens embedded in them from the city where the subject plays.
DNA Relics, also only found in hobby packs, have small fossil pieces.
New this year are Pin Relics (/25 or less). Befitting an election year, these have original campaign pins and similar pieces from other events. Pin Relics are also hobby-exclusives.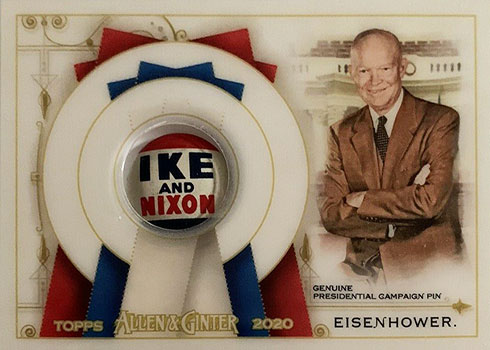 Framed Originals dig into Allen & Ginter's distant past with antique tobacco cards. A total of 100 are in the product, each numbered 1/1.
2020 Topps Allen & Ginter Baseball Rip Cards
Rip Cards are two per hobby case. Once again, the temptation here is whether to keep the card in tact as it is or tear it open to see what exclusive cards are inside.
Rip Cards come in three forms. Basic Rip Cards have a 100-card checklist, all with one mini card inside. Dual Rip Cards have a pair of exclusive minis.
Boxloader Rip Cards return as well. These oversized cards have three total minis and are randomly inserted in hobby boxes.
As for what's inside the Rip Cards, there's a mix of possibilities.
Mini Exclusives expand the base set, at least the Mini portion of it, with another 50 cards bringing the checklist up to 400 cards. These 50 Mini Exclusives also have Metal (/3) and Stained Glass (one per Boxloader Rip Card) versions.
Artist Originals, which have artwork done directly on them, are another Rip Card possibility.
Inserts
The diversity of 2020 Topps Allen & Ginter Baseball's checklist comes through with the product's other inserts. Again, these are a mix of traditionally sized cards and minis.
Full-size inserts include A Debut to Remember, in which big first games are commemorated.
Longball Lore celebrates the home run hitter while Field Generals is all about catchers.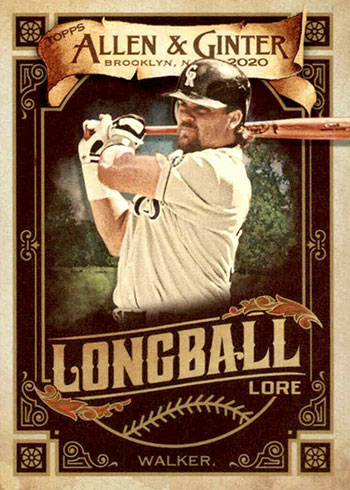 Down on the Farm has a baseball-inspired name but the actual cards take a more literal approach. It's a safe bet these will be the only 2020 baseball cards to spotlight farm equipment and tools. Animals are also in play here.
Precious gems and metals make up Digging Deep. These also have relic versions with pieces of the featured stone. Relics have no more than ten copies each.
Similar to 2019's History of Flight, there's Reach for the Sky. These can be put together to form a panoramic puzzle of skyscrapers.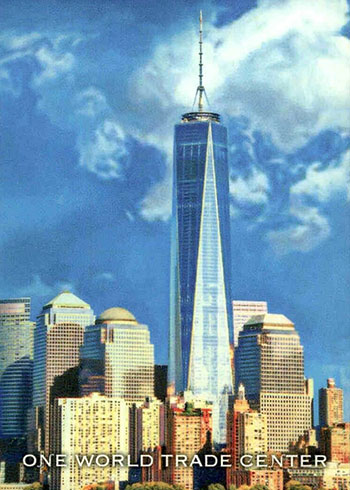 2020 Topps Allen & Ginter Baseball has some mini inserts as well.
9 Ways to First Base doesn't offer relationship advice. Rather, it counts the many ways a batter can get to first safely.
Other mini inserts include Booming Cities, Buggin' Out!, Citadels and Safeholds, Safari Sights and Where Monsters Live.
There's also the retail-exclusive Giants Beneath that feature some of the world's underwater giants.
Box Toppers
Every 2020 Topps Allen & Ginter hobby box has an oversized box topper. Like the rest of the set, there's variety here as well.
Allen & Ginter Boxloaders further highlight top players and rookies. Autograph versions, which have on-card signatures, are numbered to 15 or less.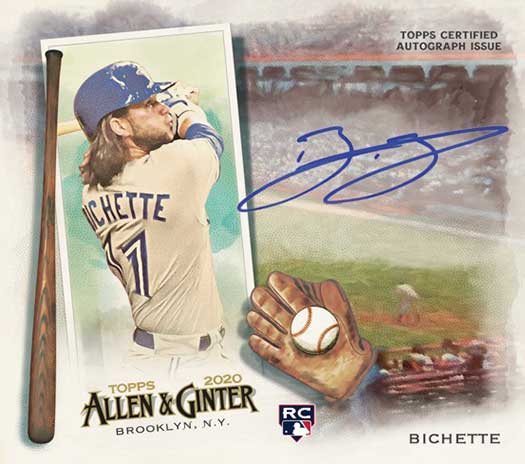 N43 Boxloaders return. These also have autographs (/15 or less).
The Safari Sights mini inserts get blown up for a box loader version. According to Topps, these have 500 copies.
Where Are the 2020 Topps Allen & Ginter Stained Glass Minis?
Stained Glass Minis return for 2020 Topps Allen & Ginter Baseball. They're a partial parallel covering 150 cards in the main set. According to Topps, although they're not numbered, they have 25 copies each.
On top of the regular Stained Glass Minis, there are the 50 Rip Card exclusives, which are only available in the Box Loader Rip Cards.
It turns out that due to a production error all Stained Glass Minis are in the box toppers. The 150 that were supposed to be in packs stilll made it into the product. They're just not in packs. They're in the Rip Cards along with the planned exclusives. Tops made the announcement via Twitter.
Update – 2020 Topps Allen & Ginter production error: All Stained Glass Minis were inserted into the Boxloader Rip Cards, not just the Stained Glass Mini Exclusives. Therefore, no Stained Glass Minis will be found in packs of A&G.

Thank you and happy collecting!

— Topps (@Topps) September 16, 2020
2020 Topps Allen & Ginter Baseball cards at a glance:
Cards per pack: Hobby – 8, Retail – 6, Retail Blaster – 6, Retail Value Pack – 6, Retail Fat Packs – 14, Retail Gravity Feed – 5
Packs per box: Hobby – 24, Retail – 24, Retail Blaster – 8, Retail Value Pack – 3, Retail Gravity Feed – 36
Boxes per case: Hobby – 12, Retail – 8, Retail Blaster – 40, Retail Gravity Feed – 6
Set size: 350 cards
Release date: September 16, 2020
Shop for 2020 Topps Allen & Ginter Baseball boxes on eBay:
What to expect in a hobby box:
Autographs, Memorabilia Cards, Relics, Rip Cards or Buybacks – 3 Total
Mini Cards – 24
Boxloaders – 1
2020 Topps Allen & Ginter Baseball Checklist
Please note that unless noted, print runs for cards without serial numbers have not been released.
You can also download a customizable spreadsheet version of the checklist:
Base
Autographs
Memorabilia
Inserts
Rip Cards
Team Sets