2020 Topps 206 Baseball Checklist, Team Set Lists and Details
2020 Topps 206 Baseball cards drawing from some hobby royalty.
It has been more than 110 years since T206 baseball cards made their first appearance in packets of tobacco. The Monster has been the springboard for several sets over the years and decades and it's happening again with an online-exclusive twist.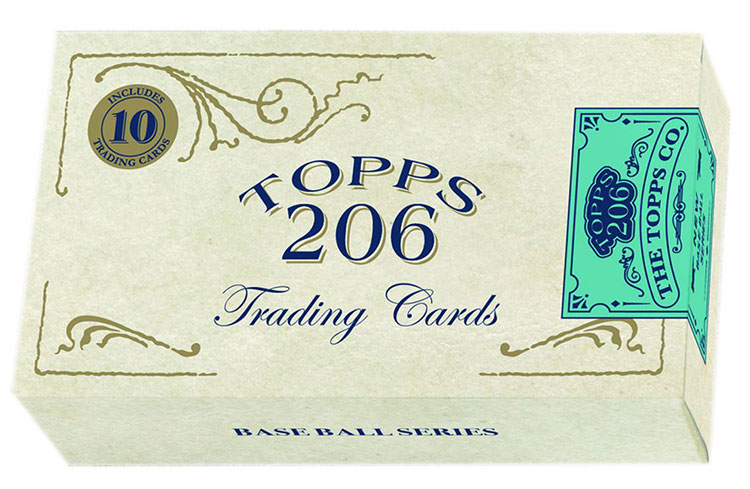 Much like the original 1909-11 T206 set, it's being split into five different waves. They're exclusive to the Topps website. The first arrives on May 14, consisting of the initial 50 cards. Similar to 2020 Topps Total, another online-exclusive done in waves, each portion is available for four weeks. The checklist this time around has a mix of veterans, retired stars and minor league players.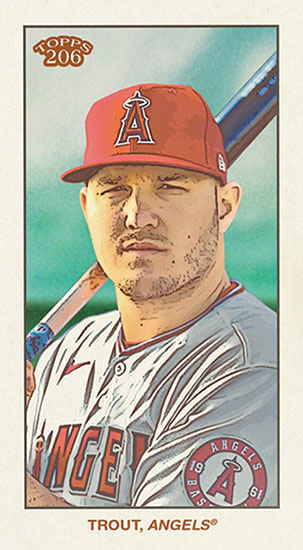 Another key part to 1909-11 T206 is all the back variations. That's a component of Topps' latest interpretation. These include:
Piedmont Back
Sweet Caporal Back – 1:3 packs
Sovereign Back – 1:6 packs
Polar Bear Back – 1:18 packs
Old Mill Back – 1:30 packs
Cycle Back – /25
American Beauty Back – /10
Ty Cobb – 1/1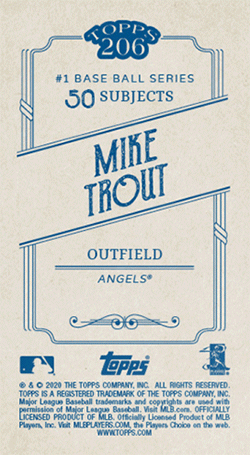 According to Topps, on-card autographs are also randomly inserted, although names have not been announced.
2020 Topps 206 Boxes come with ten tobacco-sized mini cards. Eight are base and two are parallels. They cost $14.99 each on the Topps website or $274.99 for a lot of 20. This is a print-to-order product. The number of boxes ordered is what will be made, similar to 2020 Topps Total Baseball.
This is the third time Topps has looked to T206 for a full release. The first was in 2002, which went three series and 526 cards. A follow-up came in late 2009, in part to commemorate the original's 100th anniversary. A third Topps 206 set came out in 2010. Over the years, the design has inspired smaller releases and runs of cards as well.
2020 Topps 206 Baseball at a glance:
Cards per pack: 10
Packs per box: 1
Set size: TBA cards
Release date: May 14, 2020
What to expect in a hobby box:
2020 Topps 206 Baseball Checklist
Base
Base Set Checklist
Parallels:
Piedmont Back
Sweet Caporal Back – (1:3 packs)
Sovereign Back – (1:6 packs)
Polar Bear Back – (1:18 packs)
Old Mill Back – (1:30 packs)
Cycle Back – /25
American Beauty Back – /10
Ty Cobb Back – 1/1
Wave 1
Available: May 14
1 Gerrit Cole New
2 Charlie Morton
3 Patrick Corbin
4 Noah Syndergaard
5 Mike Trout
6 Gleyber Torres
7 Freddie Freeman
8 Pete Alonso
9 D.J. LeMahieu
10 Xander Bogaerts
11 Max Kepler
12 Manny Machado
13 Andrew Benintendi
14 Brandon Lowe
15 George Springer
16 Buster Posey
17 Carlos Correa
18 Hunter Dozier
19 Tyler Glasnow
20 Scott Kingery
21 Randal Grichuk
22 J.T. Realmuto
23 Carlos Santana
24 Blake Snell
25 Jorge Alfaro
26 David Dahl
27 Robbie Ray
28 Amed Rosario
29 Corey Seager
30 Jon Lester
31 Kevin Kiermaier
32 J.D. Martinez
33 Babe Ruth
34 Mariano Rivera
35 Reggie Jackson
36 Tony Gwynn
37 Carl Yastrzemski
38 Mike Schmidt
39 Roberto Clemente
40 Johnny Bench
41 Vladimir Guerrero
42 Larry Doby
43 Justin Dunn RC
44 Sean Murphy RC
45 Gavin Lux RC
46 Logan Webb San RC
47 Randy Dobnak RC
48 Dillon Tate RC
49 Bobby Bradley RC
50 Zack Collins RC
Autographs Checklist
List TBA
Team Sets
2020 Topps 206 Baseball Team Set Checklists
Want to know what cards your favorite team has in 2020 Topps 206 Baseball? Here's the checklist broken down by team. Scroll through or click below to go directly to that team. These lists will grow as more waves arrive.
Please note that parallels are not included here. Please check the main checklist in the other tab for parallel specifics.
Arizona Diamondbacks Checklist
27 Robbie Ray
Atlanta Braves Checklist
7 Freddie Freeman
Baltimore Orioles Checklist
48 Dillon Tate RC
Boston Red Sox Checklist
10 Xander Bogaerts
13 Andrew Benintendi
32 J.D. Martinez
37 Carl Yastrzemski
Chicago Cubs Checklist
30 Jon Lester
Chicago White Sox Checklist
50 Zack Collins RC
Cincinnati Reds Checklist
40 Johnny Bench
Cleveland Indians Checklist
23 Carlos Santana
42 Larry Doby
49 Bobby Bradley RC
Colorado Rockies Checklist
26 David Dahl
Detroit Tigers Checklist
Nothing in Wave 1.
Houston Astros Checklist
15 George Springer
17 Carlos Correa
Kansas City Royals Checklist
18 Hunter Dozier
Los Angeles Angels Checklist
5 Mike Trout
Los Angeles Dodgers Checklist
29 Corey Seager
45 Gavin Lux RC
Miami Marlins Checklist
25 Jorge Alfaro
Milwaukee Brewers Checklist
Minnesota Twins Checklist
11 Max Kepler
47 Randy Dobnak RC
New York Mets Checklist
4 Noah Syndergaard
8 Pete Alonso
28 Amed Rosario
New York Yankees Checklist
1 Gerrit Cole
6 Gleyber Torres
9 D.J. LeMahieu
33 Babe Ruth
34 Mariano Rivera
Oakland Athletics Checklist
35 Reggie Jackson
44 Sean Murphy RC
Philadelphia Phillies Checklist
20 Scott Kingery
22 J.T. Realmuto
38 Mike Schmidt
Pittsburgh Pirates Checklist
39 Roberto Clemente
San Diego Padres Checklist
12 Manny Machado
36 Tony Gwynn
San Francisco Giants Checklist
16 Buster Posey
46 Logan Webb RC
Seattle Mariners Checklist
43 Justin Dunn RC
St. Louis Cardinals Checklist
Nothing in Wave 1.
Tampa Bay Rays Checklist
2 Charlie Morton
14 Brandon Lowe
19 Tyler Glasnow
24 Blake Snell
31 Kevin Kiermaier
2020 Topps 206 Baseball Texas Rangers Checklist
Nothing in Wave 1.
2020 Topps 206 Baseball Toronto Blue Jays Checklist
21 Randal Grichuk
2020 Topps 206 Baseball Washington Nationals Checklist
3 Patrick Corbin
41 Vladimir Guerrero – Montreal Expos