2020 Topps Heritage Baseball cards bring the brand up to 1971. Richard Nixon was president, Led Zepplin's IV came out and gas averaged less than $0.40 cents a gallon. As for baseball cards, 1971 Topps Baseball delivered a set known today, perhaps, as much for its condition sensitivity than the rookies and stars within. It's that notorious black-border design that 2020 Topps Heritage finds its foundation.
The configuration and set up is largely the same with one autograph or memorabilia card per hobby box as well as a deep list of other inserts. But more than anything, this is a product where nostalgia reigns.

2020 Topps Heritage Baseball Base Set Basics
The base set has a total of 500 cards. This is consistent with the 2019 release, including the 100 short prints that bookend the checklist. SPs land 1:3 packs.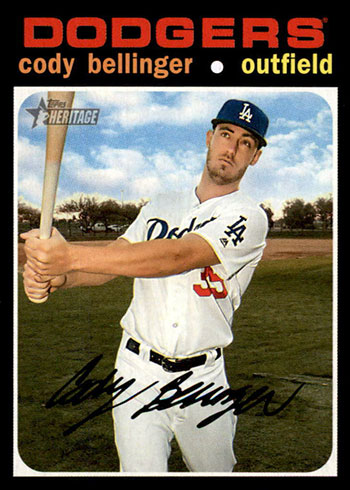 While the design is inspired by 1971 Topps, the players are current. Multiple designs are in the main set, including a dual-player Rookie Stars. Yordan Alvarez, Aristides Aquino and Bo Bichette are among the RCs on the checklist.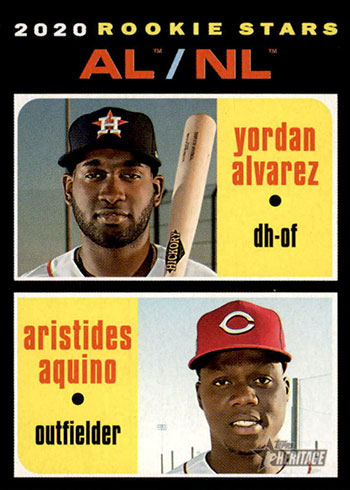 Hobby packs have a pair of exclusive parallels. White Border cards have just 50 copies each. Tough-to-spot Flip Stock cards are back for another year. Limited to five copies each, these are done so that the cards are printed on the opposite side of the sheet. That means that fronts are more dull and textured like backs usually are, while the reverse side is more slick.
Chrome cards are partial parallels covering 100 of the base cards. These have additional Refractor (/571), White Border (/71), hobby-only Gold Border (/5) and Superfractor (1/1) versions. Hot box-exclusive parallels are also randomly inserted in hobby and retail blaster boxes.
Select base cards also have Mini (/100) versions.
Variations
Variations have long been one of the key elements in Heritage Baseball. 2020 is no different, bringing multiple themes — six to be exact. Each offers a different take on base cards.
Action Image Variations are, once again, only in hobby packs. These switch out the portrait-style images for something a little more lively and modern.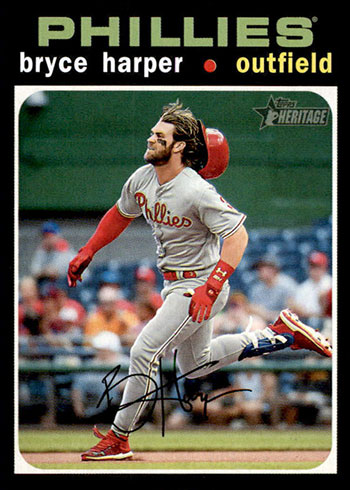 Silver Team Name Variations offer a more subtle spin, offering a simple color change on the front. Like the Action cards, these are also exclusive to hobby. Images on these are the same as the base card.
And, yes, the always popular (and extremely tough) Throwback Uniform Variations return. The image switch here presents players in retro jerseys.
The variations round out with Nicknames, Errors and Missing Signature Variations.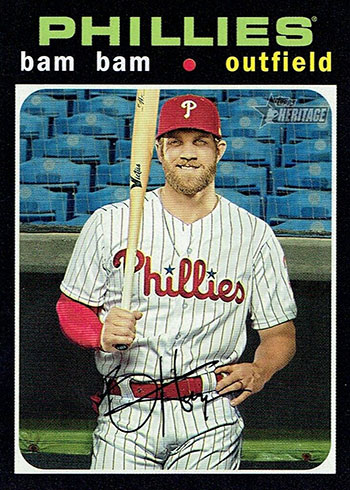 Autographs and Memorabilia Cards
Overall, not a lot has changed on the hits front in 2020 Topps Heritage Baseball.
Real One Autographs remain an anchor, delivering on-card ink from both vets, rookies and players from 1971. The tradition of including signers whose final season was 1971.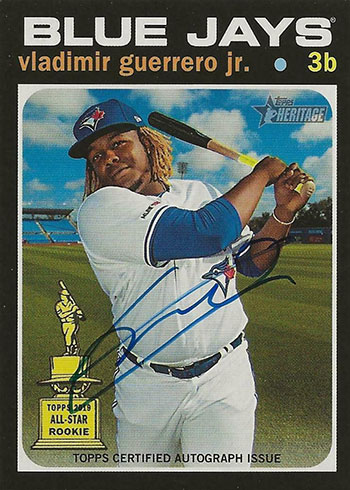 Special Edition Red Ink parallels are available, numbered to 71 or less.
Hobby packs are the only place to find Real One Dual (/25 or less) and Triple Autographs (/5 or less). Despite have multiple signers, these are still all on-card.
Senators Final Season Autographs commemorate players from the 1971 Washington Senators. In 1972, the franchise moved to Arlington to become the Texas Rangers. All of these cards have no more than 100 copies each.
Flashback Autograph Relics spotlight players who starred in 1971. These have no more than 25 copies each.
Cut Signatures take on a couple of different forms. For starters, there are some who feature players from 1971. Celebrities and other notable figures also appear. No matter the part of the checklist, these are all one-of-ones.
Coin cards return with 1971 Mint. These pair stars from the era with coins minted in 1971. Versions include Nickel (/15), Dime (/10), Quarter (/5) and Half Dollar (1/1).
1971 U.S. Postage Stamp Relics (/50) take a similar approach, only with vintage stamps instead of coins.
Clubhouse Collection
Just as Real One Autographs continue to anchor the signatures, Clubhouse Collection remains the main place to find memorabilia cards. Basic versions feature a mix of game-used uniform swatches and bat pieces. Parallels include Gold (/99) and Patch (1/1).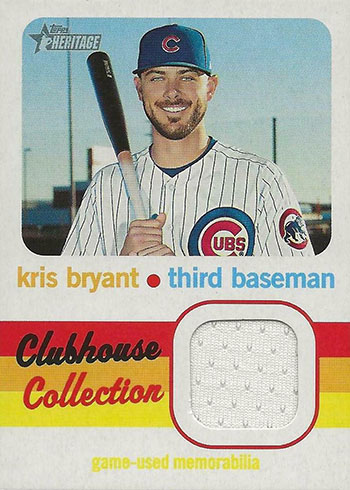 Dual (/71), Triple (/25) and Quad (/10) Clubhouse Collection cards are also in packs, all featuring multiple players. All three have one-of-one Patch versions that are only in hobby packs.
Clubhouse Collection Autograph Relics (/25 or less) and Dual Autograph Relics (/10 or less) add an on-card signature. These also have Patch (1/1) parallels.
2021 Topps Heritage Baseball Inserts
Other chase sets are pretty much all ones used in past Heritage releases.
Baseball Flashbacks look back on big moments of the 1971 season while News Flashbacks take to the year's headlines.
Players from 1971 and today are compared in Then and Now.
New Age Performers are back, spotlighting 25 stars.
2020 Topps Heritage Baseball looks back on Willie Mays' career with 20 Gigantic Seasons, highlighting his time with the Giants. Joining the regular inserts are buyback autographs, which are original Topps that have Mays' signature and a special stamp noting the release.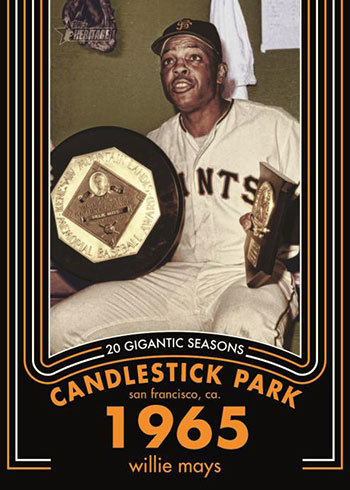 Box Loaders
2020 Topps Heritage hobby boxes come with exclusive box toppers, that delve further into some of the company's other 1971 products.
1971 Topps Greatest Moments are over-sized cards that highlight not only big players but key achievements.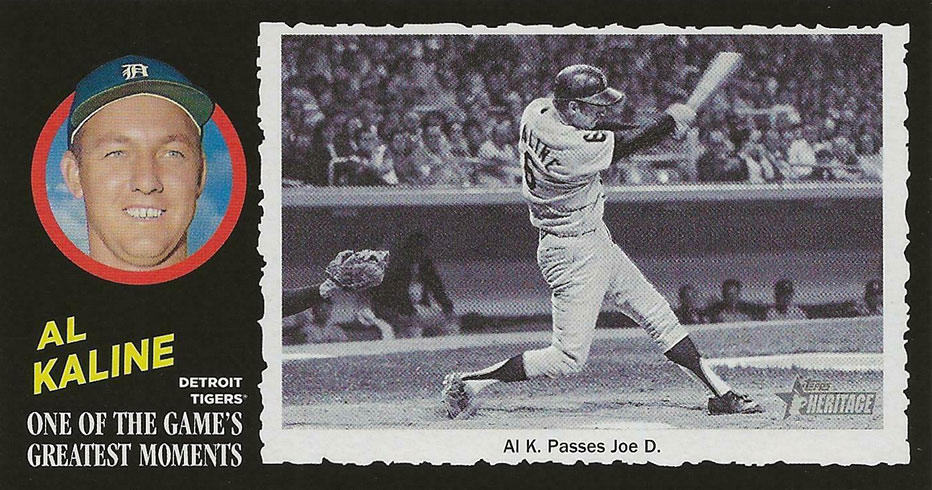 1971 Topps Super is also available. Besides basic versions, select Supers also have autographs that have 25 copies or less.
Finally, there are 1971 Topps Originals, which are original 1971 Topps cards that have been given a special stamp.
It's important to note that Topps Heritage is a brand that finds its popularity in things outside of autographs and memorabilia cards. While they are popular, they're not nearly as plentiful as most other brands. It's something to think about and consider for those primarily interested in hits.
2020 Topps Heritage Baseball cards at a glance:
Cards per pack: 9
Packs per box: 24
Boxes per case: 12
Set size: 500 cards
Release date: February 26, 2020
Shop for 2020 Topps Heritage Baseball boxes on eBay:
What to expect in a hobby box:
Autographs or Memorabilia Cards – 1 Total
2020 Topps Heritage Baseball Checklist
Base
Variations
Autographs
Memorabilia
Inserts
Team Sets
Odds