2020 Topps Gallery Baseball Checklist, Team Set Lists and Details
If you're looking for art, Walmart probably isn't in the first 100 places you think of to go to. Maybe if it's for removable Frozen wall stickers for a child's bedroom. But that's about it. When it comes to art and baseball cards, Walmart is where you're going to have to start your hunt for 2020 Topps Gallery Baseball. That's because the set is exclusive to the retail chain for another year.
2020 Topps Gallery Baseball Checklist Details
The 2020 Topps Gallery Baseball checklist consists entirely of original art from nine different artists:
It begins with a 200-card base set of vets, rookies and retired legends. The Rookie Card lineup has the usual names found in most 2020 sets including Luis Robert, Kyle Lewis, Bo Bichette, Yordan Alvarez and Gavin Lux.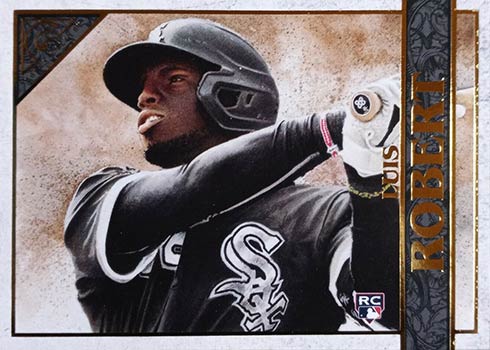 The first 150 cards make up the shell set with the remaining 50 getting the short print treatment.
Parallels for the base set include Rainbow Foil, Green (/250), Private Issue (/250), Blue (/99), Orange (/25), Printing Plates (1/1) and Red (1/1). Hanger packs come with a pair of Wood parallels while blasters deliver four Artist Proof cards.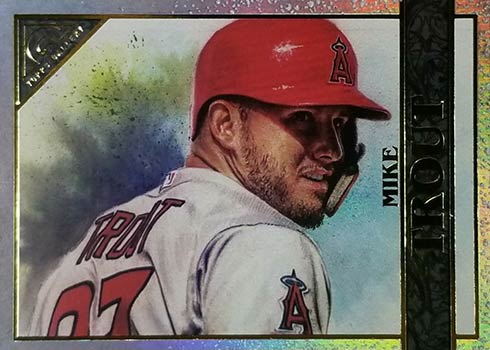 Autographs and Inserts
If you're looking for autographs in 2020 Topps Gallery Baseball, collector boxes are the place to look. These are basically the hobby box equivalent for the release and promise two signature.
Most of these are Base Autographs, which cover almost 150 of the base cards only with added sticker signatures. Base Autograph parallels come with additional Green, Blue, Orange and Red versions.
For a select few collectors (ten to be exact), there Cut Signatures with autographs from late legends like Joe DiMaggio, Ted Williams and Hank Greenberg. These combine to land 1:76,310 packs so finding one isn't going to be an easy task.
2020 Topps Gallery Baseball has several other chase sets.
Gallery Heritage revisits the 1954 Topps Baseball design. Hall of Fame Gallery highlights 20 Cooperstown inductees. Master and Apprentice is back for another year, pairing two players from the same franchise. In most instances, it's a legend with a younger standout. For those looking for bolder baseball cards, there's Modern Artists.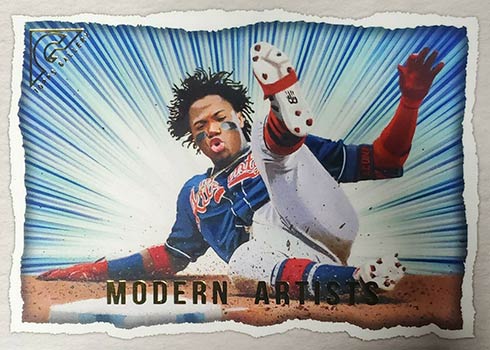 All of these also have a parallel lineup that includes Green (/250), Blue (/99), Orange (/25) and Red (1/1). Select cards also have a small number of autographs.
Landing 1:88 collector packs, Impressionists is the toughest of the non-hit inserts. This 30-cards set doesn't have any parallels, either.
Collector boxes also come with one of 50 Oversized Box Toppers. These blow up featured base cards to 5″ by 7″.
One-of-a-kind original artwork is available in a couple of ways. Paintings used to create cards are 1:84 collector boxes. Sketch cards are also available at long odds.
2020 Topps Gallery Baseball cards at a glance:
Cards per pack: Collector – 5
Packs per box: Collector – 20
Set size: 200 cards
Release date: October, 2020
Shop for 2020 Topps Gallery Baseball boxes on eBay:
What to expect in a collector box:
Autographs – 2
Gallery Heritage – 4
Hall of Fame Gallery – 2
Master and Apprentice – 4
Modern Artists – 2
Private Issue Parallels – 1
Rainbow Foil Parallels – 6
2020 Topps Gallery Baseball Checklist
Please note that odds and parallels are for Collector packs and boxes only at this time. Traditionally, blasters and hanger packs are also released.
You can also download a customizable spreadsheet version of the checklist:
Base
Autographs
Inserts
Team Sets
Odds