The 2020 Topps Heritage Minors Baseball variations come in a couple of forms. For starters, there are the traditional Image Variations that swap out one photo for another. A little more subtle are the Missing Signature versions. These simply remove the facsimile autograph found on the front of regular base cards (unless it's Tim Tebow, whose card is flipped on its side as well).
In both instances, these SSP cards are tough pulls. Image variants are 1:552 2020 Topps Heritage Minors packs. It's the same for Missing Signature cards. That's slightly tougher than 1:30 boxes for one of the cards at the individual set level.
The Fastest Way to Spot a Variation
Yes, the backs offer a simple giveaway and confirmation for both types of 2020 Topps Heritage Minors variations. And while you could use the code in the fine print like most other Topps sets, there's no need to here. You don't need to remember anything, either, other than where to look. Variations have labels.
Next to the card number on the back, it tells you exactly what version you have. Cards with different photos say "Image." And in case the lack of facsimile autograph on the front alluded you, there's a good chance you'll notice the "Missing Signature" notation when you're putting your stacks into numerical order.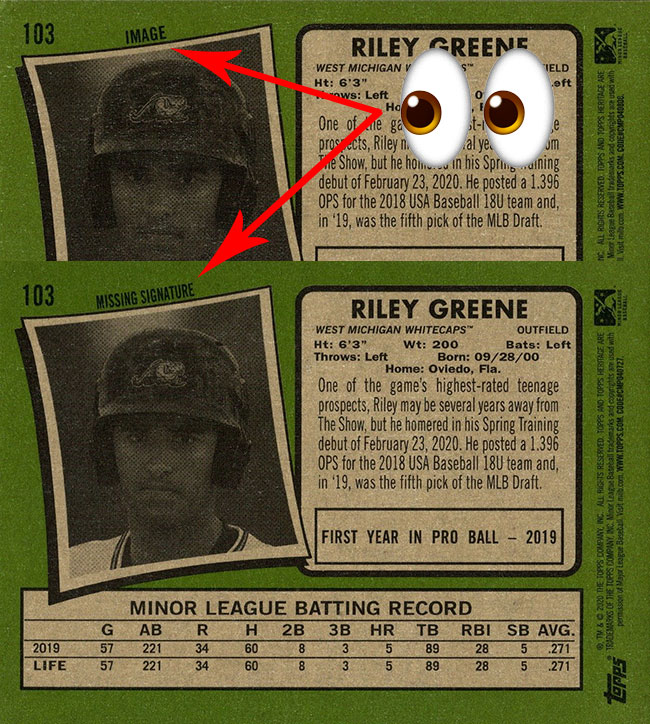 2020 Topps Heritage Minors Baseball Variations Checklist
The following is a quick checklist of all the 2020 Topps Heritage Minors Baseball variations. A gallery of images follows. If you're looking for a specific card, click on the link to see what's currently available on eBay.
1 Wander Franco – Image | Missing Signature
2 Alex Kirilloff – Missing Signature
11 Victor Mesa Jr. – Image | Missing Signature
14 Julio Rodriguez – Image | Missing Signature
103 Riley Greene – Image | Missing Signature
104 Braden Shewmake – Image | Missing Signature
106 Sam Huff – Image | Missing Signature
109 Royce Lewis – Image | Missing Signature
110 Forrest Whitley – Missing Signature
129 Alec Bohm – Image
131 Tim Tebow – Image | Missing Signature
204 Nate Pearson – Image
2020 Topps Heritage Minors Baseball Variations Gallery
1 Wander Franco, Charlotte Stone Crabs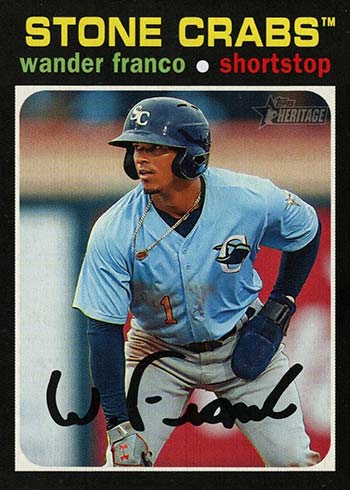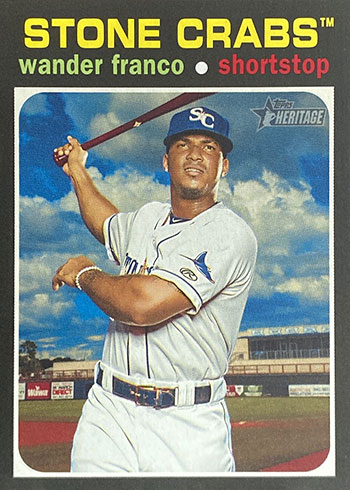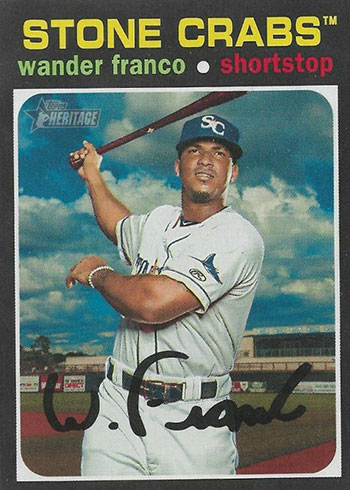 2 Alex Kirilloff, Pensacola Blue Wahoos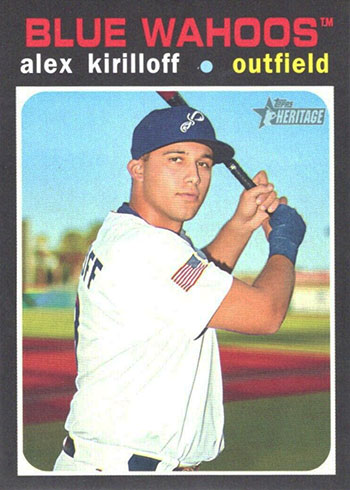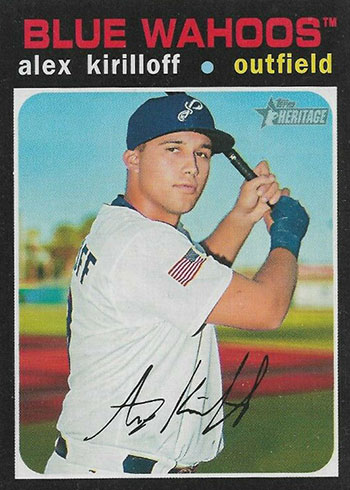 11 Victor Mesa Jr., Jacksonville Jumbo Shrimp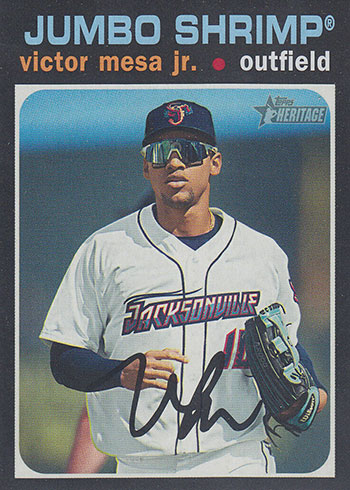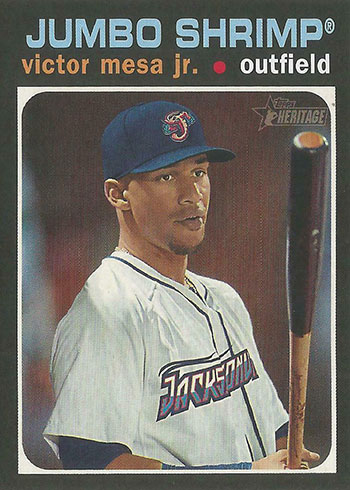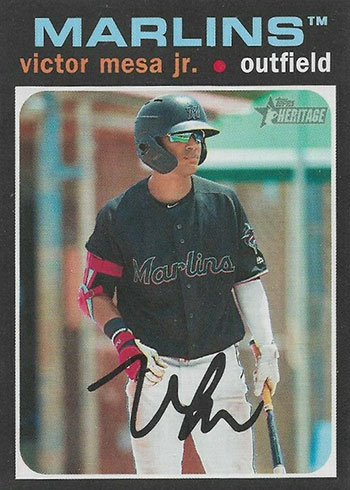 14 Julio Rodriguez, Modesto Nuts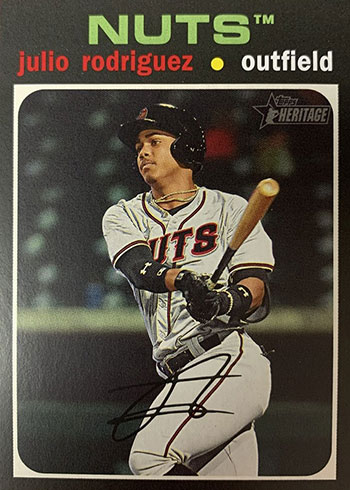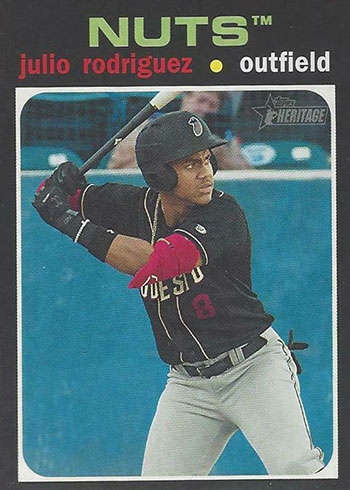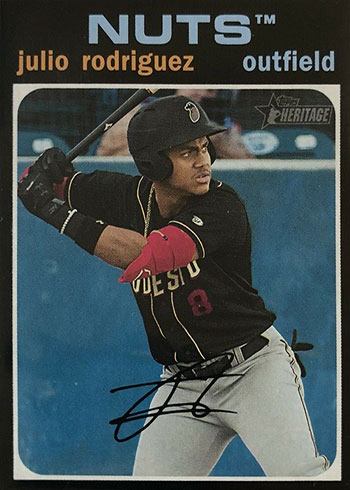 103 Riley Greene, West Michigan Whitecaps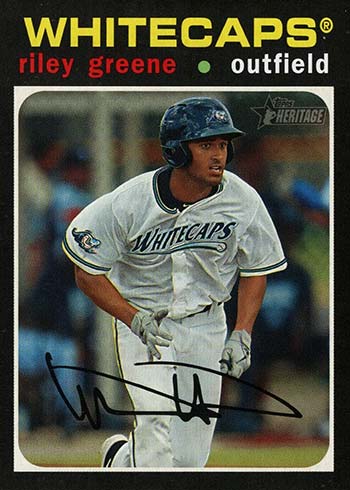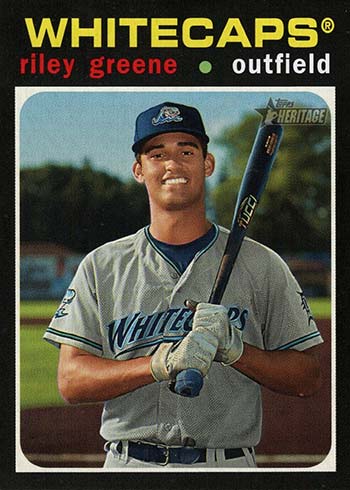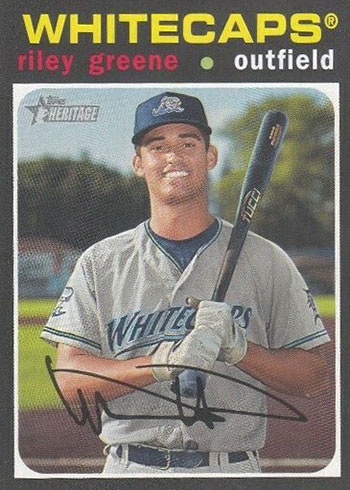 104 Braden Shewmake, Mississippi Braves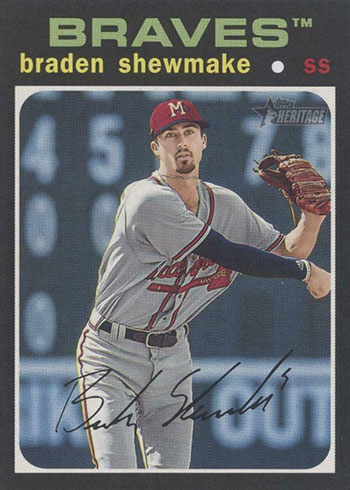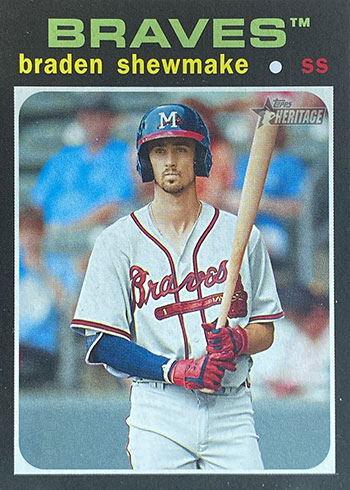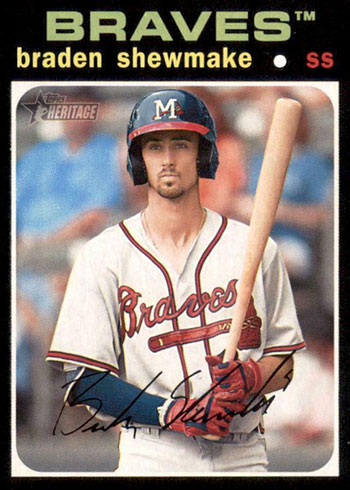 106 Sam Huff, Down East Wood Ducks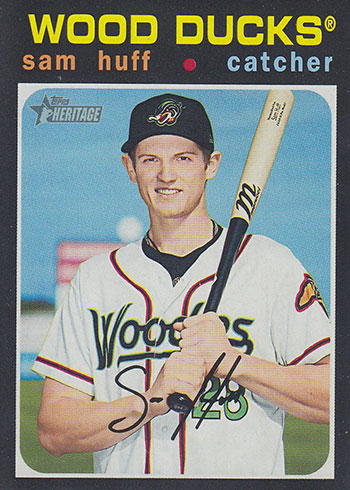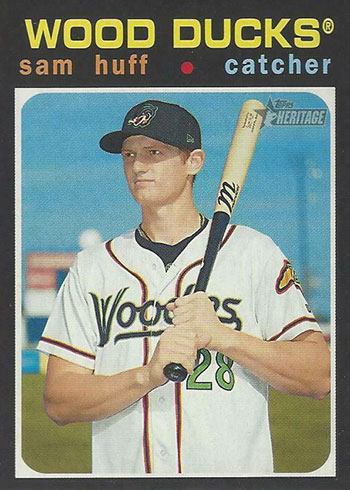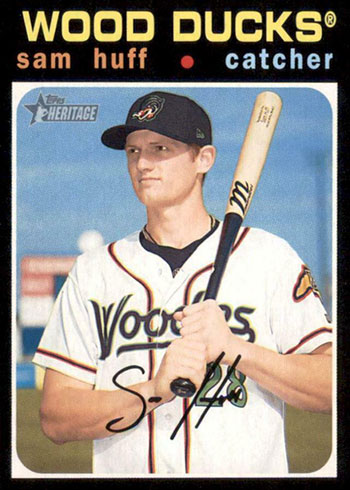 109 Royce Lewis, Pensacola Blue Wahoos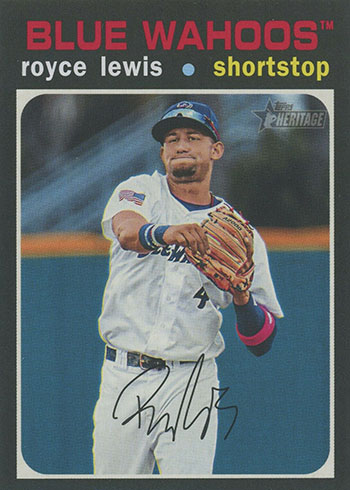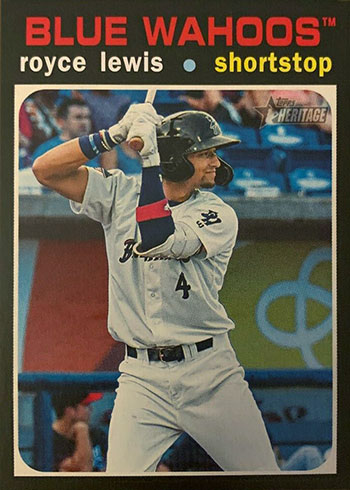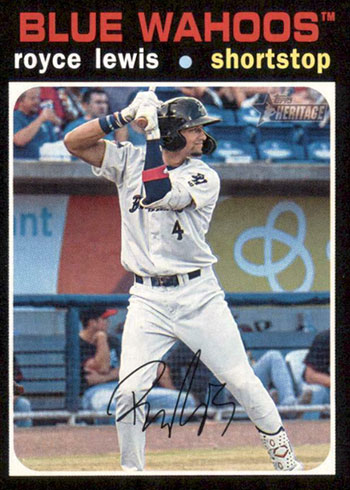 110 Forrest Whitley, Round Rock Express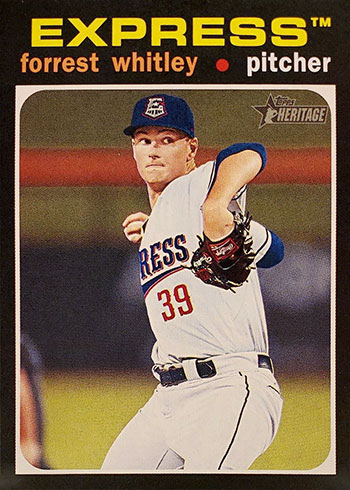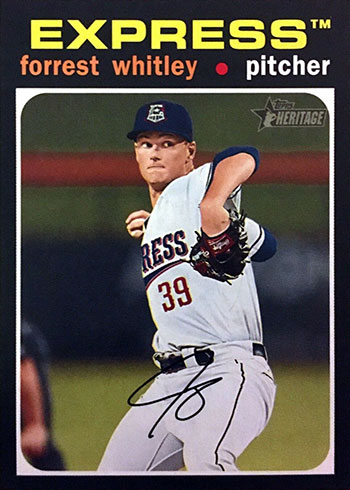 129 Alec Bohm, Reading Fightin Phils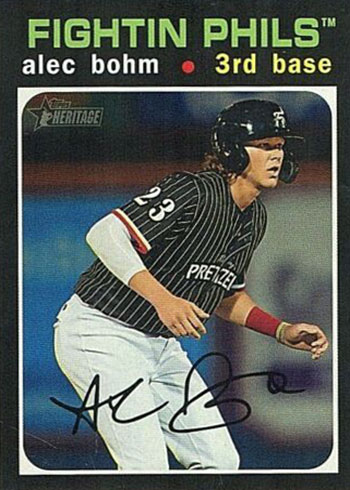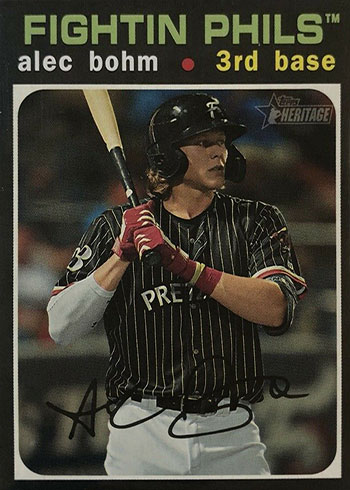 131 Tim Tebow, Syracuse Mets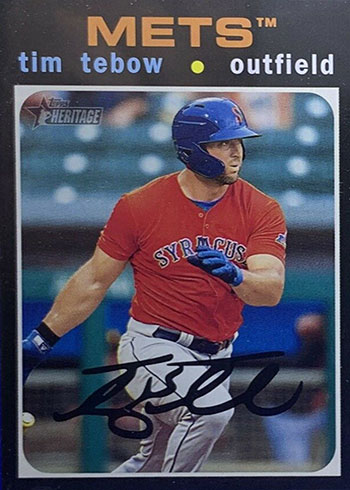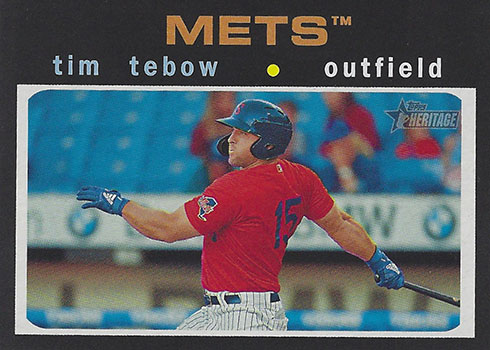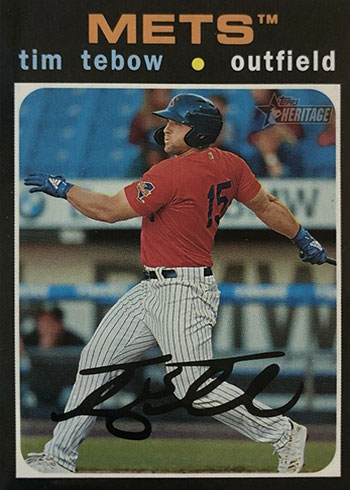 204 Nate Pearson, Buffalo Bisons