2020 Topps Museum Collection Baseball definitely walks on the high-end side. However, it's a product that's configured in a way that most collectors can partake, even if it's not a full hobby box. The smaller configuration is also one that's ripe for group breaks with four packs per box, each having one of four different types of hits.
Across a hobby box, collectors will find an autograph relic, an on-card autograph, one quad relic and one additional memorabilia card.

2020 Topps Museum Collection Baseball Base Set Basics
As usual, collectors can find both current players and retired stars on the checklist. But with just 100 total cards, bigger names get the attention. Each pack has three base cards. Factoring in the price and these will not be the easiest to find in any sort of bulk.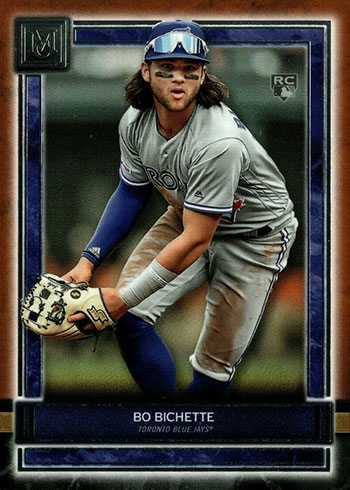 Every pack also has one parallel from the following:
Copper
Sapphire – /150
Amethyst – /99
Ruby – /50
Emerald – 1/1
Autographs
As clean as the base set might be, the vast majority of people busting Museum Collection are probably more focused on the hits.
All regular autographs in the product — the ones that aren't accompanied by memorabilia — have on-card ink. Among the places on the checklist where this is most prominent is Archival Autographs. All of these have no more than 299 copies each. Parallels include Copper (/50), Gold (/25) and Emerald (1/1).
Superstar Showpieces (/25) use action photography as its central theme.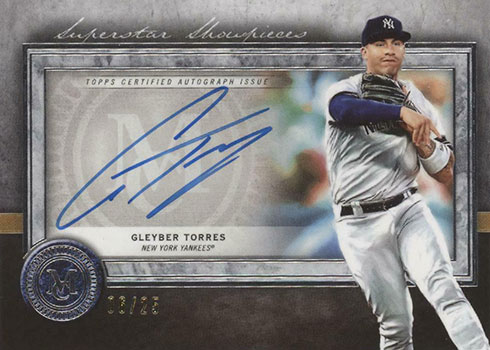 Despite having multiple signers, Dual (/15) and Triple Autographs (/5) are still on-card.
One of Museum Collection's calling cards are Museum Framed Autographs. Landing as a case hit, these have four different versions: Silver Frame (/15), Gold Frame (/10), Black Frame (/5) and Wood Frame (1/1).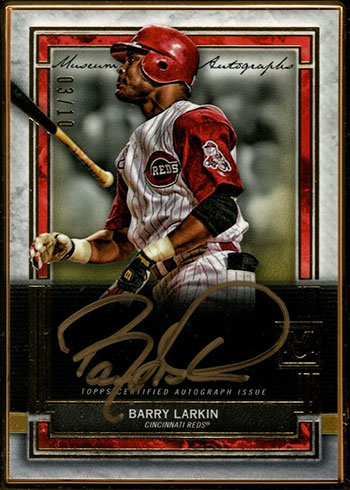 Framed Autograph Patch and Framed Dual Autograph Patch Book Cards are all one-of-ones.
Single Player Signature Swatches lead the autograph relics, at least when it comes to quantity. These have both dual- and triple-swatch versions numbered to 399 or less as well as additional Copper (/50), Gold (/25) and Emerald (1/1) parallels.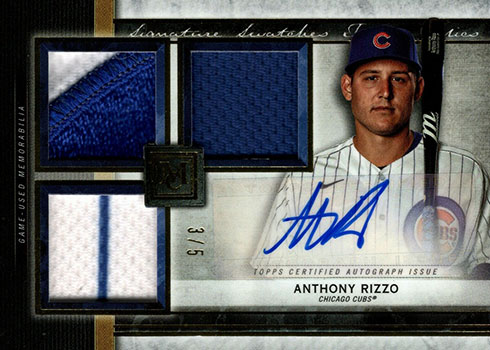 One of the new additions in 2020 Topps Museum Collection Baseball is Autographed Jumbo Lumber Bat Relics (/5 or less). These have a large piece of a game-used bat to go along with the signature.
Momentous Material Jumbo Patch Autographs (/15) return. A massive memorabilia swatch anchors the card. Besides Gold (/5) and Emerald (1/1) parallels, there are also dual versions done as book cards. These have just five copies each plus one-of-one Emerald parallels.
Memorabilia Cards
Meaningful Material Relics and two-player Dual Meaningful Material Relics all come numbered to 50 or less and have game-used pieces. The checklist is a mix of current and past players. Copper (/35), Ruby (/10) and Emerald (1/1) versions are also available.
Momentous Material Jumbo Patch Relics (/5) traditionally come with some of the biggest baseball swatches of the year.
2020 Topps Museum Collection has three one-of-one relic inserts: Museum Memorabilia, which have a MLB Silhouetted logo taken from a game-used uniform, Museum Memorabilia Laundry Tags, and Jumbo Lumber Bat Nameplate Relics.
The one-per-box Primary Pieces quad relics come in three general themes: single-player (/99), quad-player (/99) and legends (/25). Single- and quad-player versions have Copper (/75), Gold (/25) and Emerald (1/1) parallels. For legends, it's just Gold (/10) and Emerald (1/1).
Canvas Collection
Art gets a place on the checklist, once again. Canvas Collection Reprints has 50 cards, each offering up an artistic take on a star player.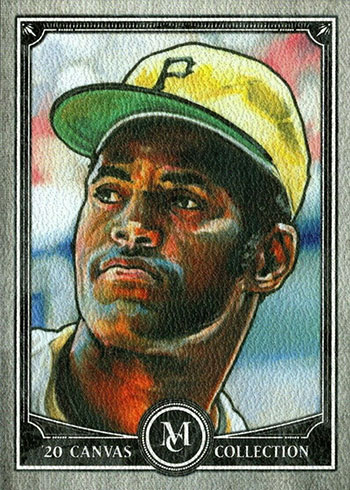 Canvas Collection Originals return. These one-of-ones all feature original art. Similar Shaped Sketch Cards have a die-cut canvas, making for a different dynamic.
Finally, there are Canvas Collection Originals Player Autographs. These maintain the original art aspect but also have a signature from the featured athlete.
2020 Topps Museum Collection Baseball cards at a glance:
Cards per pack: 5
Packs per box: 4
Boxes per case: 12
Set size: 100 cards
Release date: July 29, 2020
Shop for 2020 Topps Museum Collection Baseball boxes on eBay:
What to expect in a hobby box:
Autograph Relics – 1
Autographs – 1
Quad Relics – 1
Additional Relics – 1
Parallels – 4
2020 Topps Museum Collection Baseball Checklist
You can also download a customizable spreadsheet copy of the checklist:
Base
Autographs
Memorabilia
Inserts
Team Sets
Odds