2020 Topps Series 1 Baseball cards are taking a trip through the decades. The checklist still focuses primarily on current players, but there are several elements that look to the pasts of both MLB and the Topps Baseball line.
Configuration-wise, it's similar to 2019 with hobby boxes delivering 24 packs of 14 cards. Hobby jumbo returns 46-card packs with ten packs per box. Standard 2020 Topps Series 1 Baseball hobby boxes have one autograph or memorabilia card while jumbos include an autograph and two relics.

2020 Topps Series 1 Baseball Checklist: Base Set Basics
The main set sticks with a 350-card checklist. In addition to stars, MLB vets and rookies, there are subsets covering the World Series, League Leaders and team cards. This is the first part of the flagship set. That means some players will be kept out of the base set until Series 2.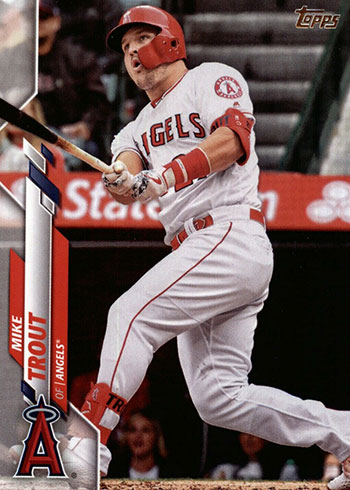 The parallel lineup is big once again. These start with Rainbow Foil, which are 1:10 hobby packs. Gold Foil are exclusive to hobby jumbo boxes with one in every other pack. Other parallels include Gold (/2020), Vintage Stock (/99), Independence Day (/76), Black (/69), Father's Day Blue (/50), Mother's Day Hot Pink (/50), Memorial Day Camo (/25), Printing Plates (1/1) and Platinum (1/1). Select cards also have Clear versions (/10), which are only in regular hobby packs.
Variations are back with both short prints and SSP cards. As usual, these have different photos on the front.
Inserts
Multiple insert sets in 2020 Topps Series 1 Baseball look back at different eras, sorting them into ten-year chunks.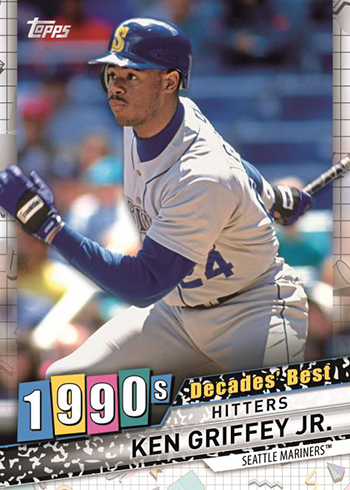 Decade's Best seems to replace Topps Salute. Each decade from the 1950s through to the 2010s gets a different design as well as a series of top 10 lists: Best Teams, Best Hitters, Best Pitchers and Award Winners.
Topps Choice looks back at past flagship designs. Favorites are voted on by fans and used to create new cards with past designs. It's similar to Archives or Heritage but on a more micro scale.
Decade of Dominance Die Cuts spotlight the best players over the years with cards shaped like an 'X.'
Looking ahead to the future is Decade's Next. The checklist here is rookies and other young stars.
All four of these insert sets have Blue, Black (/299), Gold (/50), Red (/10) and Platinum (1/1) parallels. Some cards also have autograph versions numbered to 25 or less.
1985 Topps Baseball returns as an insert set, celebrating its 35th anniversary. This follows similar 1983 and 1984 themes from the previous two years. These cards use the old design but with a mix of current players and retired stars. Parallels include Blue, Black (/299), Gold (/50), Red (/10) and Platinum (1/1).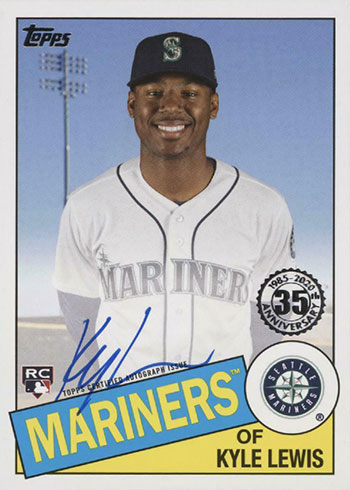 These also have autographs and relics that come with their own Black (/199), Gold (/50), hobby-exclusive Red (/25) and Platinum (1/1) parallels.
Turkey Red 2020
Turkey Red is making a comeback in 2020 Topps Series 1 Baseball as well. A retail-exclusive, these land one per pack. Basic cards have Blue (/50), Green (/10) and Black (1/1) parallels. There are also Turkey Red Chrome cards that have Blue Refractor (/50), Green Refractor (/10) and Superfractor (1/1) versions of their own.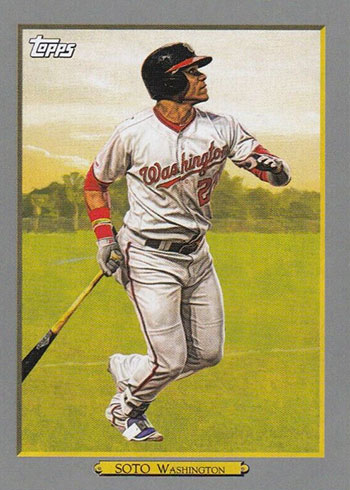 Hobby jumbo boxes get in on the Turkey Red action with exclusive box toppers.
2020 Topps Series 1 Baseball Autographs and Memorabilia Cards
2020 Topps Series 1 Baseball has some standalone autographs and memorabilia sets.
Baseball Stars Autographs take a multi-generational approach with its checklist, covering a variety of decades and eras. Parallels come in Black (/199), Gold (/50), Red (/25) and Platinum (1/1). There are also Baseball Stars Dual Autographs, although these are extremely rare with no more than five copies each.
Postseason Performance and World Series Champion both return with autograph (/50 or less), relic (/99) and autograph relic (/50 or less) versions. These also have select parallels.
Major League Materials return with more uniform swatches. In addition to the base versions are Black (/199), Gold (/50), Red (/25) and Platinum (1/1) parallels. Autograph versions are numbered to 50 and under.
Not all autographs in 2020 Topps Series 1 Baseball come on-card. One of the places to find them is Topps Reverence Autograph Patch cards (/10), which are exclusive to hobby and hobby jumbo packs. Red (/5) and Platinum (1/1) are the only parallels.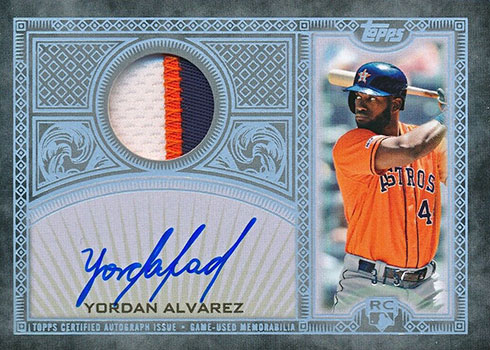 Cut Signatures are randomly inserted as well. But with all being one-of-ones, the odds are extremely long.
Another set of one-of-one cards are In the Name Relics. These have letters from the back of 2019 All-Star Game workout jerseys. And while each individual card is one-of-a-kind, players usually have multiple cards covering their names.
Manufactured Relics
There are a couple of manufactured relic insert sets available in packs: Jumbo Jersey Sleeve Patch and Global Game Medallions. Parallel colors are Black (/149), Gold (/50), Red (/10) and Platinum (1/1). Autographs for select cards have ten copies or less. Both of these sets are only in hobby and hobby jumbo packs.
Exclusive to retail blaster boxes are Rookie Card Retrospective RC Logo Medallion cards. These have Black (/199), Gold (/50), Red (/10) and Platinum (1/1) parallels with select cards also getting autographs (/10 or less).
2020 Topps Baseball Silver Packs
The Silver Pack program returns for another season. These packs have exclusive 1985 Topps Baseball Chrome cards with autographs and Refractors randomly inserted.
But there's a bit of a change in how they're being distributed. Rather than leaving it up to the dealers to hand out, 2020 Topps Baseball Silver Packs will be inserted into the boxes themselves at a rate of one per hobby box and two per hobby jumbo.
Home Run Challenge
The Topps Home Run Challenge is back for a third season. These inserts come with a code that can be used to predict the day that the featured player will hit a home run. If they do, collectors get an exclusive parallel.
Home Run Challenge cards land one per hobby box and one per hobby jumbo box. They're also in retail at a rate of 1:10 packs.
2020 Topps Celebration of the Decades Golden Tickets
The "Decades" them continues past just the cards in 2020 Topps Series 1 Baseball. A total of 25 golden tickets will be hiding in Series 1 packs. Those who get one receive an invite for them and a guest to a special event slated for late in the fall of 2020.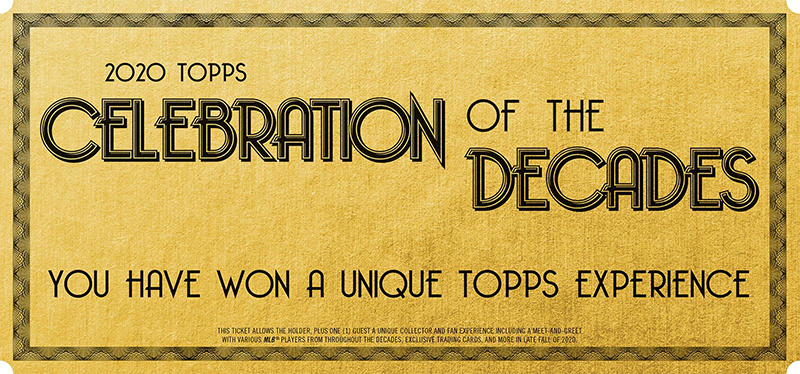 Similar to Topps Transcendent parties, there will be guests. In fact, there will be multiple MLB players on hand representing different decades and eras.
See also: 2020 Topps Baseball Rookie Card Guide
2020 Topps Series 1 Baseball cards at a glance:
Cards per pack: Hobby – 14; Hobby Jumbo – 46
Packs per box: Hobby – 24; Hobby Jumbo – 10
Boxes per case: Hobby – 12; Hobby Jumbo – 6
Set size: 350 cards
Release date: February 5, 2020
What to expect in a hobby box:
Autographs or Relic Cards – 1 Total
Home Run Challenge – 1
Rainbow Foil Parallels – 2
What to expect in a hobby jumbo box:
Autographs – 1
Relic Cards – 2
Home Run Challenge – 1
Gold Foil Parallels – 5
2020 Topps Series 1 Baseball Checklist
Base
Autographs
Memorabilia
Inserts
Silver Packs
Team Sets