2020 Topps Heritage High Number Baseball carries on where the original early-season left off. Updates and additional cards are the focus, all with a 1971 slant, but what that looks like on the field remains to be seen.
Like 2020 Topps Heritage, High Number hobby boxes promise one autograph or relic.

2020 Topps Heritage High Number Baseball Base Set Basics
The base set expands on the first set, sticking with the 1971 Topps Baseball design. In fact, the numbers pick up where things originally stopped. Another 225 cards are on the checklist. Veterans on new teams is one area of focus. So are rookies, but with the season being delayed — however long that may be — the number of first-year players is not yet known.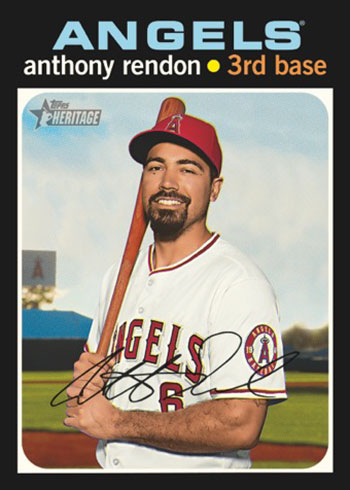 The final 25 cards in the set (#701-725) are short prints. These cards are available in smaller quantities than the other 200.
Hobby packs have a couple of exclusive parallels. White Border cards have just 50 copies each. Flip Stock cards return. Limited to five copies, these are essentially printed on opposite sides of what they usually would. So fronts are a little bit rough like the backs of base cards. Flip Stock backs have a more smooth and glossy touch to them.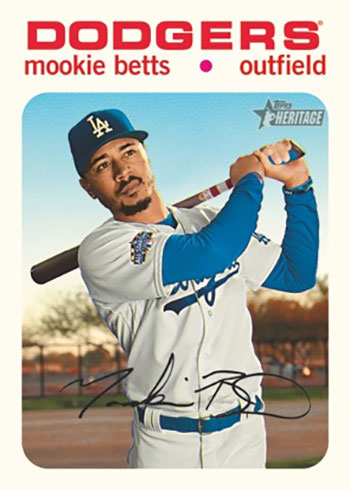 The checklist also has a couple of partial parallels. Main Chrome cards are limited to 50 players. Additional parallels for these include Refractors (/571), White Border (/71), hobby-only Gold Border (/5) and Superfractors (1/1). Purple Refractors are exclusive to special hot boxes. Special Mega Boxes have another 50 Chrome cards that aren't available elsewhere.
Finally, there are 50 Mini cards. These are numbered to 100.
Variations for select cards also match up with those started in 2020 Topps Heritage. Throwback Uniform, Action Images and Missing Signature variations are among the returning themes.
Autographs and Memorabilia Cards
Real One Autographs continue to anchor the ink in Heritage High Number. Signed on-card, both current players and those from 1971 are included. Special Edition Red Ink versions are hand-numbered to 71.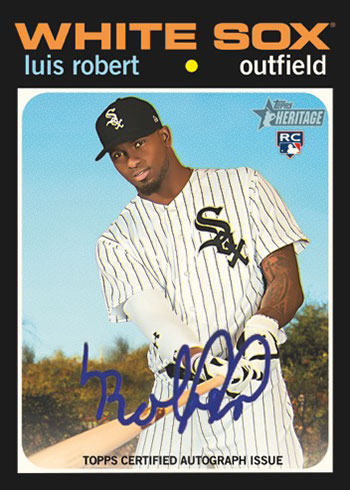 Most of the memorabilia cards in 2020 Topps Heritage High Number Baseball fall under the Clubhouse Collection banner. Regular versions, which have pieces of game-used uniforms and bats, have Gold (/99) and Patch (1/1) parallels.
Clubhouse Collection also has multi-swatch Dual (/71), Triple (/25) and Quad (1/1) cards. Each of these also have one-of-one Patch versions that are exclusive to hobby packs.
Clubhouse Collection Autograph Relics (/25 or less) and Dual Autograph Relics (/10 or less) still come with on-card ink.
Cut Signatures are randomly inserted featuring autographs from both baseball stars and celebrities who were big in 1971. All cuts are one-of-ones.
Additional Inserts
While the first part of 2020 Topps Heritage paid tribute to Willie Mays, High Number is honoring Cubs legend, Ernie Banks. Let's Play 2(528) looks at his time with the team. In case you're wondering about the name, it combines his famous, "Let's play two!" phrase with the numbers of games he played with Chicago (2,528). Relic cards with game-used pieces of Banks' have 25 copies or less.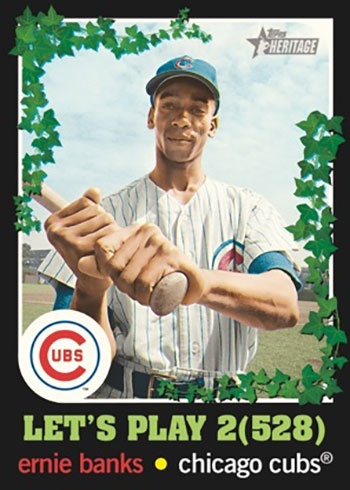 Another tribute of sorts on the checklist is 1971 World Series Highlights. These look at big moments from the championship as well as the series-winning Pittsburgh Pirates. Autograph versions are available for select players. These are numbered to 71.
Other High Number inserts include Award Winners, dual-player Combo cards, Rookie Performers, and Now and Then, which compare players from today with those from 1971.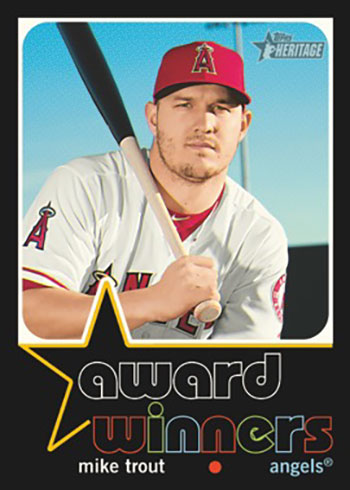 Hobby Box Loaders
Hobby boxes also come with an exclusive box loader. That said, these come in a variety of forms.
1971 Topps Super Baseball and 1971 Topps Greatest Moments are both oversized cards based on past sets. Select Supers also have autograph versions that max out at 25 copies each.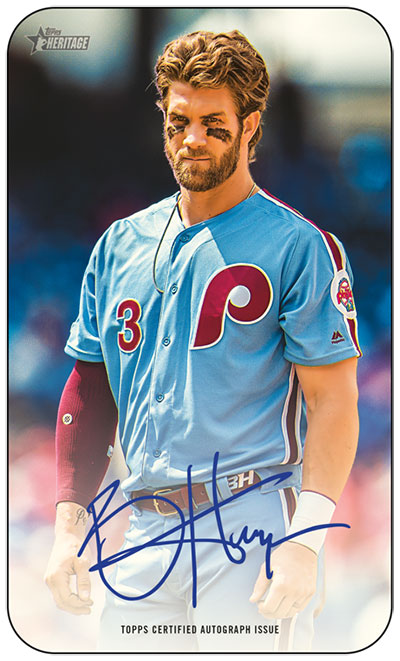 Buybacks are back in the form of 1971 Topps Originals. These are 1971 Topps Baseball cards that have a special foil stamp added to them.
2020 Topps Heritage High Number Baseball cards at a glance:
Cards per pack: 9
Packs per box: 24
Boxes per case: 12
Set size: 225 cards
Release date: December 30, 2020
Shop for 2020 Topps Heritage High Number Baseball boxes on eBay:
What to expect in a hobby box:
Autographs or Relic Cards – 1 Total
Box Loaders – 1
2020 Topps Heritage High Number Baseball Checklist
Please note that print runs for cards without serial numbers have not been announced.
You can also download a customizable spreadsheet version of the checklist:
Base
Variations
Autographs
Memorabilia
Inserts
Team Sets