First look: 2013 Topps Heritage Minors baseball cards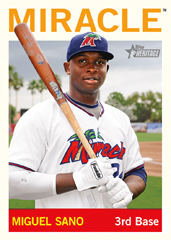 By Chris Olds | Beckett Baseball Editor
Heritage is headed down to the minors for the third straight season.
Topps offered its first glimpses at the this year's edition of Topps Heritage Minors on Wednesday, a 1964-style look at life before the big leagues that arrives on Sept. 11 with two autographs and one Relic in every 24-pack hobby box. (Need a past Heritage Minors checklist or OPG? Click here.)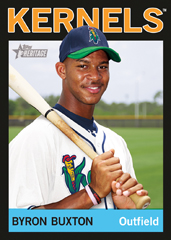 Like its big-league counterpart, this 1964-inspired release will include a base set (200 cards with 25 additional short-prints and 25 variations) along with parallels that can be found in this year's MLB release as well as in the Topps archives. Collectors can expect to find Venezuelan back parallels, black-bordered parallels and 1/1 blue-bordered parallels. All 250 cards also will have printing plates to be found.
Once again, a collector will have a chance to become a minor leaguer for a day as the Make Your Pro Debut contest returns once again, while three new inclusions will be uncut sheet redemptions, a 1964 Bazooka insert and an insert called Road to the Show.
Autographs will be found with standard versions as well as Blacks (/35), Red (/10), Orange (/5) and 1/1 Blue and printing plate versions.  Dual autos will be limited to just 15 copies with a 1/1 printing plate parallel (four shades) as well.
The Relic lineup will include manufactured hat patches along with a selection of Clubhouse Collection Relics. These will be found as standard, Black (/50) and 1/1 Blues, while there will be duals limited to 25, patches limited to 15 and auto patches limited to 10.
A preliminary checklist for the base set and autographs was not released, though signers shown on the preview materials included Danny Salazar, Max Kepler, Roman Quinn, Jesse Biddle and George Springer. Players shown on Relics included Springer, Joe Panik and Carlos Correa.
Chris Olds is the editor of Beckett Baseball magazine. Have a comment, question or idea? Send an email to him at colds@beckett.com. Follow him on Twitter by clicking here.