Bret Hart, Sting, Canadian Superstars highlighted in 2015 Topps WWE Road to Wrestlemania exclusives
When you click on links to various merchants on this site, like eBay, and make a purchase, this can result in this site earning a commission.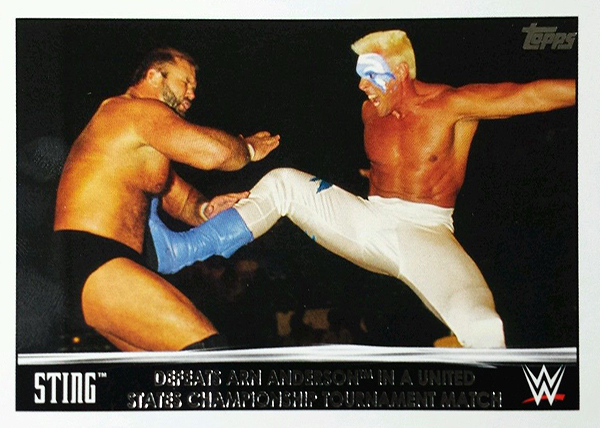 By Ryan Cracknell | Hobby Editor
2015 Topps WWE Road to Wrestlemania has several exclusives depending on where you're buying it and what kinds of packs you're busting.
The first continues to pay tribute to Sting, a modern professional wrestling legend but one who has fought in a WWE ring only once so far. Bret "Hit Man" Hart and a group of Canadian stars are featured in another crop of exclusives. Among them are the first certified autograph cards from Kevin Owens and Sami Zayn.
Like 2015 Topps WWE and 2015 Topps Chrome WWE, the Sting Tribute cards are available only in specially marked packs and blasters from Walmart. Cards 21-25 are only in Walmart jumbo packs. Numbers 26-30 are exclusive to the store's value boxes. The set's not done yet. Each card shows that the plan is to have 40 cards. The final ten will likely arrive with 2015 Topps Heritage WWE later this year.
A similar approach is being taken with a new Bret "Hit Man" Hart Tribute set. Charting 20 key moments from his career, the first ten are included in 2015 Topps WWE Road to Wrestlemania Canadian Relic boxes. The second half of the set is planned for Heritage WWE.
One Bret Hart Tribute card is included in each of the special boxes, which are available to Canadian hobby shops. Each box also has one of ten Superstars of Canada inserts that honor current and recently retired wrestlers and personalities who hail from the Great White North.
In addition to the basic insert exclusives, there are autographed and relic cards. Sting's autograph (/100) is only in Walmart jumbo packs while a relic and autographed relic (/10) are in Walmart value boxes. Hart has similar cards with the relics coming with a piece of singlet.
Randomly inserted Superstars of Canada autographs are limited to 25 copies each.
2015 Topps WWE Road to Wrestlemania Walmart Exclusives Checklist
Sting Tribute – Jumbo Pack
21 Defeats Arn Anderson in a United States Championship Tournament Match
22 Defeats Meng for the United States Championship
23 Defeats Meng, Retaining the United States Championship
24 Battles Ric Flair at the First Nitro
25 Sting & Ric Flair Defeat Brian Pillman & Arn Anderson
Sting Tribute – Value Box
26 Battles Hulk Hogan to a No-Contest
27 Faces Ric Flair and Lex Luger in a Triangle Match
28 Defeats Steven Regal
29 Abandons Team WCW
30 Joins n.W.o. Wolfpac
Sting Autograph (Jumbo Pack Exclusive) – /100
Sting
Sting Tribute Relic Card (Relic Box Exclusive)
Sting – Boots
Sting Tribute Autographed Relic Card (Relic Box Exclusive) – /10
Sting – Boots
2015 Topps WWE Road to Wrestlemania Canadian Relic Box Exclusives Checklist
Bret "Hit Man" Hart Tribute
1 The Hart Foundation Defeats Demolition for the World Tag Team Championship
2 Defeats Mr. Perfect for the Intercontinental Championship
3 Defeats Rowdy Roddy Piper for the Intercontinental Championship
4 Wins the 1993 King of the Ring Tournament
5 Wins the 1994 Royal Rumble Match
6 Defeats Yokozuna for the WWE Championship
7 Defeats Jerry "The King" Lawler in a Kiss My Foot Match
8 Defeats Diesel for the WWE Championship
9 Faces Shawn Michaels in a 60-Minute Iron Man Match
10 Wins the Final Four Match for the WWE Championship
Bret "Hit Man" Hart Autograph – /100
Bret "Hit Man" Hart
Bret "Hit Man" Hart Relic – /100
Bret "Hit Man" Hart – Singlet
Bret "Hit Man" Hart Autographed Relic – /10
Bret "Hit Man" Hart – Singlet
Superstars of Canada
1 Chris Jericho
2 Christian
3 Edge
4 Kevin Owens
5 Natalya
6 Renee Young
7 Sami Zayn
8 Trish Stratus
9 Tyson Kidd
10 Viktor
Superstars of Canada Autographs – /25
1 Chris Jericho
2 Christian
3 Edge
4 Kevin Owens
5 Natalya
6 Renee Young
7 Sami Zayn
8 Trish Stratus
9 Tyson Kidd
10 Viktor