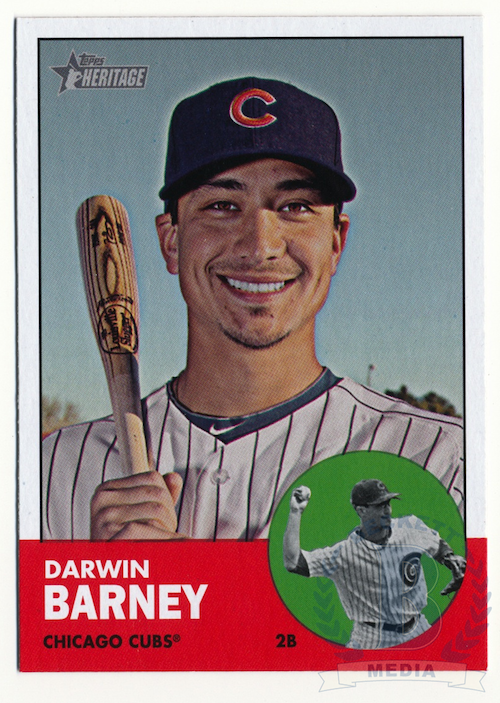 By Chris Olds | Beckett Baseball Editor
The official hobby arrival of 2012 Topps Heritage is just a day away, so here are some of the things to look for when you're ripping into those packs of the 1963-inspired cards.
Look for these for starters:
— Error short-prints. There are 10 cards with variations based on mistakes found on cards in the original 1963 set. They include Darwin Barney, Kerry Wood, Dan Haren, Ryan Madson (twice?), Carlos Pena, Julio Teheran and Mike Stanton along with two of the Rookie Stars cards, Nos. 29 and 54. What are the mistakes? We'll let you discover them for yourself for now …
— Image-swap variations. There are 25 cards where the images' positions have been switched from the normal card. The smaller black-and-white image from the circle is the main card photo and the standard card's photo is now in the circle. Mostly stars in this one — some of them include Justin Verlander, Cliff Lee, Tim Lincecum and Prince Fielder.
— Color-swap variations. These 25 cards simply have the color scheme altered from the standard card. Stars here include Derek Jeter, Buster Posey, Robinson Cano and Albert Pujols to name a few.
— Image-swap variation Relics. There are 25 Relics that get the same image-changing treatment.
— Red-border variations. Only found in Target packs, there are 25 players who have a completely red border — as if the stripe on the bottom took over the entire card. Notables here include Verlander, David Price, Joe Mauer and Clayton Kershaw to name a few.
— Blue-border variations. Only found in Walmart packs, these 25 have an entirely blue border. Notables here include Buster Posey, Evan Longoria, Pujols and Brian Wilson.
— JFK Story short-prints. This seven-card set is similar to the Jackie Robinson Story cards that were short-printed variations in last year's set, replacing the Babe Ruth Story cards. This set, according to the latest checklist issued by Topps, is not numbered as part of the base set.
A full checklist of these cards will be found on Beckett.com — search for 2012 Topps Heritage — later this week.
Chris Olds is the editor of Beckett Baseball magazine. Have a comment, question or idea? Send an email to him at colds@beckett.com. Follow him on Twitter by clicking here.