Dynasty is one of those card lines that found its niche quickly with its combination of luxury-level cards, low print runs and star-heavy checklist. 2020 Topps Dynasty Baseball is no different. It's another set in a line that sticks with what it's known for. Once again, boxes have just one card, either an autograph relic, dual autograph or cut signature.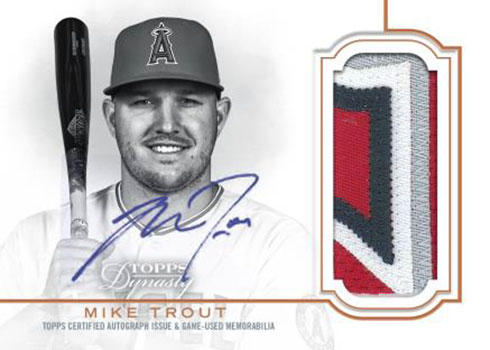 2020 Topps Dynasty Baseball Overview
The heart of Dynasty is its autograph patch cards. The layout is largely the same as recent years with an on-card signature and oversized patch swatch. This year, the background is light and player photos take a black and white portrait approach.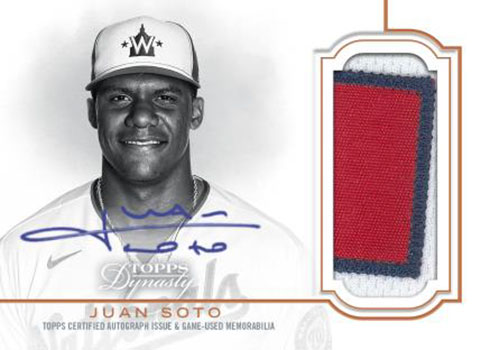 Base versions have ten copies each with additional Silver (/5) and Gold (1/1) parallels.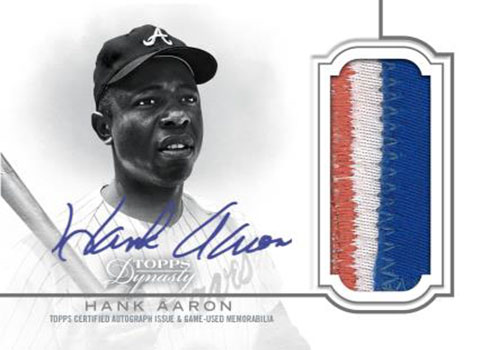 Historically, most players do have multiple autograph patch cards within the same Dynasty set. So while print runs for individual cards are extremely low, the total number a player might have is often higher.
On This Day Autographed Patch cards (/10) return. These include a MLB Authentication hologram on the swatch so that collectors can trace it to a specific game. Parallels include Silver (/5) and Gold (1/1).
Dynasty Autographed Dual Relics (/5) highlight on-card signatures from some of the game's legends. The memorabilia may not be patches but there are two game-used pieces on each of these cards.
The 2020 Topps Dynasty Baseball checklist has a few spots with multiple signatures. Dual Autographed Patch cards (/5) have ink and game-used pieces from two players. New Triple Autographed Patch cards (/5) make it three. These also have hard signatures.
They might not have memorabilia, but Dynasty Legendary Dual Autographs (/5) pair up two greats.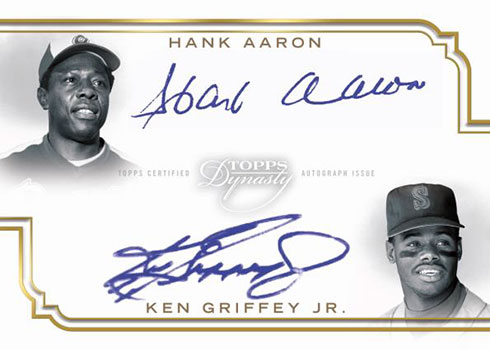 Autographed MLB Silhouetted Batter Logo Patch cards are all one-of-ones. According to Topps, the number of players on these will be significantly bigger than 2019.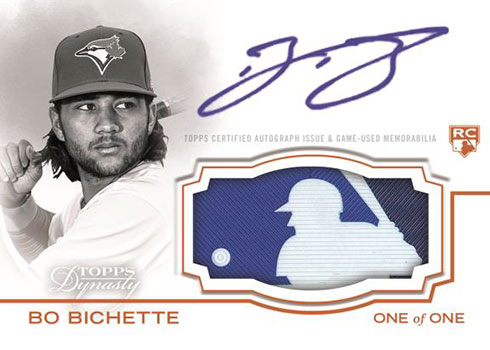 2020 Dynasty uses other memorabilia beyond uniform patches in a couple of spots. For starters, there's Autographed Batting Gloves (/5). Parallels on these take from specific parts of these gloves with Wrist Strap (1/1) and Jumbo Logo (1/1).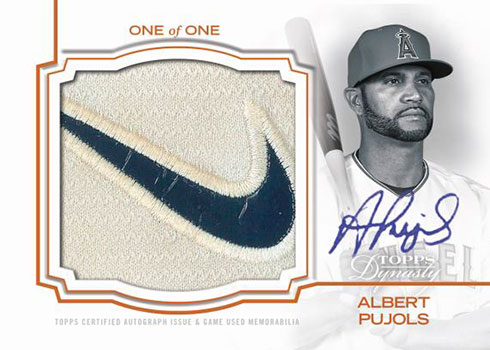 Autographed Special Even Baseball Leather cards (/5) use pieces of game-used balls. One-of-one Gold parallels use jumbo pieces with logos.
Cut Signatures
The only cards in 2020 Topps Dynasty Baseball that don't have on-card autographs are cut signatures.
There are both standard cuts and Dual Relic Cut Signatures, which pair the autograph with two pieces of memorabilia. In both instances, all are one-of-ones.
2020 Topps Dynasty Baseball cards at a glance:
Cards per pack: 1
Packs per box: 1
Boxes per case: 5
Release date: November 4, 2020
What to expect in a hobby box:
Autograph Relics, Dual Autographs or Cut Signatures – 1
The 2020 Topps Dynasty Baseball checklist and team set lists will be up when they're available, likely a short time before the set's release.