2020 Topps Sterling Baseball Checklist, Team Set Lists, Pack Odds and Details
2020 Topps Sterling Baseball brings back a long-dormant line. And it's a high-end one at that, which focuses on autograph memorabilia cards and premium relics.
Although Bowman Sterling returned in 2019, the last time Topps Sterling appeared was in 2010 (or as some may say, before Mike Trout).
Each hobby box comes with a pair of mini boxes. One is guaranteed to have an autograph relic. The other is either a second signature memorabilia card or a premium "unique" relic as the card maker is dubbing them. These unique relics are ultra-premium pieces like bat knobs and nameplate letter patches.
2020 Topps Sterling Baseball Autograph Relics
Besides being one of Topps' earlier hits-based baseball brands, the line was also known for taking on themes. That returns for 2020 with the mini box format. These highlight additional precision for the cards within and potential pulls.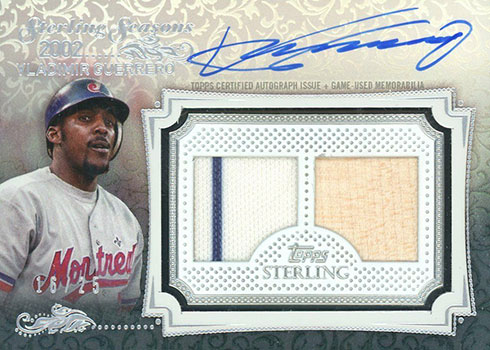 The hit in each mini box goes with the theme, which is on the packaging.
Autograph relics in 2020 Topps Sterling Baseball come with on-card signatures.
Sterling Seasons, Sterling Strikes and Sterling Swings all have base versions with two pieces of game-used gear and numbering to 25 copies. Parallels for each not only add color and smaller print runs but additional swatches. These include Blue (/10) with three relics, Red (/5) with four and Silver (1/1) with five.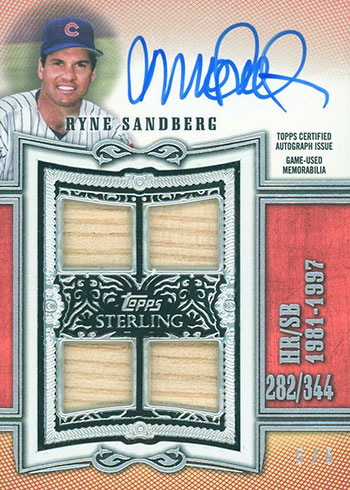 Sterling Sets Dual and Triple Autograph Relics (/10 or less)) feature multiple players. Despite this, signatures are still on-card. Parallels come in Red (/5 or less) and Silver (1/1).
Those looking for oversized swatches will find them in Sterling Splendor Jumbo Patch Autographs (/5). Red (/3) and Silver (1/1) are, again, the parallels.
Unique Relics
According to Topps, unique relics are two per eight-box case – or 1:4 hobby master boxes. No matter the theme or insert, these cards are all one-of ones.
Card types include bat knobs, bat knob autograph, bat nameplates, bat nameplate autographs, jersey letter patches, Legendary Relics, and cut signatures.
2020 Topps Sterling Baseball cards at a glance:
Cards per pack: 1
Packs per box: 2
Boxes per case: 8
Release date: July 22, 2020
Shop for 2020 Topps Sterling Baseball boxes on eBay:
What to expect in a hobby box:
Autographed Relics or Relic Cards – 2
2020 Topps Sterling Baseball Checklist
You can also download a spreadsheet version of the checklist to customize and sort to fit your collecting needs:
Autographs
Memorabilia
Team Sets
Odds