2020 Topps Advent Baseball Counts Down to Christmas
2020 Topps Advent Baseball is counting down to Christmas. The online-exclusive release brings a festive spin to baseball cards and the game's top stars.
Instead of waxy chocolates, half of which pop out of their pocket and fall to the bottom, cards are unveiled online. There's a new one each weekday (Monday to Friday) leading up to Christmas with 20 total cards in the set. However, it's not available as a complete set. Each new card is available individually on Topps' website for just 24 hours.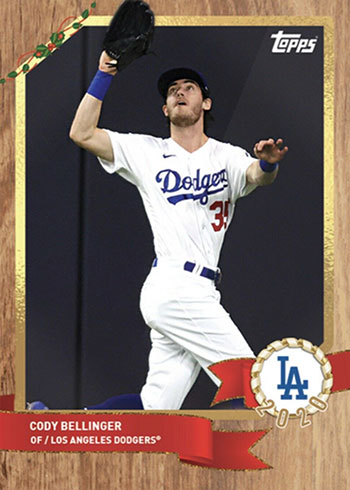 The cost is $9.99 per card with discounts available for lots of five, ten and 20 cards. For those looking to save money on individual cards, there are also sellers sometimes offering pre-sales on eBay at discounted rates.
Due to the on-demand nature of the set, print runs will vary from card to card with top names and rookies usually generating the biggest numbers.
2020 Topps Advent Baseball at a glance:
Set size: 20 cards
Release date: December 1, 2020
2020 Topps Advent Baseball Checklist
20 cards.
Card numbers count down starting at #20.
Print runs are noted.
Click on links to shop for individual cards on eBay.
20 Cody Bellinger, Los Angeles Dodgers – 348
19 Gleyber Torres, New York Yankees – 275
18 Bo Bichette, Toronto Blue Jays – 1,023
17 Bryce Harper, Philadelphia Phillies – 414
16 Gavin Lux, Los Angeles Dodgers – 619
15 Fernando Tatis Jr., San Diego Padres 740
14 Ronald Acuna Jr., Atlanta Braves 448
13 Aaron Judge, New York Yankees – 435
12 Clayton Kershaw, Los Angeles Dodgers – 380
11 Kyle Lewis, Seattle Mariners – 1,463
10 Jose Abreu, Chicago White Sox – 296
9 Juan Soto, Washington Nationals – 588
8 Mike Trout, Los Angeles Angels – 1,999
7 Corey Seager, Los Angeles Dodgers – 314
6 Shane Bieber, Cleveland Indians – 244
5 Javier Baez, Chicago Cubs – 281
4 Yordan Alvarez, Houston Astros – 497
3 Freddie Freeman, Atlanta Braves – 288
2 Luis Robert, Chicago White Sox – 2,221
1 Mookie Betts, Los Angeles Dodgers – 404