2020 Bowman Chrome Draft Baseball Variations Guide
The 2020 Bowman Chrome Draft variations probably won't make as big a splash as they do in some other sets, but they're still out there. The 15-card lineup covers several top draft picks and a few of the key prospects from the base set checklist.
In usual SSP fashion, they're alternate versions of base cards only with tougher odds and different odds.
Variations are fairly tough to pull. In hobby jumbo, they're 1:203 pack. When it comes to super jumbo, SSP cards are 1:54 packs.
Confirming Variations with the Code on the Back
Even though the list of variations in 2020 Bowman Draft isn't that long, memorizing all the images and their short print counterparts is tough. This gallery is here to help. But there's also an easy way to check using the card back.
Customary for most Topps variations, you can use the code at the end of the small print at the bottom. Different card types have codes with different endings. When it comes to variations, here are the ones to know:
Bowman Chrome Draft Base Cards – 195
Variations – 221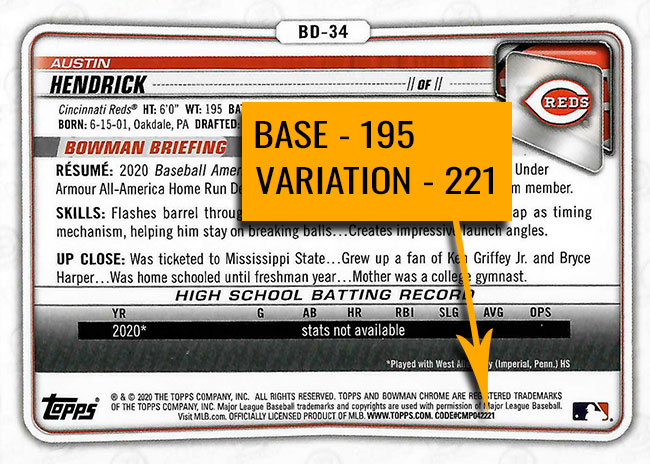 2020 Bowman Chrome Draft Variations Checklist
Here's a quick list of the 15 2020 Bowman Chrome Draft variations. Below is a gallery showing both the short print and base versions.
BD-12 Emerson Hancock
BD-34 Austin Hendrick
BD-39 Robert Hassell
BD-41 Reid Detmers
BD-81 Nick Gonzales
BD-88 Asa Lacy
BD-107 Zac Veen
BD-121 Spencer Torkelson
BD-122 Heston Kjerstad
BD-146 Patrick Bailey
BD-151 Jasson Dominguez
BD-152 Bobby Witt Jr.
BD-153 Andrew Vaughn
BD-154 Adley Rutschman
BD-155 Robert Puason
2020 Bowman Chrome Draft Variations Gallery
BD-12 Emerson Hancock, Seattle Mariners
BD-34 Austin Hendrick, Cincinnati Reds
BD-39 Robert Hassell, San Diego Padres
BD-41 Reid Detmers, Los Angeles Angels
BD-81 Nick Gonzales, Pittsburgh Pirates
BD-88 Asa Lacy, Kansas City Royals
BD-107 Zac Veen, Colorado Rockies
BD-121 Spencer Torkelson, Detroit Tigers
BD-122 Heston Kjerstad, Baltimore Orioles
BD-146 Patrick Bailey, San Francisco Giants
BD-151 Jasson Dominguez, New York Yankees
BD-152 Bobby Witt Jr., Kansas City Royals
BD-153 Andrew Vaughn, Chicago White Sox
BD-154 Adley Rutschman, Baltimore Orioles
BD-155 Robert Puason, Oakland Athletics