2020 Topps Heritage Minors Baseball Checklist, Team Set Lists, Details
If you're looking for a flagship approach to the year's MiLB crop there's Pro Debut. If you prefer a nostalgic approach (and on-card autographs), there's 2020 Topps Heritage Minors. Using throwback designs from 1971, the product has a lot of the same beats as it's MLB counterpart from earlier in the year.
2020 Heritage Minors hobby boxes include both an autograph and a relic.

2020 Topps Heritage Minors Baseball Base Set Basics
The foundation of the product is a 200-card base set. Players working their way through the MiLB ranks are the focus of the checklist, including some from the 2019 draft appearing in the line for the first time.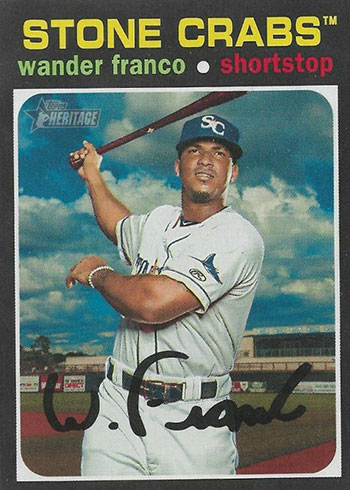 1971 Topps Baseball is the design, keeping up with Heritage's long-running continuity.
Parallels come in the following levels:
Flip Stock
Blue Border – /99
White Border – /50
Gold Border – /15
Red Border – 1/1
Rounding out the main set are some short prints, which land 1:6 packs.
Ten cards also have Image Variations that use the same design but a different photo. Autographs, which have 50 copies each, are also possible with there. There are also ten additional variations where the facsimile signature is missing on the card front.
Autographs, Memorabilia Cards and Other Inserts
Real One Autographs have been a Heritage staple since the brand's earliest days. They make up the bulk of the signature content here. Additional parallels include Blue Border (/99), White Border (/50), Image Border Removal (/25) and Red Border (1/1).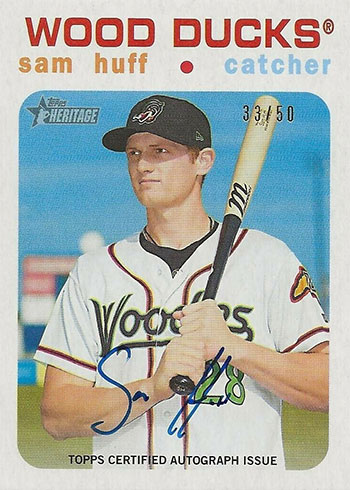 Real One Dual Autographs have just 20 copies each.
Bringing a floating head look to the product are 1971 Topps All-Star Rookies Autographs. These are on the tough side with 50 copies for the base versions. One-of-one Red are the lone parallels.
Like Heritage MLB, Clubhouse Collection Relics make up the majority of the memorabilia content in 2020 Heritage Minors. These come with Blue (/99), White (/50), Orange (/25) and Red Patch (1/1) parallels.
Futures of the Pastime Relic Autographs (/25) bring an autograph memorabilia chase to the checklist.
1971 Mint Relics have coins embedded in them. Base versions come with 99 copies each. They're joined by Black Quarter (/50) and Red Quarter (1/1) parallels. Select cards also have autograph versions that are numbered to 10.
2020 Topps Heritage Minors also has a couple of regular insert sets, both of which are homages to 1971 cards. Scratch-Offs (1:4.5 packs) mimic similar game cards from five decades earlier. Some Scratch-Off cards also have autographs (/99). Bazooka Numbered Test cards (1:6 packs) find their roots in a series of test proofs that were on Bazooka gum boxes back in the day.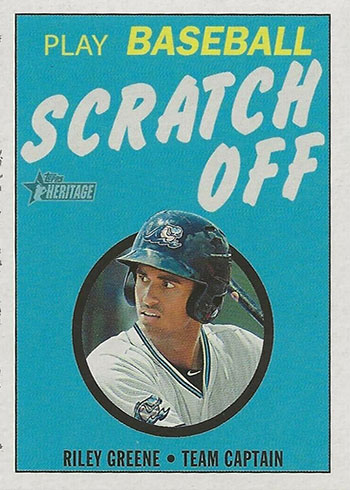 Boxes have a bonus boxloader as well. Like other inserts 1971 Topps Greatest Moments have a foundation in the past. These oversized cards put the spotlight on big moments from top-tier prospects. Autograph versions are numbered to 25.
Each hobby box has a pair of Make Your Pro Debut entry cards. The promotion promises the winner a prize package that includes a card in 2021 Topps Pro Debut.
2020 Topps Heritage Minors Baseball cards at a glance:
Cards per pack: 8
Packs per box: 18
Boxes per case: 12
Set size: 221 cards
Release date: October 7, 2020
Shop for 2020 Topps Heritage Minors Baseball boxes on eBay:
What to expect in a hobby box:
Autographs – 1
Memorabilia or Relic Cards – 1
Bazooka Numbered Test Cards – 3
Scratch Offs – 4
Greatest Moments Boxloaders – 1
Make Your Pro Debut Entry Cards – 2
Short Prints – 3
2020 Topps Heritage Minors Baseball Checklist
Please note that print runs for cards without serial numbers have not been released.
You can also download a customizable spreadsheet copy of the checklist:
Base
Variations
Autographs
Memorabilia
Inserts
Team Sets
Odds