Hey, prospectors … who are you targeting in 2013 Bowman? (Vote from the autograph checklist)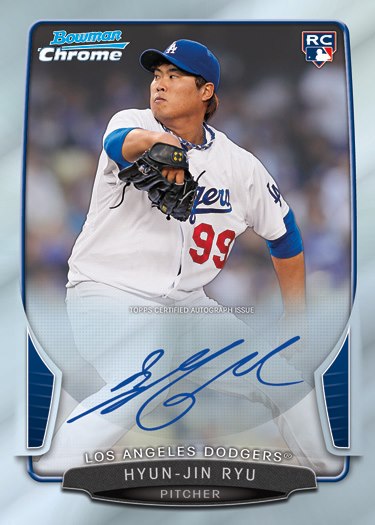 By Chris Olds | Beckett Baseball Editor
This year's first Bowman set arrives next week from Topps with the some of the first MLB-approved cards and autographs for a new crop of rookies and prospects — you know, the kind of stuff that Chromie dreams are made of.
But in a year without a Bryce Harper or a Stephen Strasburg — at least not just yet — we're kind of curious about who you'll be picking off when it comes to landing standard autographs of the rookies and prospects in the product. (For more on the product, including prelim and final auto/Relic checklists, click here.)
After the jump, we have the full checklist of Chrome prospect autographs, Chrome rookie autographs and retail autographs — and we want you to pick your top choices for your hobby dollars. If you'd like to make even more of a case for who's hot, who's not and more, let us know in the comments below.
Oh, and Dodgers pitcher Hyun-Jin Ryu isn't among those on the checklists because he was just announced as the player for Bowman Lucky Redemption No. 1 — so look for those five different redemption cards in packs, too.
Be sure to vote on all three of the checklists.
—
Loading ...
—
Loading ...
—
Loading ...
—
Chris Olds is the editor of Beckett Baseball magazine. Have a comment, question or idea? Send an email to him at colds@beckett.com. Follow him on Twitter by clicking here.