In case you were wondering, yes, there are 2020 Topps Pro Debut variations. These are straightforward in their approach, offering SSP cards that look very similar to base cards but come with different photos and tougher odds.
A total of 15 players have Image Variations in the minor league product, most of which are top players on the checklist.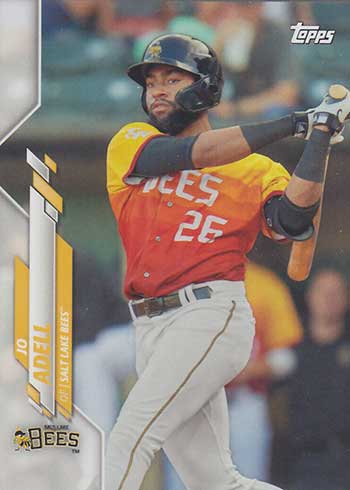 As for the variations, there is no connecting theme to the photos. In fact, most are standard shots that have players batting instead of fielding or a different angle from a similar play.
2020 Topps Pro Debut Baseball variations land 1:195 hobby packs, which is about 1:8 boxes. They're also in the new jumbo packs at a rate of 1:65 packs.
In additional to the regular versions, each has a one-of-one Black parallel (1:37,264 hobby packs, 1:12,275 jumbo packs).
2020 Topps Pro Debut Baseball Image Variations Code Confirmations
There's a second way to know if you have a 2020 Topps Pro Debut Baseball variation. Simply flip the card over and look at the end of the block of small print. You'll find a code. It's meant for production purposes primarily but collectors can use it to identify different types of cards — like variations.
When it comes to the SSP cards, here are the two codes that matter:
Base – 981
Variation – 995
Basically, if the code on your cards ends in 981, it's the regular base card. If it's 995, you've got one of the variations. It's that simple.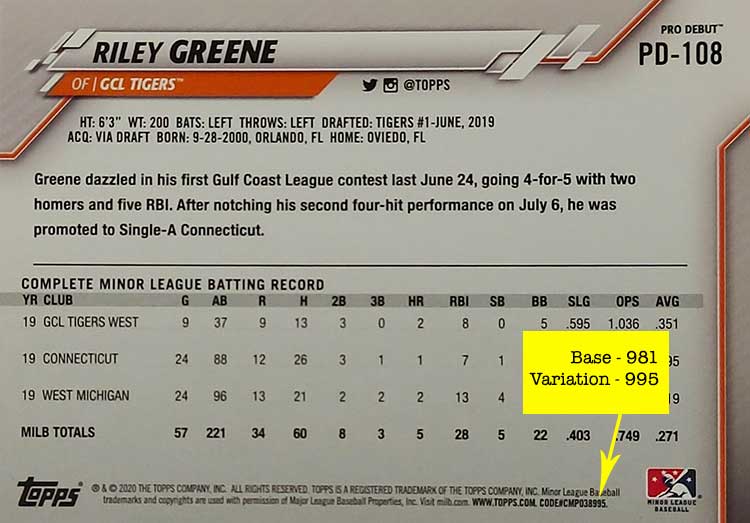 2020 Topps Pro Debut Baseball Variations Checklist
Here's a quick 2020 Topps Pro Debut Baseball variations checklist. If you're looking for a specific card, click on the links to see what's currently available on eBay.
PD-1 Wander Franco
PD-25 Adley Rutschman
PD-50 Bobby Witt Jr.
PD-58 Nate Pearson
PD-91 Victor Victor Mesa
PD-100 Jo Adell
PD-108 Riley Greene
PD-124 Andrew Vaughn
PD-150 Casey Mize
PD-161 Joey Bart
PD-185 JJ Bleday
PD-191 Jarred Kelenic
PD-192 CJ Abrams
PD-193 Tarik Skubal
PD-195 Royce Lewis
2020 Topps Pro Debut Baseball Variations Gallery
PD-1 Wander Franco, Charlotte Stone Crabs
PD-25 Adley Rutschman, GCL Orioles
PD-50 Bobby Witt Jr., AZL Royals
PD-58 Nate Pearson, Buffalo Bisons
PD-91 Victor Victor Mesa, Jacksonville Jumbo Shrimp
PD-100 Jo Adell, Salt Lake Bees
PD-108 Riley Greene, GCL Tigers
PD-124 Andrew Vaughn, AZL White Sox
PD-150 Casey Mize, Erie SeaWolves
PD-161 Joey Bart, Richmond Flying Squirrels
PD-185 JJ Bleday, Jupiter Hammerheads
PD-191 Jarred Kelenic, Arkansas Travelers
PD-192 CJ Abrams, AZL Padres
PD-193 Tarik Skubal, Erie SeaWolves
PD-195 Royce Lewis, Pensacola Blue Wahoos