2020 Topps Transcendent Hall of Fame Baseball expands the brand and takes it in a bit of a different direction. As the name suggests, the checklist is an all-Hall of Fame affair that has autographs in bulk and a few other high-end additions. Of course, there's a VIP event connected with the product as well.

All told, each box has over 40 autographs and at least six different one-of-ones.
2020 Topps Transcendent Hall of Fame Baseball Autographs
Similar to the main Topps Transcendent Baseball line, signatures are the focal point.
These start with Transcendent Collection Autographs. There are 40 in each box, all with on-card ink and a metal framed design. Both the regular cards and the similar Image Variation Autographs have 25 copies each for the base versions.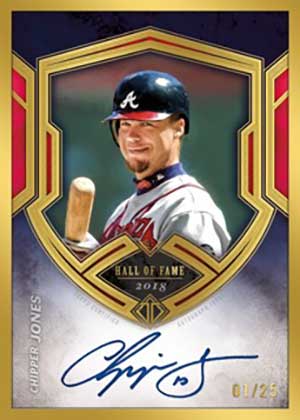 Additional parallels include Emerald (/5), Platinum (1/1) and Red (1/1). Boxes have two of the one-of-one parallels.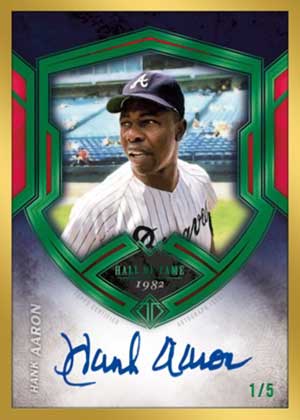 Sandy Koufax Through the Years Autographs (1/1) are another box inclusion. These use past Topps designs to create new cards of the Dodgers legend.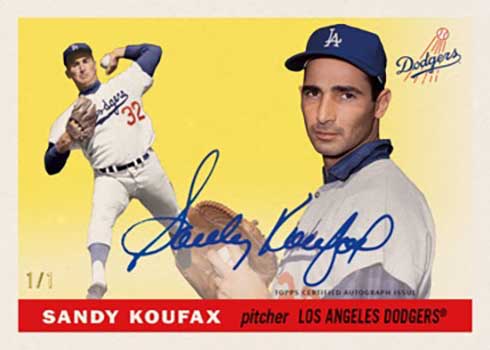 Picking up from where 2019 Topps Transcendent left off are 1954 Topps Superfractor Autographs. These reimagine the early design as something more modern. Keeping with past Transcendent Superfractor Autographs, these are all one-of-a-kind.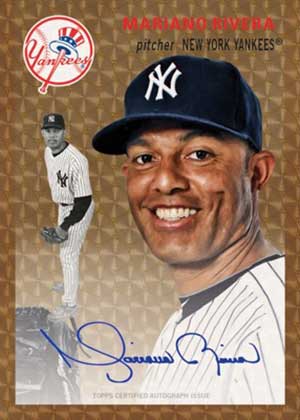 Oversized Cut Signatures are back as well with all being one-of-ones. Babe Ruth, Roberto Clemente, Honus Wagner and Jackie Robinson are among the available autographs. There are also HOF Induction Class Cut Signatures that have autographs from four different players elected to Cooperstown in the same year. This includes one of inaugural 1936 members Ruth, Wagner, Ty Cobb and Walter Johnson.
Oversized Cut Signature Checklist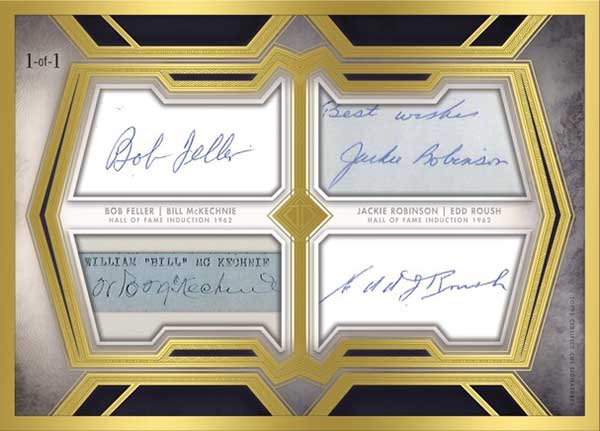 Here's a partial list of cut signatures confirmed for the set.
Roberto Clemente
Dizzy Dean
Joe DiMaggio
Jimmie Foxx
Lou Gehrig
Ralph Kiner
Johnny Mize
Jackie Robinson
Babe Ruth
Honus Wagner
Ted Williams
Cy Young
Induction Class Cut Signatures
1936 – Ty Cobb, Walter Johnson, Babe Ruth, Honus Wagner
1955 – Joe DiMaggio, Gabby Hartnett, Ted Lyons, Dazzy Vance
1962 – Bob Feller, Jackie Robinson, Bill McKechnie, Edd Roush
1984 – Don Drysdale, Rick Ferrell, Harmon Killebrew, Pee Wee Reese
Other Inclusions
The 2020 Topps Transcendent Hall of Fame Baseball base set takes on a Hall of Fame Icons theme. It's 50 cards with all having 50 copies. As with past sets, these are in metal frames.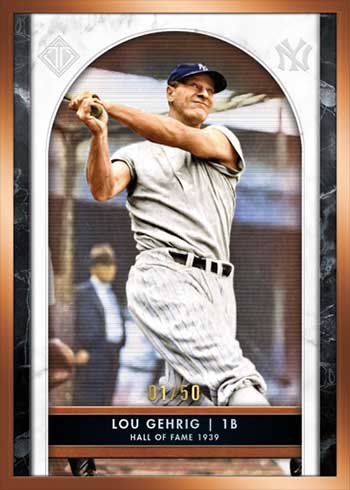 Each box has one original Hall of Fame Sketch Card. A set of Hall of Fame Sketch Card Reproductions (/50) is also part of the mix.
Rounding out the baseball cards in the product is a Hall of Fame Buyback. This is an original Topps card from the past that has been graded by PSA.
VIP Event
One of the defining features of Topps Transcendent is that it's never just cards. An experience is also part of every release. Each box has an invitation to a special VIP Event.
The date, location and special guests are yet to be announced. Previous Transcendent party guests include Hank Aaron, Mike Trout, Kris Bryant, Shohei Ohtani and, most recently, Ken Griffey Jr.
2020 Topps Transcendent Hall of Fame Baseball has a production run of 50 boxes, which is half of 2019 Topps Transcendent Baseball.
2020 Topps Transcendent Hall of Fame Baseball cards at a glance:
Cards per box: 145 cards
Set size: 50 cards
Release date: April 24, 2020
What to expect in a hobby box:
50-Card Hall of Fame Icons Base Set
50-Card Hall of Famers Sketch Reproductions Set
Transcendent Collection Autographs – 40
Sandy Koufax Through the Years Autographs (1/1) – 1
1954 Topps Baseball Superfractor Autographs (1/1) – 1
Cut Signature (1/1) – 1
Sketch Cards (1/1) – 1
Graded Hall of Fame Buybacks – 1
VIP Experience Invitation
2020 Topps Transcendent Hall of Fame Baseball Checklist
Base
Autographs
Inserts
Team Sets