2020 Topps Chrome Update Series Baseball Checklist, Team Set Lists and Details
If you've been wondering if there's going to be a 2020 Topps Chrome Update Series Baseball, it turns out it's happening. Like a lot of things to round out the baseball card season, it's later than usual but we can probably thank the pandemic for it.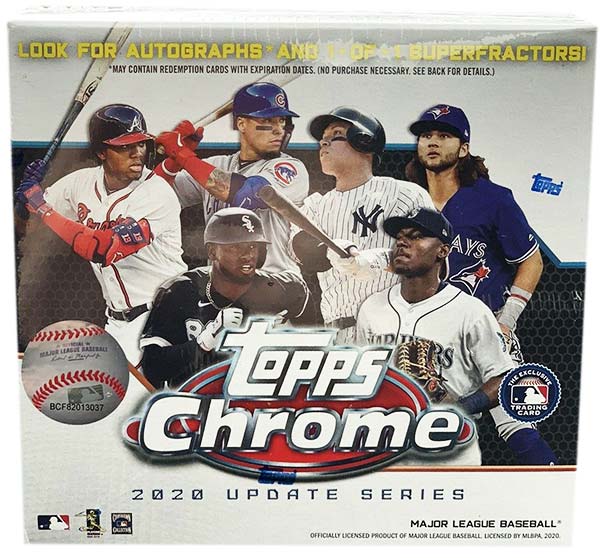 2020 Topps Chrome Update Series Baseball Checklist Overview
Like past years of the retail release, the checklist appears to be fairly straightforward with a base set, a handful of parallels, a couple of insert sets and autographs.
Blaster boxes come with seven packs. Refractors, one of the cornerstones of Topps Chrome, are actually quite tough to pull. Regular Refractors are 1:102 packs. From there, additional parallels include:
X-Fractors – 1:258 packs
Gold Refractors – 1:510 packs
Red Refractors – 1:1,020 packs
Printing Plates – 1:6,454 packs
Superfractors – 1:28,459 packs
As far as other chase elements go, two regular insert sets make the jump over from the flagship. As far as quantity goes, they are going to show up the most often compared to parallels. A Numbers Game, which was in 2020 Topps Update Series Baseball and Series 1's Decade's Next both land 1:4 blaster packs. Other than tough autographs for select cards, neither of these have any additional parallels.
If the odds on the back of the box are correct, standard autographs are actually easier to pull in blasters than Refractors. Base Autographs land 1:41 packs. Refractors include X-Fractors (1:258 packs), Gold Refractors (1:603 packs), Orange Refractors (1:1,151 packs), Red Refractprs (1:5,796 packs), and one-of-one Superfractors (1:30,139 packs).
2020 Topps Chrome Update Baseball at a glance:
Cards per pack: Blaster – 4
Packs per box: Blaster – 7
Set size: 100 cards
Release date: January, 2021
Shop for 2020 Topps Chrome Update Series Baseball boxes on eBay:
What to expect in a blaster box:
A Numbers Game – 1
Decades' Best – 1
2020 Topps Chrome Update Series Baseball Checklist
You can also download a spreadsheet copy of the checklist:
Base
Autographs
Inserts
Team Sets