2020 Topps Garbage Pail Kids Chrome Series 3 Checklist and Details
When you click on links to various merchants on this site, like eBay, and make a purchase, this can result in this site earning a commission.
2020 Topps Garbage Pail Kids Chrome Series 3 brings the shine back to the gross-out line. It brings a shiny spin to 1986's Original Series 3 while also adding some new content. Of course, with this set falling under the Topps Chrome banner, there are Refractors — lots of them.
2020 Topps Garbage Pail Kids Chrome Series 3 Checklist Overview
The bulk of the base set takes the Original Series 3 cards and gives them a chromium makeover. That means 82 cards including both the A and B name variations. But there's also some new art at the end of the checklist in the form of nine new gags (18 total cards). Art for these comes courtesy of GPK veterans David Gross, Brent Engstrom, Smokin' Joe McWilliams, and Joe Simko. Rich Molinelli does original Wanted Poster art for the new cards.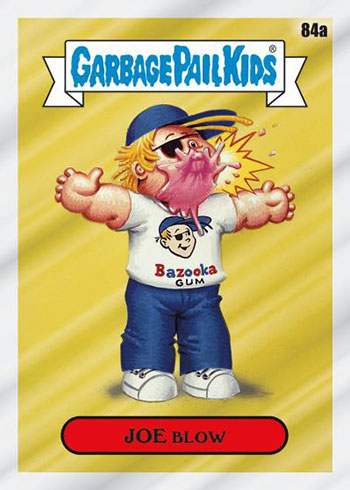 Refractors make up a full parallel rainbow. These differ from regular card stock in its background. Base cards have a metallic finish. For Refractors, when you hold them under a bright light, they have a rainbow reflection. Regular Refractors are 1:3 hobby packs, or approximately eight per box. Other colors include Prism Refractors (/199), X-Fractors (/150), Black Refractors (/99), Gold Refractors (/50), Printing Plates (1/1) and Superfractors (1/1).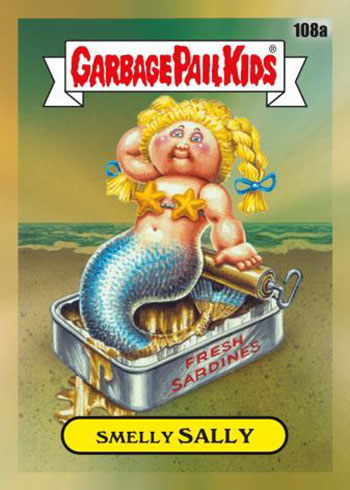 Artist Autograph versions of the base set are also available.
C Name Variations, which give characters a third moniker, are the only other inserts.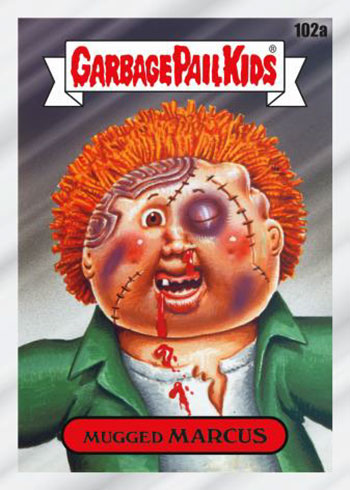 The last Garbage Pail Kids Chrome set, which covered Original Series 2, came out in 2014.
2020 Topps Garbage Pail Kids Chrome Series 3 at a glance:
Cards per pack: Hobby – 4
Packs per box: Hobby – 24
Boxes per case: Hobby – 12
Set size: 100 cards
Release date: December 2, 2020
Shop for 2020 Topps Garbage Pail Kids Chrome boxes on eBay:
What to expect in a hobby box:
2020 Topps Garbage Pail Kids Chrome Series 3 Checklist
Base
Base Set Checklist
100 cards.
Parallels:
Refractors – (1:3 packs)
Green Refractors – /299
Green Wave Refractors – /299
Purple Refractors – /250
Purple Wave Refractors – /250
Prism Refractors – /199
X-Fractors – /150
Black Refractors – /99 (hobby only)
Black Wave Refractors – /99
Orange Refractors – /75
Gold Refractors – /50 (hobby only)
Red Refractors – /5
Printing Plates – 1/1 (each has Black, Cyan, Magenta and Yellow versions)
Superfractors – 1/1
Shop for parallels on:
84a JOE Blow
84b ROD Wad
85a Stuck CHUCK
85b Pinned LYNN
86a Horsey HENRY
86b Galloping GLEN
87a Hot Head HARVEY
87b ROY Bot
88a DINAH Saur
88b FARRAH Fossil
89a Hurt CURT
89b PAT Splat
90a Stoned SEAN
90b Thick VIC
91a BLAKE Flake
91b Hippie SKIPPY
92a MARVIN Gardens
92b Spittin' SPENCER
93a DREW Blood
93b Bustin' DUSTIN
94a Bruised LEE
94b Karate KATE
95a Grim JIM
95b Beth DEATH
96a Distorted DOT
96b Mirror IMOGENE
97a Punchy PERRY
97b Creamed KEITH
98a CHARLOTTE Web
98b DIDI T.
99a Beaky BECKY
99b Picky MICKEY
100a ALI Gator
100b Marshy MARSHALL
101a Mushy MARSHA
101b Basking ROBIN
102a Mugged MARCUS
102b Kayo'd CODY
103a Wriggley RENE
103b Curly CARLA
104a Silent SANDY
104b Barren AARON
105a Juicy JESSICA
105b Green DEAN
106a Fowl RAOUL
106b MACK Quack
107a Totem PAULA
107b TATUM Pole
108a Smelly SALLY
108b Fishy PHYLLIS
109a Toady TERRY
109b Croakin' COLIN
110a Snooty SAM
110b U.S. ARNIE
111a Target MARGARET
111b Bullseye BARRY
112a FRANK N. Stein
112b Undead JED
113a ALICE Island
113b Liberty LIBBY
114a Starin' DARREN
114b Peepin' TOM
115a Warmin' NORMAN
115b Well Done SHELDON
116a Eerie ERIC
116b Berserk KIRK
117a ROCKY N. Roll
117b LES Vegas
118a Half- NELSON
118b Glandular ANGELA
119a NED Head
119b Still JILL
120a Babbling BROOKE
120b Jelly KELLY
121a Apple CORY
121b DWIGHT Bite
122a Broad MAUD
122b Large MARGE
123a Glooey GABE
123b Sticky RICK
124a HUGH Mungous
124b King-Size KEVIN
New Art
AN1a OPHELIA Ornament
AN1b DASCHA Board
AN2a Chromed CHRIS
AN2b Polished PAUL
AN3a Motor NED
AN3b Revved UPTON
AN4a Precious PETE
AN4b Gollum GARY
AN5a ADAM Burn
AN5b Zippy ZEKE
AN6a Cashed-In CASEY
AN6b Purchased PERCY
AN7a ROB O. Cop
AN7b JOE Nut
AN8a T2 TOOTIE
AN8b Chromey JOANIE
AN9a Spitting SPENCER
AN9b BRAD Habit
C-Name Variations
50 cards.
Buy on:
84c BUBBA Bubble
85c Voodoo DREW
86c Oat BRAN
87c Android BOYD
88c KELLY Ton
89c Road RASHIDA
90c Sculpt TED
91c Peaceful PATRICK
92c Fountain FRAN
93c KAY O'd
94c Do JOE
95c TIM Reaper
96c RHEA -Flection
97c Bopped BOB
98c Spidey HEIDI
99c Bird of RAY
100c Croco LYLE
101c Melting MEL
102c Busted BEN
103c Hissy CHRISSY
104c Mythical MYRA
105c Feed Me SEYMOUR
106c Duck BILL
107c Carved KAREN
108c Sar- DINA
109c LILY Pad
110c We Want HUGH
111c Good Shot SHAWN
112c Bolted BRAD
113c KATIE Liberty
114c Looky LOU
115c Toasted TOM
116c Scary HARRY
117c Jailhouse BROCK
118c RHETTA Half
119c Shrunk KEN
120c PHOEBE & J
121c FRED Delicious
122c Feed MIA
123c EDDIE -Hesive
124c TRE -Mendous
AN1c BONNIE Bonnet
AN2c Plated PETE
AN3c NATE Cylinder
AN4c JUAN Ring
AN5c Got a DWIGHT
AN6c Buy GEORGE
AN7c Ny PETEY
AN8c ALBIE Back
AN9c Hock a LOUIE
Artist Autographs
5 artists.
Cards TBA.
Buy on:
Tom Bunk
Brent Engstrom
David Gross
Joe Simko
Smokin' Joe