2019 Topps Garbage Pail Kids: We Hate the '90s Checklist and Details
2019 Topps Garbage Pail Kids: We Hate the '90s is the logical follow-up to the previous year's 1980s spoof. It also means that you're getting a GPK card poking fun at pogs that you dreamed of since you have been hoping for one ever since Ross and Rachel kissed for the first time.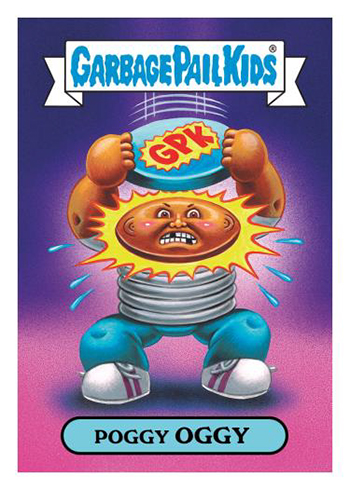 2019 Topps Garbage Pail Kids: We Hate the '90s Overview
At the hobby level, Topps is sticking with hobby and Hobby Collector boxes. Both have 24 packs of eight cards but the Hobby Collector version has more inserts and exclusives for those who like to go deeper than the main set.
The base set has 220 total cards — 110 gags each with the standard A/B name variations. These cover the gamut of 1990s pop culture including movies, TV shows, trends and even Lunchables.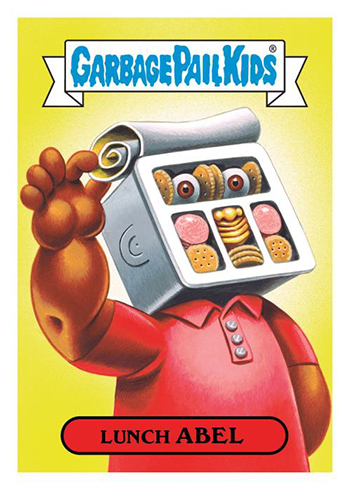 Parallels come in a handful of forms, several of which are exclusive to certain pack types. Every regular hobby pack has a Puke version. All Hobby Collector packs have a Bruised parallel that's not available anywhere else. Other Hobby Collector exclusives include Spit (/99) and Bloody Nose (/75). Fool's Gold (/50) and Printing Plate (1/1) versions are also available, although they're not exclusive.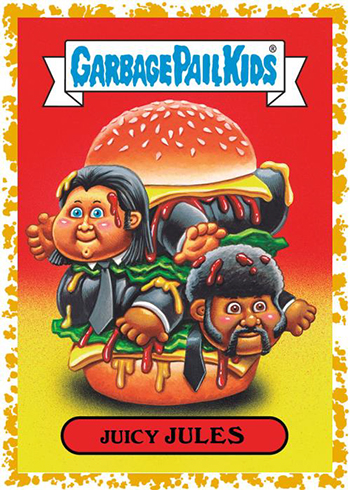 Collectors can also expect some retail parallels. Details on these are not yet known.
On the chase card side, there's not a lot. Classic '90s Stickers recreate old GPK stickers that touched on the decade.
Topps takes aim at itself with the Hobby Collector-exclusive '90s Wax Pack Parodies. These put a GPK spin on some of the company's packs from back in the day.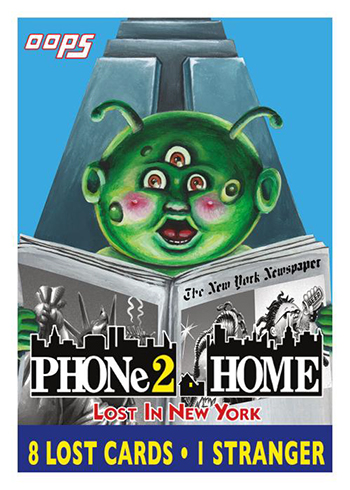 Premium inserts stick with the types of cards from other recent sets. These start with Artist Autographs. Sketch cards are also available. Among them are Shaped and Triptych Sketch Cards only available in Hobby Collector packs.
This is also the lone place to pull manufactured Patch cards.
2019 Topps Garbage Pail Kids: We Hate the '90s at a glance:
Cards per pack: Hobby – 8, Hobby Collector – 8
Packs per box: Hobby – 24, Hobby Collector – 24
Boxes per case: Hobby – 8, Hobby Collector – 8
Set size: 200 cards
Release date: January 16, 2019
What to expect in a hobby box:
• Puke Parallels – 24
What to expect in a Hobby Collector box:
• Autographs, Sketch Cards or Patch Cards – 1
• Bruised Parallels – 24
2019 Topps Garbage Pail Kids: We Hate the '90s Checklist
Base
Base Set Checklist
220 cards.
Parallels:
Bruised – (1 per hobby collector pack)
Jelly – (1 per retail fat pack)
Puke – (1 per hobby, retail display pack)
Spit – /99 (hobby collector only)
Bloody Nose – /75 (hobby collector only)
Fool's Gold – /50
Printing Plates – 1/1 (each has Black, Cyan, Magenta and Yellow versions)
90s Cartoons & Comics Stickers
1a Powdered-Toast STAN
1b Wrestled REN
2a DOUG Rat
2b Chomped CHUCKY
3a Wranglin' ROCKY
3b HUGH Heifer
4a NICK Tick
4b Spray RAY
5a TAYLOR Moon
5b SALLY Sailor
6a Butt NED
6b Judged MIKE
7a M.T. VEE
7b Oddity-TY
8a Space CHASE
8b Ghostly GARY
9a Spawned SHAWN
9b Tied-Up TODD
10a Extreme-LEE
10b Nineties Com-MICK
90s Fads Stickers
1a Paged PAGE
1b Buzzed BUZZ
2a Roller SLADE
2b Bladin' AYDEN
3a Bubble TATE
3b BUBBA Tapa
4a Got MIKE
4b Milky JAY
5a Lunch ABEL
5b Prepackaged MEL
6a Bellowing BILLY
6b Fishy FRED
7a Bleached BLAKE
7b PERRY-oxide
8a NATE-ster
8b File SHARI
9a Tribal TAD
9b MATT Tats
10a Seven UPTON
10b Offensive ORLANDO
90s Fashion Stickers
1a Fanny JACK
1b ANNIE Pack
2a Butterfly BEVERLY
2b Clipped CLAIRE
3a Scrunched SCARLETT
3b Scrunch CHARI
4a Over AL
4b Dunga REESE
5a Grunge GREG
5b Ripped UPTON
6a Back WARD
6b CHRIS CROSS
7a REESE Boks
7b Sneak KERWIN
8a Plaid CHAD
8b PAT-Tern
9a GENE Co
9b Bottom-Heavy LEVI
90s Film Stickers
1a Buzzed BILL
1b Tazed TED
2a Pretty WONDA
2b KITTY Woman
3a Termi NATE
3b Judgement DAVE
4a Sleep LES
4b Tom WINKS
5a Dancing WOLFGANG
5b Chewed COSTNER
6a Imaginative EDWARD
6b Scissor HANS
7a Jurassic PARKER
7b JEFF Go Boom
8a Archnophobic RIC
8b ARAN-ophobia
9a Halfwit HARRY
9b Laughable LLOYD
10a Battlin' BUFFY
10b Slayin' SARAH
11a FORREST Chump
11b Chocolate CHUCK
12a Independence DAVE
12b Wiped-Out WILL
13a Men in BLAKE
13b In the MARK
14a Juicy JULES
14b Royal with LUIS
15a Jovial JEFF
15b Livid LEBOWSKI
16a Jacked JACK
16b Froze ROSE
17a Creative CAMERON
17b MARY Mousse
18a WHIT's in the Box?
18b Se7en DEVIN
19a Just Say NEO
19b MATT-rix
20a Fight BUB
20b Tussling TYLER
90s Music & Celebrities Stickers
1a Runny ROB
1b Vanilla VAN WINKEL
2a Courted KURT
2b Grunge ROC
3a Cannon BELLE
3b Kooky KIM
4a Blind MELANIE
4b No RAINE
5a Spice GAIL
5b Ginger GINGER
6a DOUG Life
6b Tattoo LOU
7a Dyed DENNIS
7b ROD Man
8a Grilled GEORGE
8b Fried FOREMAN
90s Politics & News Stickers
1a Dis-GEORGE
1b Barfin' BUSH
2a Dum-Dum DAN
2b Mr. Potato ED
3a Stormin' NORMAN
3b Scud BUSTER
4a Blastin' BILL
4b Windy WILLY
5a Munchin' MIKE
5b Tearin' Ears TYSON
6a Passed-Through PIERRE
6b Chunnel CHARLES
7a JOY Rider
7b PAT Finder
8a Doppelganger DOLLY
8b Cloned CHLOE
9a Y2 KAY
9b Destruct-SEAN
90s Toys Stickers
1a Pin ART
1b Stuck CHUCK
2a Trollin' ROLAND
2b Shaggy SHAWN
3a MONTY in My Pocket
3b Neon LEON
4a ZVEE Bot
4b Void BOYD
5a MADDIE Balls
5b Mad BILL
6a Creepy CARL
6b Crawlin' CAL
7a Poggy OGGY
7b Slammed SAM
8a Slip 'N' CLYDE
8b Slidin' SAL
9a Socked JACQUE
9b Bopped BO
10a Nerfy NEL
10b BOWEN Arrow
11a Hair BILL
11b KATE Kin
12a Bop KIT
12b Bopped BRENT
13a American DOLLY
13b Girly GERRI
14a Fur BEA
14b Bad Pet PETE
15a Doodle DARYL
15b Bad BARRY
16a BENNY Baby
16b Beanie BARBIE
17a TOMMY Gotchi
17b Digital DAN
18a Ticked ELMO
18b Sesame SKEET
90s TV Stickers
1a TWILA Peaks
1b Lynched LAURA
2a Hairy JERRY
2b JOE About Nothing
3a ROSEANNE Bark
3b Rancid ROSIE
4a Trimmed TIM
4b Wasted WILSON
5a ZACK Attacks
5b Ding Dong DUSTIN
6a Cleaved STEVE
6b Fami-LEE
7a WILL Spray
7b Fresh PHIL
8a BOYD Meets World
8b Clobbered CORY
9a BLOSSOM B-Gone
9b Melt-Away MAYIM
10a Gladia-TOR
10b Splatashere PIERRE
11a Doomed DAVID
11b Munched MITCH
12a DANA Saurs
12b Baby DINO
13a Drowin' DAWSON
13b Creaky CRANE
14a Deep Space NIGEL
14b Quirky KIRK
15a ALLEN Autopsy
15b JONATHAN Fakes
16a Afraid of the MARK
16b Zee-BO
17a Bad BARNEY
17b Purple DINO
18a Steamed STEVE
18b HUGH's Clueless
19a TAYLOR Tubby
19b POE Reception
20a Energized EDISON
20b BONNIE Bunny
90s Video Games Stickers
1a Lopsided LINK
1b HY-Rule
2a Son-NICK
2b Immo-BILL
3a PETE Fighter
3b Foot PHIL
4a MORT L. Kombat
4b Gory RORY
5a NINA-Tendo 64
5b Slurpin' MARIO
6a Poke-MONROE
6b Catch 'Em AL
Inserts
2019 Topps Garbage Pail Kids: We Hate the '90s Inserts Checklists
90s Wax Pack Parodies Checklist
Hobby collector packs only.
1 Hatman
2 Last Action Zero
3 Toxic High Fools
4 Pinheads
5 Trash Can Trolls
6 Jurassic Dork
7 Tiny Loon Adventures
8 Phone 2 Home
9 Kremlins 2
10 The Axx
Base Sticker Artist Autographs
9 signers.
Neil Camera
Layron DeJarnette
Brent Engstrom
David Gross
JungHwa Im
Miran Kim
Joe Simko
Smokin' Joe
Fred Wheaton
Bathroom Buddies Checklist
8 cards.
Exclusive to value blaster boxes.
19a Showered HOWARD
19b Surf MURPH
20a Feral ERROL
20b MARK Territory
21a Crushed CHRIS
21b Sad Sack MACK
22a Wet WILLIE
22b Toilet HUME R.
Classic '90s Stickers Checklist
20 cards.
1a Bad BART
1b Mad MATT
2a Cruel CAL
2b Brutal BILL
3a Legendary LINCOLN
3b Heart LES
4a Mega MANNY
4b Rock MANUEL
5a Limber LUIGI
5b Messy MARIO
6a Battle TOD
6b Rash ASH
7a Booger MANNY
7b Boogy BOGART
8a EARL Worm
8b Juicy JIM
9a Super MANUEL
9b Charged CLARK
10a Bat EMMANUEL
10b Grim TIM
Patch Cards Checklist
20 cards.
Hobby collector packs only.
1a Bad BART – The Crimsons
1b Mad MATT – The Crimsons
2a Cruel CAL – Calvin and Mobs
2b Brutal BILL – Calvin and Mobs
3a Legendary LINCOLN – The Legend of Smelled Ya
3b Heart LES – The Legend of Smelled Ya
4a Mega MANNY – Mega Fan
4b Rock MANUEL – Mega Fan
5a Limber LUIGI – Super Stario
5b Messy MARIO – Super Star
6a Battle TOD – Battlemode
6b Rash ASH – Battlemode
7a Booger MANNY – Boogerplan
7b Boogy BOGART – Boogerplan
8a EARL Worm – Earthworm Swim
8b Juicy JIM – Earthworm Swim
9a Super MANUEL – Superscam
9b Charged CLARK – Superscam
10a Bat EMMANUEL – Badman
10b Grim TIM – Badman
Sketch Cards
56 artists.
David Acevedo
Simone Arena
Quinton Baker
Mike Barnard
Bobby Blakey
John Brewer
Emma Burges
Neil Camera
Patrick Chaimuang
Dan Contois
Jasmine Contois
Sebastian Cortez
Jason Crosby
Shawn Cruz
Vincent D'Ippolito
David Dabila
Joey Fitchett
David Gacey
Robert "el smetcho" Garcia
Patrick Giles
Daniel Goodroad
Dennis Gortakowski
Kelly Greider
K. GRiMM
Joe Grotesque
Jason Heil
Lowell Isaac
Robert Jimenez
Rickey Kipfer
Paul Mangione
Mike McHugh
Rory McQueen
Chris Meeks
Lily Mercado
Ryan Moffett
Rich Molinelli
John Monserrat
Victor Moreno
Ryan Morrison
B. Nygma
Jay O'Leary
Darrin Pepe
Steve Potter
Todd Rayner
Cathy Razim
Chad Scheres
Brent Scotchmer
Anthony Skubis
Smokin' Joe
Matt Steffens
Mike Stephens
Robert Sumner
Greg Tilson
Dan Burn Webster
Gavins Williams
Clinton Yeager
Wacky Pails Checklist
20 cards.
1 Badzooka
2 Stupid Moron Bros. 2
3 Boozco
4 Char Boy
5 Vlad Bags
6 Yuppie Chow
7 Scrawny
8 Popps Magazine
9 American Distress
10 Squelches
11 Prez
12 Extraterrestrial
13 Prego
14 Barf Wimpson
15 Old El Gaso
16 The Rat in the Hat
17 Sick Tracy
18 Mummorex
19 Barfield
20 The Babysplitters Club