2018 Topps Garbage Pail Kids: We Hate the '80s Checklist Proves What's Old Is New Again
Garbage Pail Kids were born in the 1980s. If you grew up during the decade of Just Say No, wore acid wash jeans and can name the two Coreys are, you know who Adam Bomb and New Wave Dave are. Even those who aren't card collectors today probably had a few GPKs stuck to their Trapper Keeper or bedpost. 2018 Topps Garbage Pail Kids: We Hate the '80s comes full-circle, spoofing the very nostalgia that Goonies hold dear.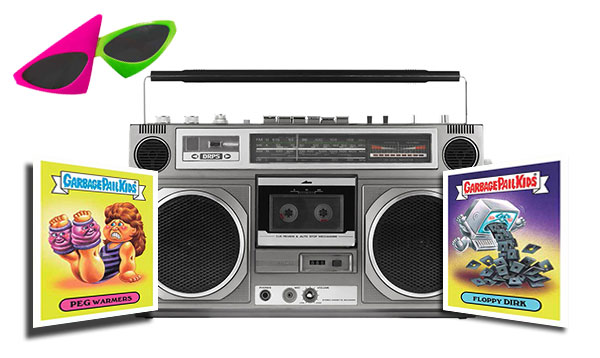 Base Set
As one would expect from a set with the title, "We Hate the '80s," the base set aims at retro gags. TV, movies, fashion, video games and major events are just some of the themes to expect. The full set has 180 total cards (90 gags with the traditional a/b name variations). Like other recent releases in the main GPK line, the checklist is broken down into several smaller subsets, each with a specific theme.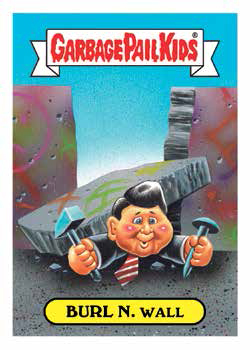 Parallels return, recognizable by their different border colors and patterns. Regular hobby and retail packs each have a Puke parallel while Hobby Collector packs have an exclusive Bruised parallel. Other Hobby Collector-only versions include Spit (/99) and Bloody Nose (/75). As for retail parallels, Pee Yellow are one per retail gravity feed pack. Fool's Gold cards are numbered to 50 copies each but are not exclusive to a specific pack type. Printing Plates are also available.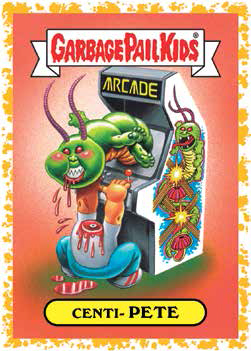 Inserts
Topps spoofs itself and some of its products from the decade in '80s Wax Pack Parodies. Found only in Hobby Collector packs, these cards are based on the wrappers used in sets during the 1980s. Of course, there's a GPK spin to them all, both in the visuals and the subject matter.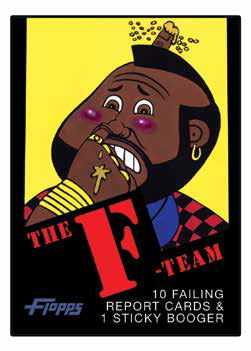 2018 Topps Garbage Pail Kids: We Hate the '80s has some premium inserts as well. Artist Autographs, manufactured Patch cards, Shaped Sketch Cards, Dual Artist Panoramic Sketch Cards and Printing Plates all combine to land one per Hobby Collector box. All of these are exclusives to the premium packs other than the autographs and plates, which can be found in other pack types as well.
Regular hobby boxes don't have any guaranteed hits but regular sketch cards are exclusive to those types of packs.
2018 Topps Garbage Pail Kids: We Hate the '80s does have some retail exclusives spread across a couple of pack and box types. Twenty-card fat packs have a pair of Classic '80s Stickers. These are reprints of original GPK cards that struck a particular pop culture chord when they were first released.
Gross Bears and Bathroom Buddies are both back in separate specially marked retail blaster boxes.
Premium inserts are available in retail packs as well. Besides randomly inserted plates and autographs, fat packs are the only place to find Panoramic Sketch Cards done by a single artist. A small number of retail blaster boxes have a set of Loaded Puzzle Sketch Cards. Find these and you don't need to go chasing for the missing pieces.
2018 Topps Garbage Pail Kids: We Hate the '80s at a glance:
Packs per box: Hobby – 24, Hobby Collector – 24
Cards per pack: Hobby – 8, Hobby Collector – 8
Boxes per case: Hobby – 8, Hobby Collector – 8
Set size: 180 cards
Release date: January 17, 2018
Buy on eBay: 
• Hobby/Retail Boxes
• Hobby Collector Boxes
• Blaster Boxes
What to expect in a hobby box:
• Puke Parallels – 24
What to expect in a Hobby Collector box:
• Sketch Cards, Patch Cards, Printing Plates or Artist Autographs – 1 Total
• Bruised Parallels – 24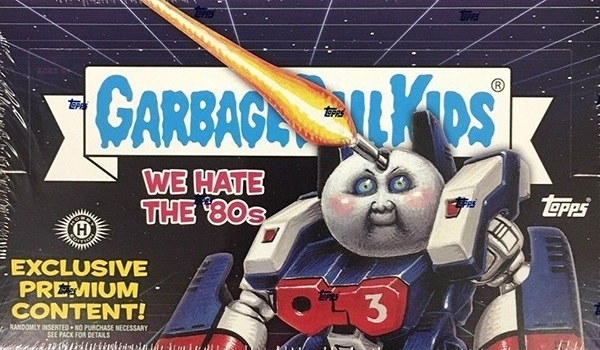 2018 Topps Garbage Pail Kids: We Hate the '80s Checklist
Base
Autographs
Inserts
Sketch Cards
Comments? Questions? Contact Ryan Cracknell on Twitter @tradercracks or by email.