Artist Remarques: Talking Trash with Joe Simko
If there was a Mount Rushmore of Garbage Pail Kids artists, Joe Simko would probably be on it. Early in his career, he worked as a storyboard artist for television commercials and was freelancing on the side designing show posters and album art for local punk rock bands. Now he lives in New York City and is currently a base card artist for the Garbage Pail Kids and Wacky Packages card sets. He works on almost all the licensing projects connected with the Garbage Pail Kids including the R.L. Stine GPK books, Garbage Pail Kids: Mad Mike Fury Load stop-motion film, and the Garbage Pail Kids Monopoly game. Joe has been one of the designers behind the scenes of GPK for more than a decade now.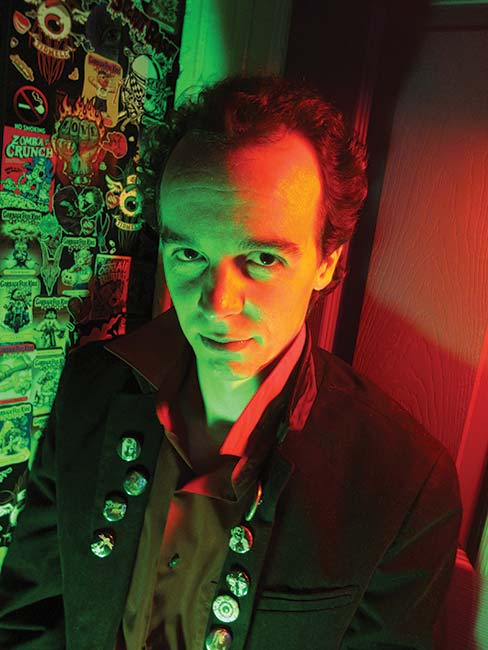 Non-Sport Update: What was your first involvement with Garbage Pail Kids sketch cards?
Joe Simko: The first batch of sketch cards I worked on was for the Garbage Pail Kids Flashback series in 2009. Ira Friedman and the art director at the time, Jeff Zapata, brought me in. I had done my first couple base cards for that set, and Jeff asked if I could do some sketch cards for the set as well. Sketch cards were still early to GPK at that time. Only the base card artists worked on them. Those first sketch cards I did were truly "sketchy." Scribbly, blue ballpoint pen works. Fairly messy from anything I've done since. I haven't done sketch card work for quite a while now. All my time is filled up with base card work.
NSU: I heard you were part of a Garbage Pail Kids documentary. What was your role?
JS: Yes, the Garbage Pail Kids documentary, called 30 Years of Garbage, was a true test of fortitude. Jeff Zapata and I co-directed the doc. [It was] produced by us and June Gonzales. The three of us are very happy with the results. We were able to interview the original artists and creators involved with making Garbage Pail Kids and help give a good history on the birth of GPK and trading cards in general. It's available for streaming on Amazon and iTunes among other places.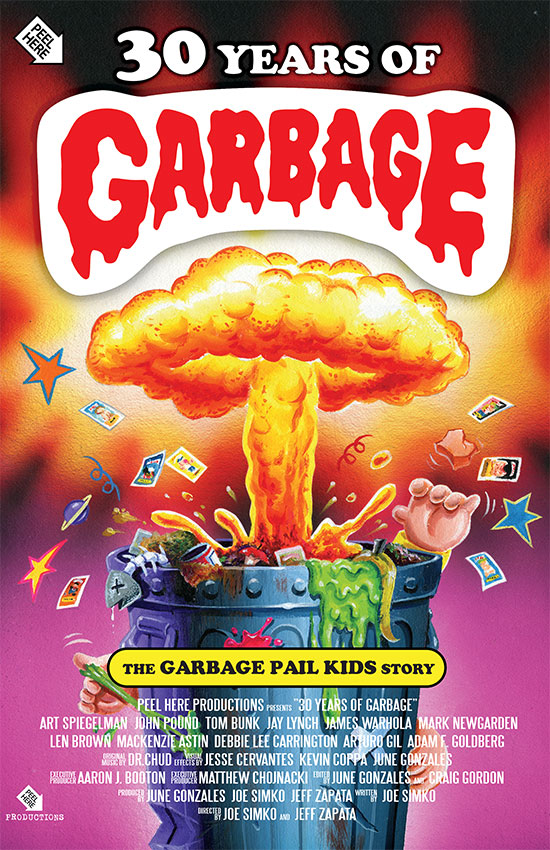 NSU: Can you tell us about Garbage Pail Krashers?
JS: The GPKrashers is a card series I created that was released by Topps, featuring classic GPK characters in their own custom designed crazed-out vehicles. They are also a series of toys available at Walmart. I'm lucky to be able to provide input for the licensed partners, all helmed by Ira Friedman, the current Topps VP of Global Licensing.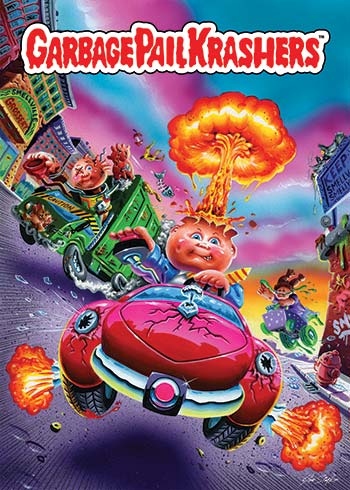 NSU: We read in 2016 you had created 200 new GPK characters since working with Topps. Do you have a current count?
JS: I have now painted almost 1,000 official GPK artworks just for Topps.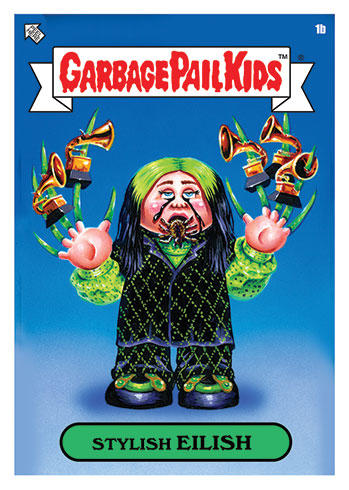 NSU: You drew cards for 2021 Topps Transcendent WWE. How did that come about
JS: The WWE x GPK cards I worked on would probably be considered more as 1 of 1 original paintings as opposed to sketch cards. They are 5"x7" acrylic paintings with airbrushed backgrounds. The project was given to me and fellow GPK artist Brent Engstrom from the art director at the time, Jessica Kanzer. We had lots of fun doing those. I hadn't watched WWE wrestling since the late '90s, but started watching it again for references on all the new superstars.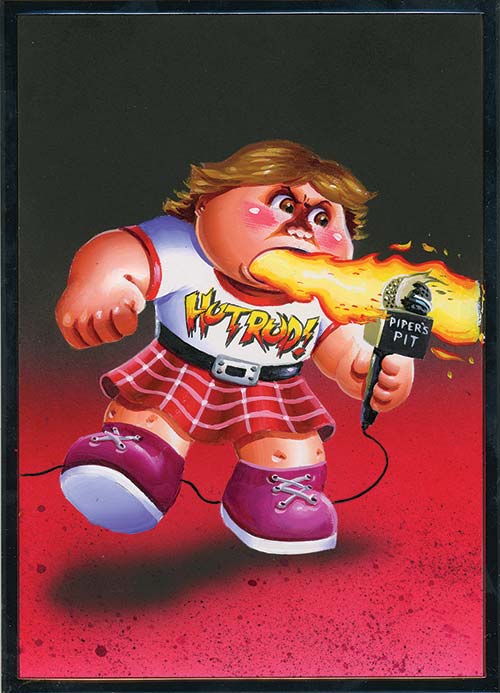 NSU: Do you have a dream property, or favorite "universe" you wish to illustrate cards for?
JS: So far I think I've been lucky enough to illustrate GPKs for some of my favorite shows, films and bands. I did a 20-card set based on Stranger Things called Stranger Kids. That was a super fun set to work on.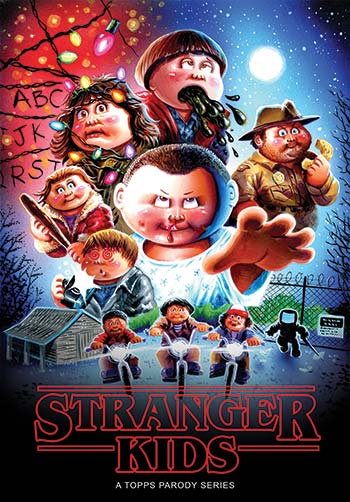 NSU: Are you a full-time artist?
JS: I do work as a full-time artist, and I'd even say I work overtime all the time. Pretty much all of my time is filled up working on GPK and Wacky Packages for Topps. Painting is my job, but I'd say it is a hobby, too. I would always be painting, drawing or sketching no matter what.
NSU: How can people contact you or follow you?
JS: People can follow me through any of my social pages.