The BGS 100 Most Submitted Cards: 50-41
We're back to the BGS 100 Most Submitted Cards after a week off for the Thanksgiving holiday.  When we last checked in, Kobe Bryant with leading this list with three cards in the Top 100. However, his Lakers teammate, Shaquille O'Neal, caught up with him, and now they both sit atop of the list. Through the first 50 cards, there have been enough surprises to keep this countdown honest, but as we turn the corner here to the second half the names will start to be really familiar.
Well, not before we get card number 50 out of the way.
50. 2006 Score #354 Laurence Maroney RC (5,279 Copies Graded)
If you don't remember much about Laurence Maroney you're not alone. He was drafted by the Patriots and fit into sort-of a platoon of running backs, as one might expect in a Bill Bill Belichick system. He spent just five seasons in the NFL and never rushed for 1,000 yards in any of them, and hit paydirt just 22 times. Yet he edged out rookie classmate, Reggie Bush to eek into the Top 50 on the countdown.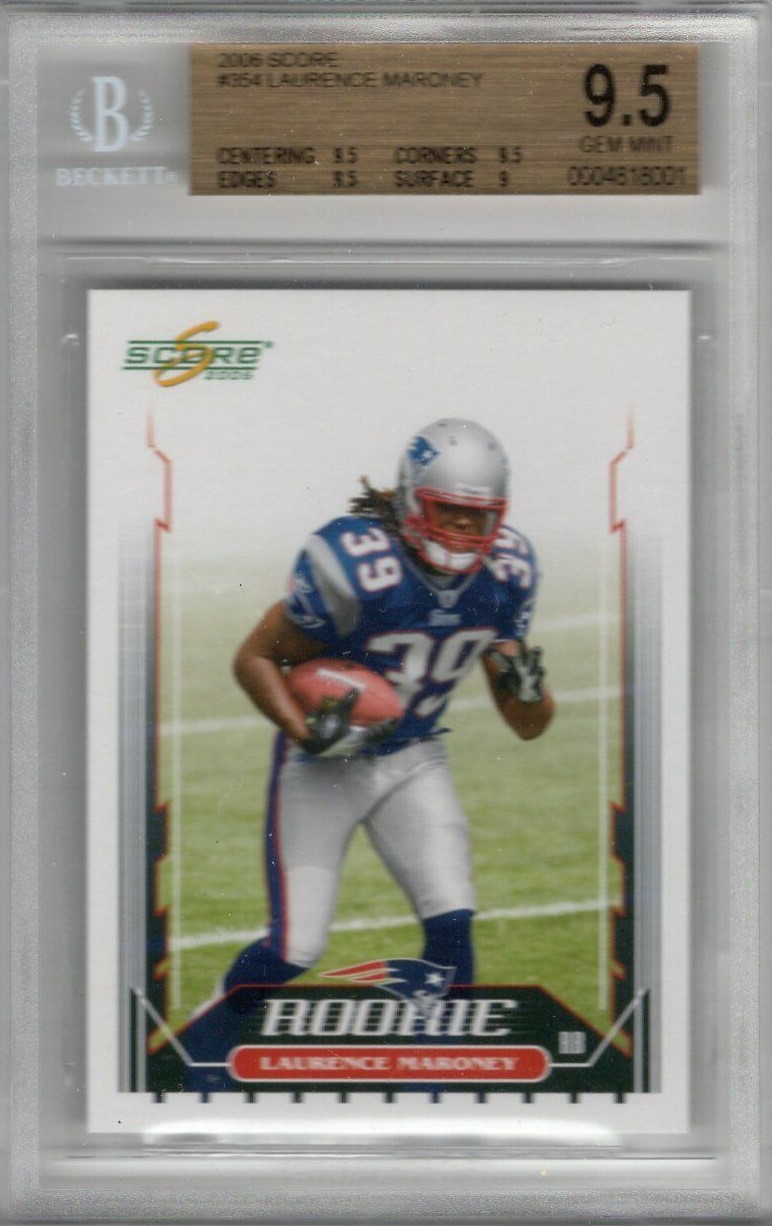 49. 2003-04 Topps #221 LeBron James RC (5,289 Copies Graded)
We have all seen what happened in the basketball market over the last nine months. To say things went a little nuts is an understatement. LeBron James collectors were right at the forefront of that boom helping push the market skyward. This Topps flagship rookie is a perfect example of just how crazy things got, and with the NBA season just around the corner, I'm sure it will happen again.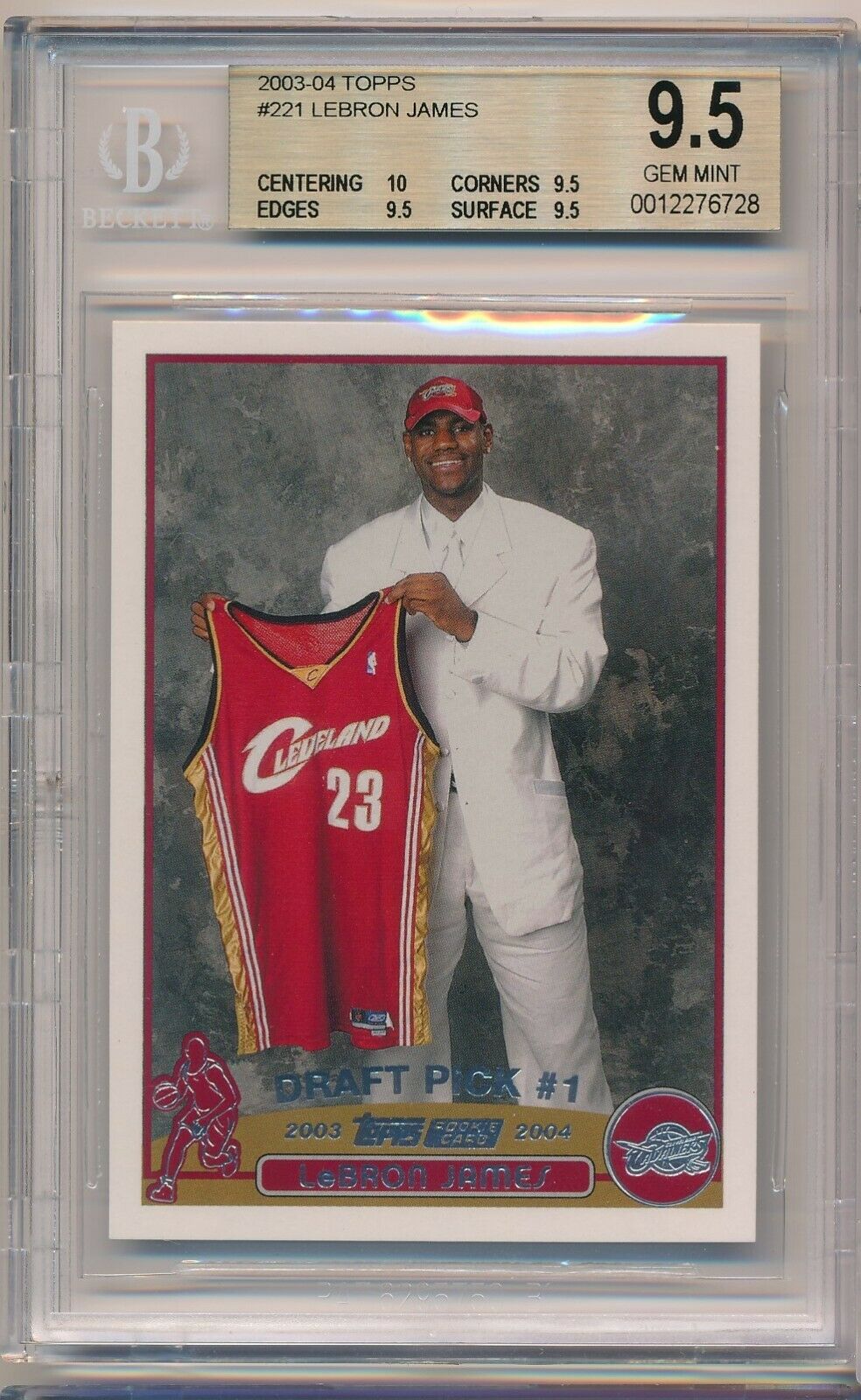 48. 1992-93 Stadium Club #247 Shaquille O'Neal RC (5,405 Copies Graded)
Next on the BGS 100 Most Submitted Cards countdown is more Shaq-Fu. In fact, this is card number four of his on the countdown and he is now in the lead with a slight edge over Kobe. Coincidently, four is the same number of Adam Sandler movies the big man appears in. My favorite is Blended, what's yours?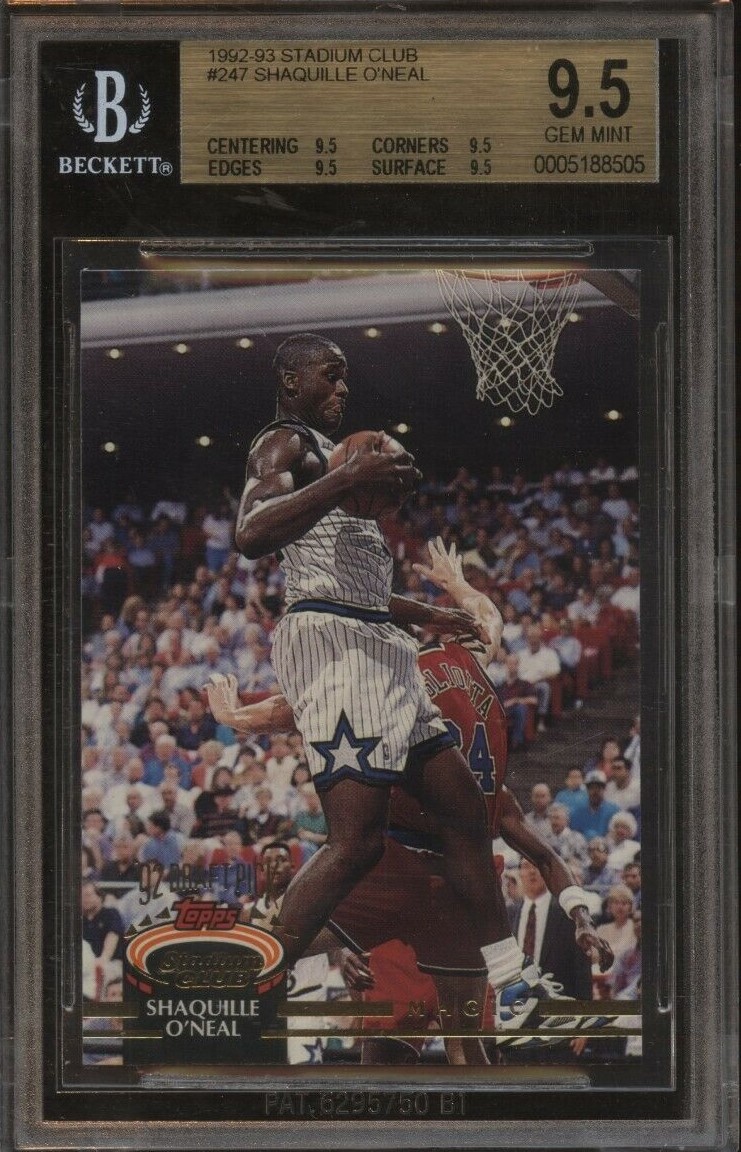 47. 1987-88 Fleer #59 Michael Jordan (5,497 Copies Graded)
As this countdown continues you can expect to see more Michael Jordan on it. Here we are now with Jordan's third appearance and it comes from the '87-88 Fleer set. Generally speaking, the design of this set is enough for me to turn the other way, however, this card makes sense here if you look at Jordan's from the '80s. His rookie is almost priced out of range to everyone but high-end collectors and his Star Company cards are reaching those same peaks. So, a second-year Jordan isn't a bad option if you can't afford the others.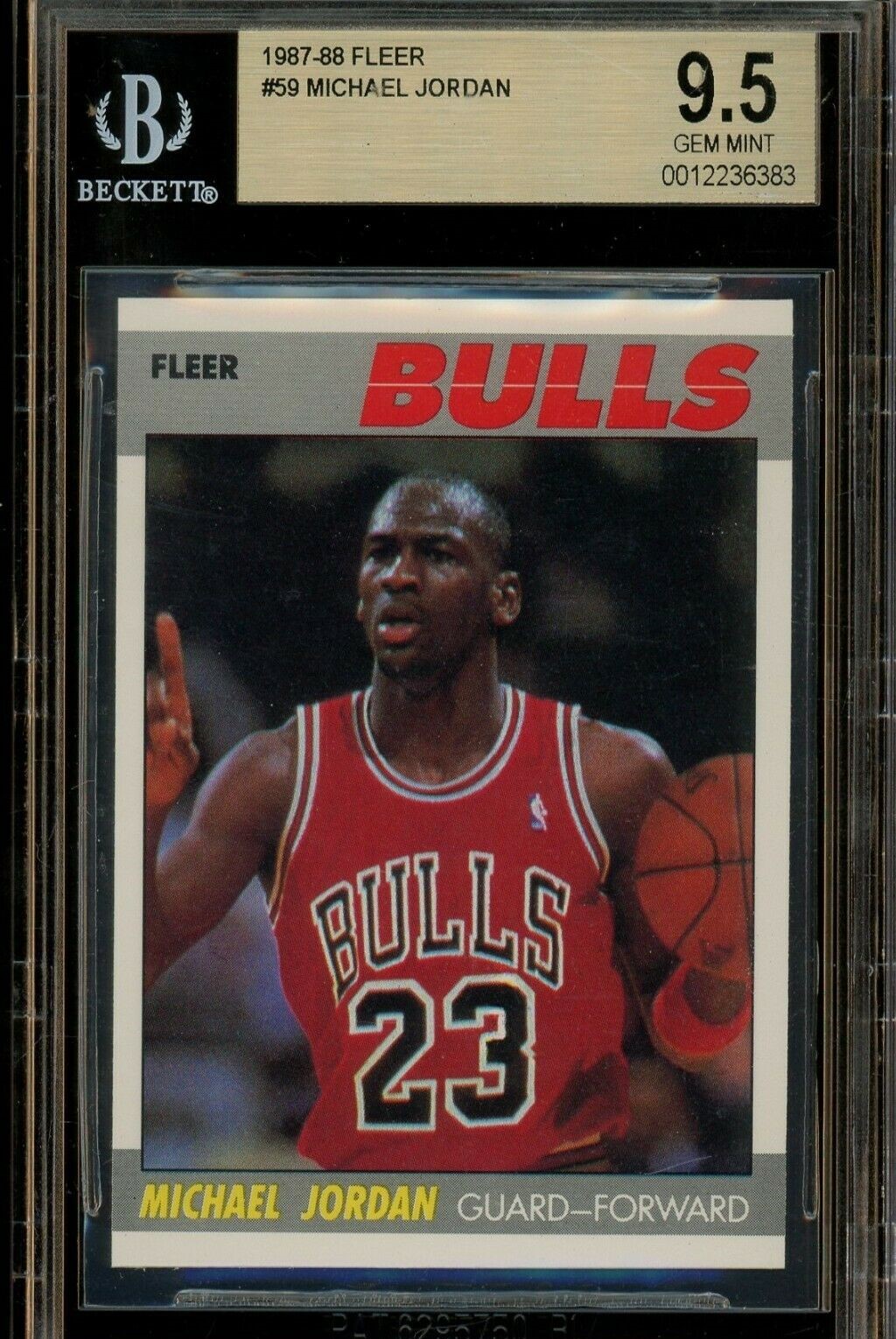 46. 1987 Donruss #46 Mark McGwire (5,552 Copies Graded)
From time to time, a player's rookie card designation comes into question. We have already discussed McGwire's rookie earlier in the list with his '87 Topps. However, Donruss did nothing to help subside the argument by placing the Rated Rookie logo on their McGwire back in '87 either. Purest still contest that his '85 Topps #401 gets the nod, but A's fans tend to disagree.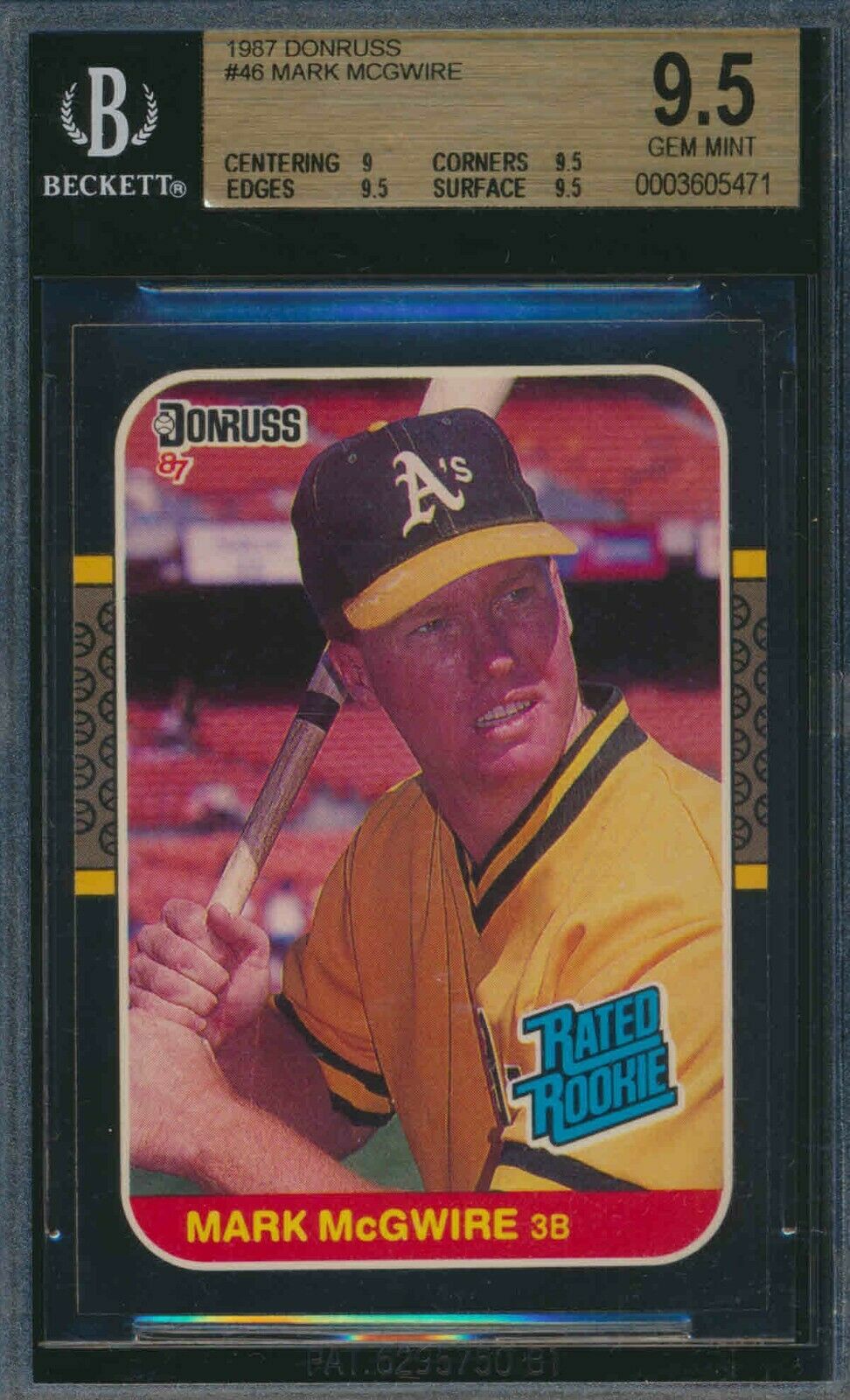 45. 1994 Flair #340 Alex Rodriguez RC (5,562 Copies Graded)
For the better part of two decades, it felt like Alex Rodriguez was chasing down the ghost of Derek Jeter. He could never quite catch El Capitan and the fans let him know it. In fact, it's not far fetched to say they despised him in some ways. However, over the last few years, Alex has done a lot to repair his image and his relationship with fans. Collectors have noticed that as well and there has been a small increase in demand for his cards. His '94 Flair rookie is a perfect example of that demand.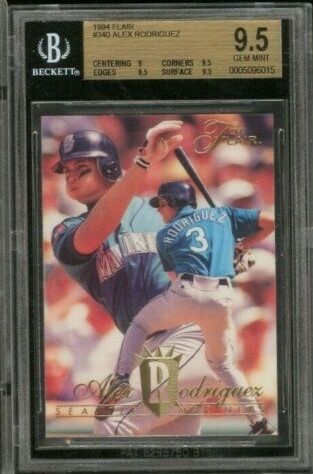 44. 2019-20 Panini Prizm #249 Ja Morant RC (5,574 Copies Graded)
Ja Morant now takes the lead for the newest card on the countdown. Let's face it, Panini, collectors, and the NBA hit the jackpot with back-to-back rookie classes that featured Trae Young, Luka Doncic, Zion Williamson, and Ja Morant. In fact, there may not be stronger back-to-back classes where the hobby is concerned. Where this card is concerned, it has been slightly less expensive than the Zion, but if you listen to NBA pundits that may change in the future.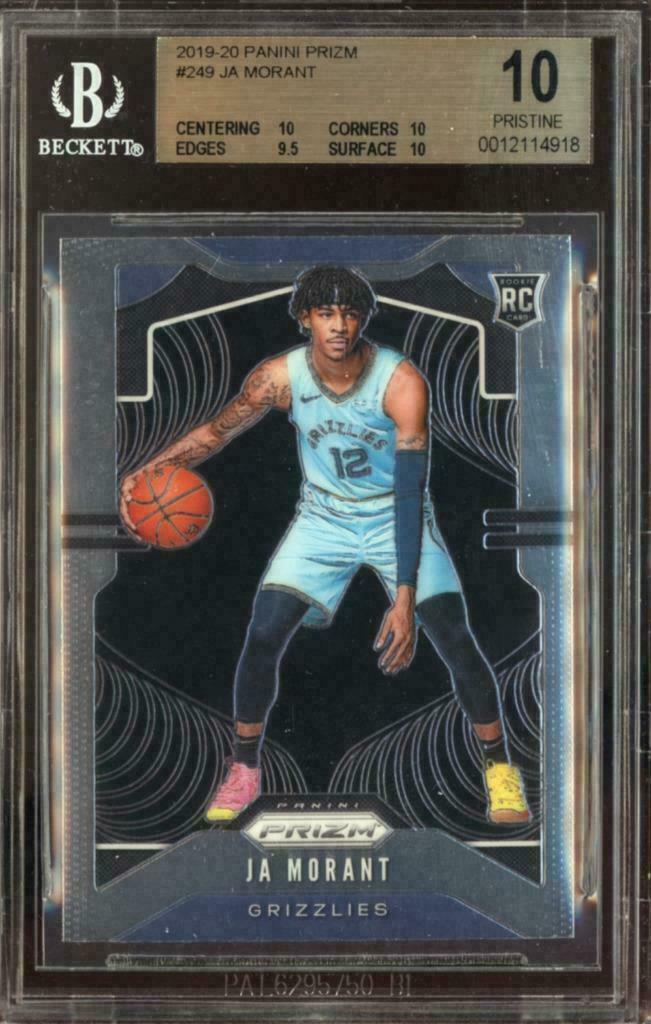 43. 1980 Topps #482 Rickey Henderson RC (5,634 Copies Graded)
I love this card more than I love some family members. I vividly remember thinking when I started collecting that Rickey Henderson's rookie will always be out of my price range. Even though I have a couple of copies, I still feel that way sometimes. You can keep your Ken Griffey Jr.'s and Jose Canseco's, for my money Rickey's rookie will always be the one to grab from the '80s.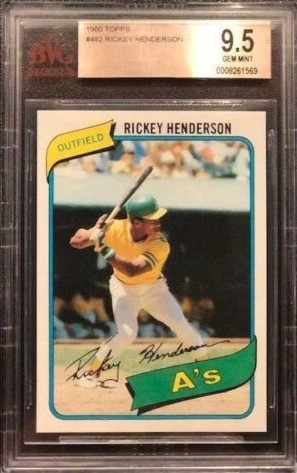 42. 1989 Score #270 Troy Aikman RC (5,672 Copies Graded)
Earlier in the BGS 100 Most Submitted Cards countdown, I mentioned how strong the NFL's '89 rookie class was. This Troy Aikman from '89 Score is just another example. Aikman became a household name in the '90s and football fans still see him on FOX every Sunday. Though his career got off to a rocky start, he quickly rectified that with back-to-back Super Bowl wins and a third for good measure. With that in mind, this card is criminally underrated in the hobby and deserves a little more respect.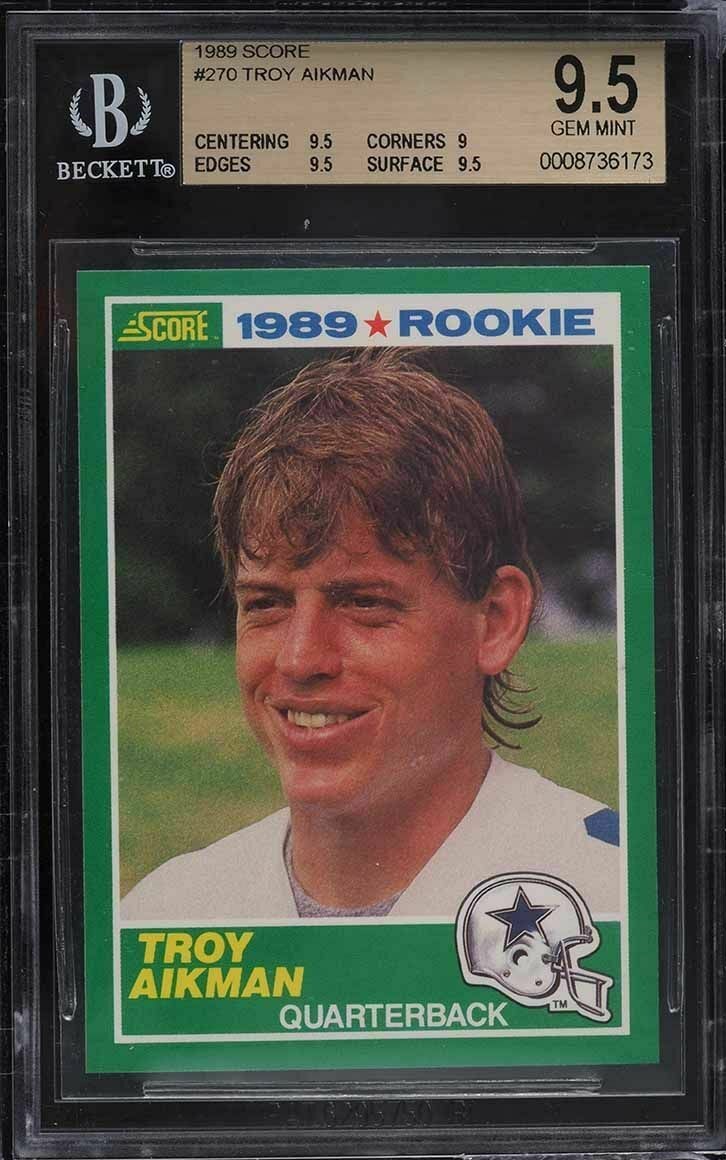 41. 2016-17 Upper Deck #201 Auston Matthews YG RC (5,744 Copies Graded)
Finally, we come to the end of this week's entries with just the fourth hockey card on the countdown. In case you can't recall the first three, they were both the OPC and Topps versions of the Gretzky rookie, and the OPC Premier Jagr. That's it, however, it isn't a surprise at all to see Matthews check in here at all. He was the right player on the right team that had collectors clamoring for his Young Guns back in '16-17. Not much has changed since then. He's still the right player on the right team with a collecting crazed fan base. If he ever wins a Stanley Cup in Toronto you count on this card getting out of range for collectors.