2018 Topps Stranger Kids Checklist and Details
2018 Topps Stranger Kids mashes up a pair of '80s worlds, one modern interpretation (Stranger Things) and the other, a piece of the decade's pop culture fingerprint (Garbage Pail Kids).
The mini set debuted at New York Comic Con a few weeks before Topps' main Stranger Things set arrived.
Stranger Kids has two different sets of 20 cards, which are GPK interpretations of key Stranger Things characters. The split sets come in the form of separate but similar A/B name variations.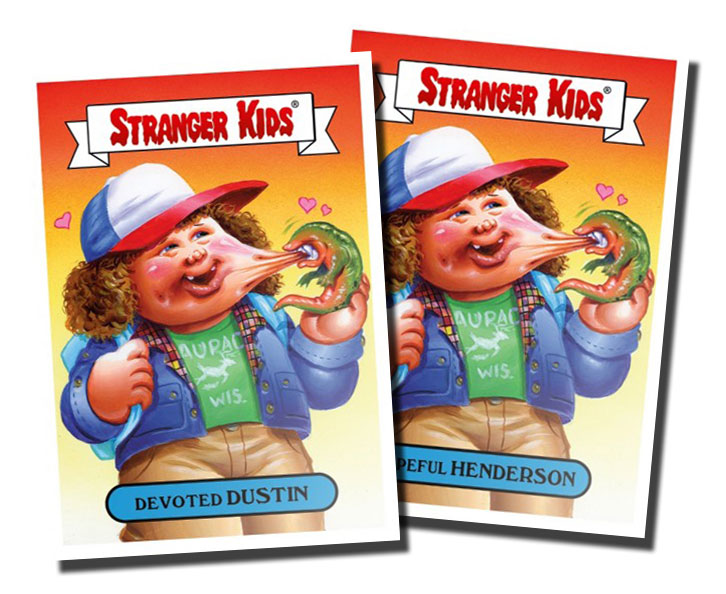 After NYCC, sets were also offered through the Topps website.
In addition to the main set, bonus cards were also available at NYCC. For those who bought both the A and B sets at the show, collectors got an extra card not offered through the website.
2018 Topps Stranger Kids is fully licensed by Netflix.
2018 Topps Stranger Kids trading cards at a glance:
Set size: 40 cards
Release date: October 4, 2018
2018 Topps Stranger Kids Checklist
A Names
20 cards.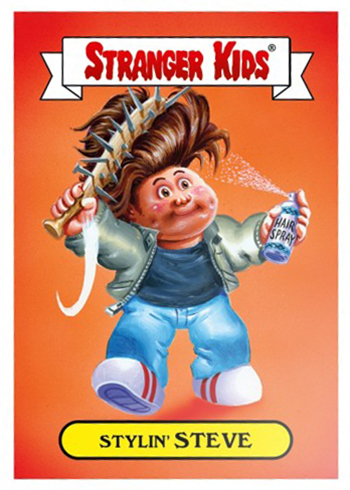 WILL Hurl
Bike MIKE
Devoted DUSTIN
Mucas LUCAS
Jumbled JOYCE
Jittery JIM
Demo GORDON
Conjuring KALI
Stylin' STEVE
Unfancy NANCY
Breakfast at ELEVEN
Manipulating MARTIN
Bye Bye BARB
Joyous JONATAHN
MAX Splat
Bully BILLY
DART Chocolate
Kibble Bit BOB
SHAD Ow Monster
Slimed SAM
B Names
20 cards.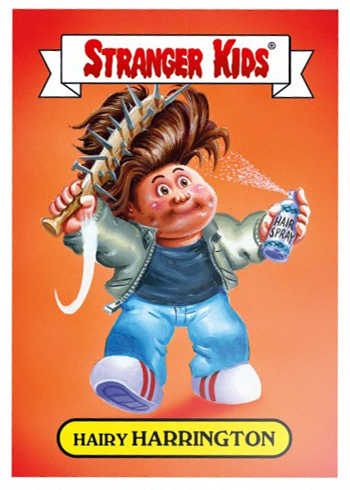 Good BYERS
Bike WHEELER
Hopeful HENDERSON
Snotted SINCLAIR
Light Bright BYERS
Hot HOPPER
DEMI Gorgon
Hallucinate EIGHT
Hairy HARRINGTON
Weeping WHEELER
Waff ELLE
Bring it on BRENNER
Hidden HOLLAND
Flashbulb BYERS
Mayday MAYFIELD
Heartless HARGROVE
POLLY Wog
Newbie NEWBY
Me and My SHADOW MONSTER
Oozed-on OWENS
New York Comic Con Bonus Cards
4 cards.
1 for every A/B set combos bought at 2018 NYCC.
#2 Double Duffer handed out in error. Not generally considered part of regular set.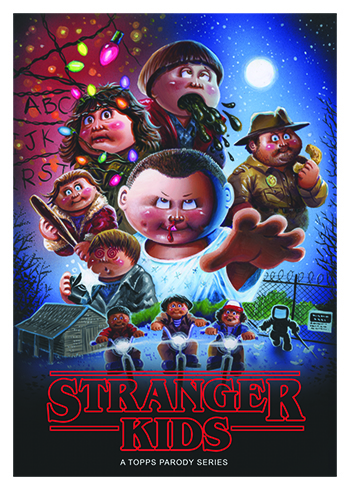 1 BYERS Beware
2 Double DUFFER – not intended to be given out but some were
2 Wrong Way WHEELER
3 Stranger Kids
4 DENNY Gorged On