How Sporting Life Cabinet Cards Ruled the Turn of the Century
At the turn of the 20th century, the Sporting Life Publishing Company initiated the production of cabinet cards featuring baseball players as a promotional tool and to compete with their rival, The Sporting News. This concept of advertising was much the same as had been used by the tobacco and candy industries little more than a decade earlier.
However, this new set was a huge advancement in appearance and design from most of the past N Series Cards. These high-quality 5 1/4″ x 7 1/2″ cabinets depict a Carl Horner Studio portrait with his name, field position and team printed below.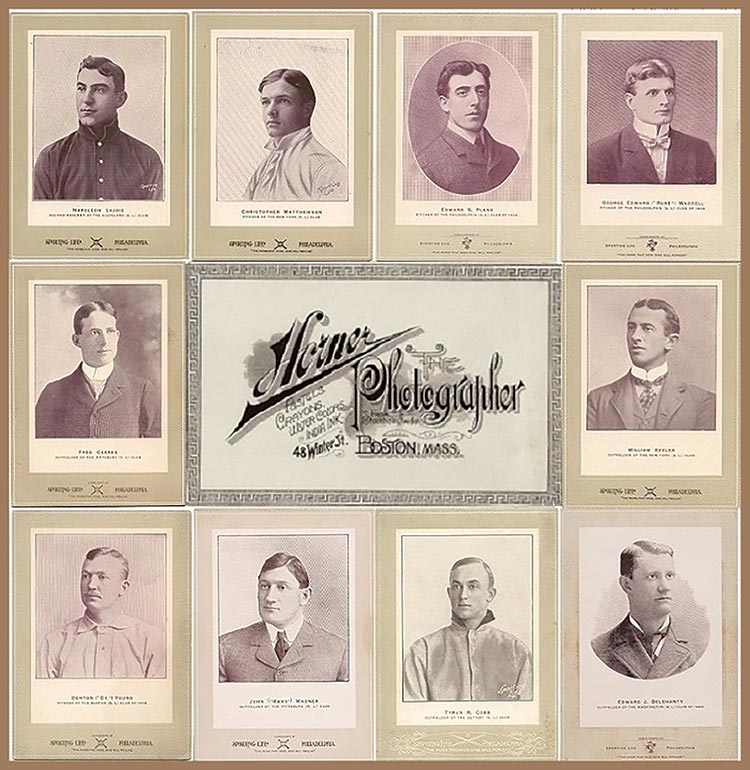 On the initial offering, 32 of the 37 players were pictured in dress suits and the remainder in uniform. A mix of both attires worn by players would be pictured until late in 1903, from that time on, until production ended in 1911, all Sporting Life Cabinets were produced with players pictured in uniform. The only exceptions were three baseball team managers that were each pictured wearing suit and tie: Connie Mack – Philadelphia AL; John J. McGraw – New York NL; and Edward Hanlon – Brooklyn. Some players are pictured in both suit and uniform in this set.
There are 498 different ball players pictured on Sporting Life Cabinet cards. Some players have as many as four different cards as a result of team changes and 244 – or nearly half of the cards in set – do not exist, as there are no known survivors. The number of player cards on the SLC checklist is 692. These numbers establish the diligence of the company editing staff that spent a decade compiling continuous updates regarding player trades, personnel changes, printing specifications, photography, etc.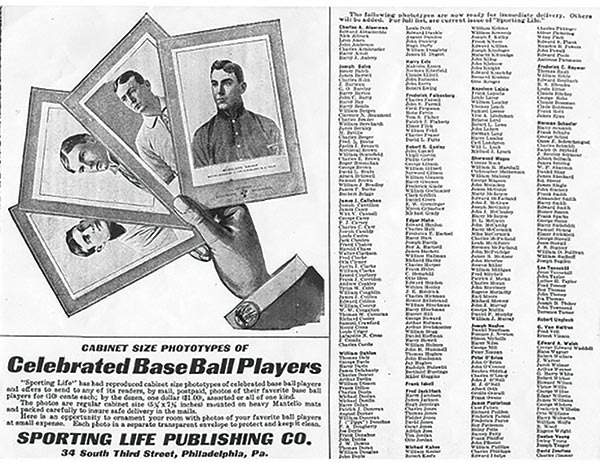 There also are a high number of variations on player cards. Players have multiple poses, are on different teams, feature different field or managing positions or wear different attire. For the most part it was all handled skillfully. Only three printing errors were found in the set: William J. Bradley, Cleveland – misnamed Frank Bradley; Fredrick L. Hartsel, Philadelphia AL, misnamed Fredrick Hartzell; Christopher Mathewson, New York NL, last name misspelled – Matthewson. And these three misidentified photo errors:
George Mullin cabinet photo is Roscoe Miller.
Edward Doheny cabinet photo is William Bransfield.
Frank Chance cabinet photo pictures Harry Wolverton.
The introduction and description of these cabinet cards and how subscribers may obtain them was first published in their October 11, 1902 weekly newspaper. Sporting Life offered their subscribers the privilege of choosing a player card when ordering. Clearly the majority of card orders made by subscribers were for star players which has resulted in their having a larger number of survivors than the "common" player cards.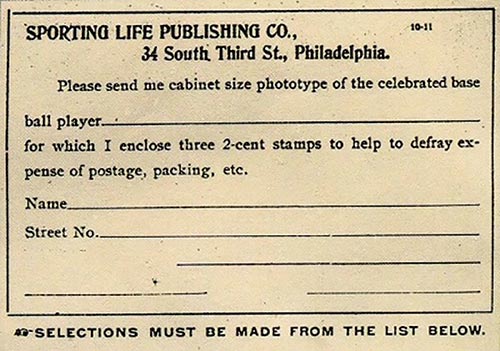 This weekly list would offer new cards while some cards were removed from the list for lack of supply or other reasons. A player may have a second card issued on a different format with the same team or with a different team. There were three different format designs used on these cards during the 1902-1903 period. The changes were small and easily overlooked (font sizes and minor artwork). Type Four (example pictured) became the permanent design format for the remainder of the production run of this series of cards.
There was no World Series in 1902 but the Philadelphia Athletics finished first in the American League that year. The Sporting Life Publishing Company home offices were also in Philadelphia. In their first offering of 37 player cabinet cards, 16 were Philadelphia Athletics players.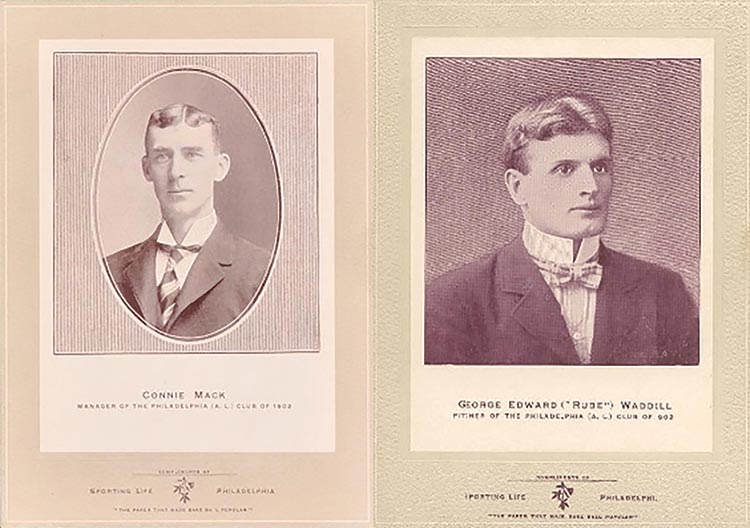 Sporting Life had little competition with their new cabinet cards in the early years. The cards themselves were impressive in quality and design. Despite Sporting Life having a subscriber base of 40,000, the cards can be very difficult to find in any condition. On why more don't exist is a question that might be lost to time.
The Hall of Famers included in the first two years (1902-1903) of SLC production total 30. This total quickly depleted the limited number of existing high-caliber, dominant players creating a virtual shortage. Hence, every year from 1904 to 1907 only three stars were included in the yearly list of SLC cards except 1907 which had four. Then the drastic slowdown: Just five player cards were produced in 1908. In 1909, it was up to seven players. Each of those years had just one repeat star player who had changed teams that season.
No solid reason exists for the considerably shorter print runs between 1908 and 1909. Then came plenty of cards in 1910, flooding the market with Sporting Life Cabinet promotional flyers marketing their vast overstock of 388 different cards from prior listings, plus 57 new cards from its current weekly sale.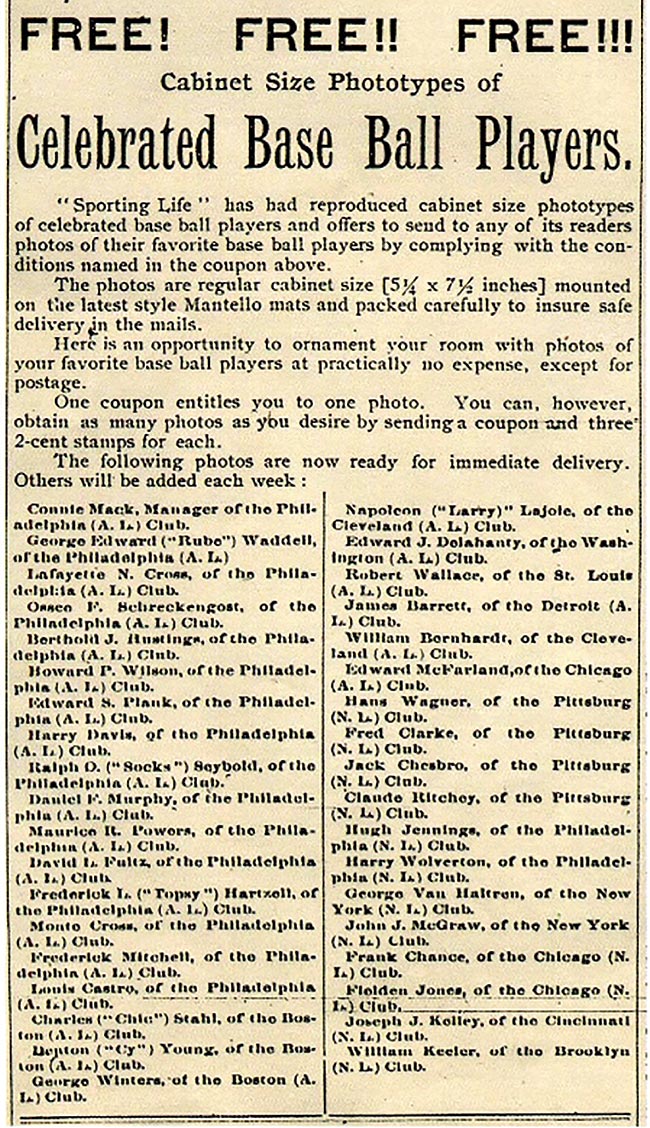 Of these 57 cards, just 19 have appeared on the market since then. The result is that 388 + 57 = 445 different cards plus multiples of each of them. Ultimately the decision was made to simply sell cards for 10 cents each or $1.00 for a dozen. An oval shaped advertisement was added on the back of these late cabinets.
Did that sale mean a resurgence or a collapse of their major source of advertising? There was no statement as to the consequence of the sale which signals a go on a continuation of card publication. And so there was the next year, with no mention of the leftovers from those thousands of cards from 1910. New York, AL, Burde Cree and New York, NL, Joshua DeVore were the only two new cards offered in 1911, and the end of a ten year Sporting Life Cabinet production run.
Complete List of published Sporting Life Cabinet Hall of Fame Player Cards – 1902 to 1911
1902
Total Cards Issue: 78
Hall of Famers: 21
Jake Beckley – Cincinnati
Frank Chance – Chicago NL
Jack Chesbro – Pittsburgh
Frank Clarke – Pittsburgh
Jim Collins – Boston – AL
Sam Crawford – Cincinnati
George Davis – Chicago – AL
Ed Delahanty – Washington
Clarke Griffith – Chicago AL
Hugh Jennings – Philadelphia NL
Willie Keeler – Brooklyn
Nap Lajoie – Cleveland
Connie Mack – Philadelphia AL
Christy Matthewson – New York NL
Joseph McGinnity – New York NL
John McGraw – New York NL
Ed Plank – Philadelphia AL
Ed Waddell – Philadelphia AL
Hans Wagner – Pittsburg
Bob Wallace – St. Louis AL
Cy Young – Boston AL
1903
Total Cards Issued: 181
Hall of Famers: 10
Charles Bender – Philadelphia AL
Roger Bresnahan – New York NL
Jesse Burkett – St. Louis AL
Jack Chesbro – New York AL
Sam Crawford – Detroit
Johnny Evers – Chicago NL
Clarke Griffith – New York AL
Willie Keeler – New York AL
Joe Tinker – Chicago NL
Vic Willis – Boston NL
1904
Total Cards Issued: 90
Hall of Famers: 3
Jake Beckley – St. Louis – NL
Moracai Brown – Chicago NL
Ed Walsh – Chicago AL
1905
Total Cards Issued: 56
Hall of Famers: 3
Jesse Burkett – Boston AL
Hugh Duffy – Philadelphia NL
Ed Hanlon – Brooklyn
1906
Total Cards Issued: 104
Hall of Famers: 3
Ed Hanlon – Cincinnati
Miller Huggins – Cincinnati
Vic Willis – Pittsburgh
1907
Total Cards Issued: 63
Hall of Famers: 4
Ty Cobb – Detroit
Ed Collins – Philadelphia AL
Hugh Jennings – Detroit
Branch Rickey – New York AL
1908
Total Cards Issued: 5
Hall of Famers: 1
Edward Waddell – St. Louis AL
1909
Total Cards Issued: 7
Hall of Famers: 1
Roger Bresnahan – St. Louis NL
1910
Total Cards Issued: 57
Hall of Famers: 1
Frank Baker – Philadelphia – AL
1911
Total Cards Issued: 2
Hall of Famers: 0
Sporting Life Cabinet Card Types