2020 Panini Chronicles Baseball Checklist, Team Set Lists and Details
If you've got a favorite Panini line that doesn't have its own set, there's a good chance that it's represented in 2020 Panini Chronicles Baseball. The anthology-style product returns to the diamond with an eclectic mix of cards that go beyond simply designs. It covers several brands, packaging them together in one product.
While variety will be found in every pack, there is some consistency across every hobby box hits wise with three autographs and a memorabilia card.

2020 Panini Chronicles Baseball Checklist Overview
While there are lots of lines and designs in the product, Chronicles is one of them. The layout for these draw inspiration from a newspaper a little, but not as much as years past.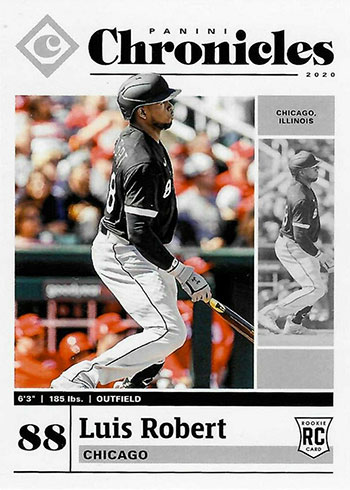 2020 Panini Chronicles Baseball Brand Highlights
Here's a quick look at some of the brands you'll find on the 2020 Chronicles checklist:
America's Pastime
Certified
Chronicles
Contenders Optic
Crusade
Donruss
Limited
Luminance
Magnitude
Mosaic
Obsidian
Origins
Playbook
Score
Spectra
Titan
Each line comes with separate designs. The materials used to build them also vary. For example, among the contents of every hobby pack is a pair of opti-chrome cards and two done on holographic stock.
For chrome fans, Spectra cards, which are traditionally high-end, are approximately two per hobby box. There's also Contenders Optic and Obsidian. Each of these has a variety of color-based parallels as well.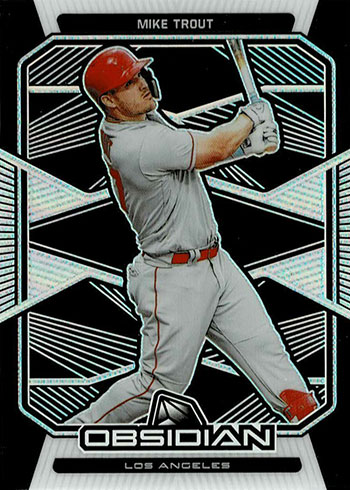 Magnitude is a new line appearing in Chronicles. It has 25 cards, mixing rookies and veterans.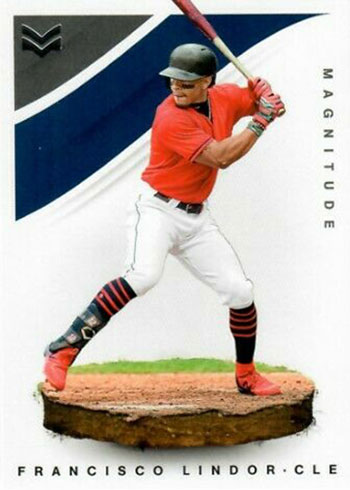 Autographs and Memorabilia Cards
Rookies and prospects make up a large part of the autograph content in the product.
Spectra Rookie Jersey Autographs and Spectra Prospect Jersey Autographs cover both. Rookies get a vertical design while a handful of prospects use one that's horizontal. Colorful parallels feature smaller print runs and premium swatches.
Obsidian Autographs bring with them a variety of Electric Etch parallels.
America's Pastime and Origins Rookie Jumbo Material Autographs are among the product's hits that use on-card signatures.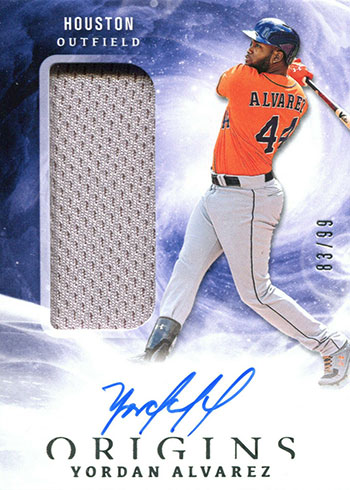 2020 Panini Chronicles Baseball cards at a glance:
Cards per pack: Hobby – 8
Packs per box: Hobby – 6
Boxes per case: Hobby – 16
Set size: 45 cards (Chronicles)
Release date: September 25, 2020
Shop for 2020 Chronicles Baseball boxes on eBay:
What to expect in a hobby box:
Autographs – 3
Memorabilia Cards – 1
Spectra Cards – 2
2020 Panini Chronicles Baseball Checklist
Please note that print runs for cards without serial numbers haven't been announced.
You can also download a customizable spreadsheet copy of the checklist:
Chronicles
America's Pastime
Ascension
Certified
Classics
Contenders Optic
Crusade
Legacy
Limited
Luminance
Magnitude
Mosaic
Obsidian
Origins
Phoenix
Playbook
Rookies & Stars
Score
Spectra
Status
Timeless Treasures
Titan
Titanium
Unparalleled
Team Sets