2020 Donruss Baseball Variations Guide and Gallery
The 2020 Donruss Baseball variations take a familiar path. Like recent years, variations fall under multiple themes, offering up some additional variety to a component of the set's checklist.
Most of the cards land under one of two types: Photo Variations and Nickname Variations. Both are relatively straightforward.
Photo Variations get their name simply for switching up the image on the front of the card. The base card may have the player batting, the variation fielding. It may be a little more subtle than that. No matter what, the difference is in the photo.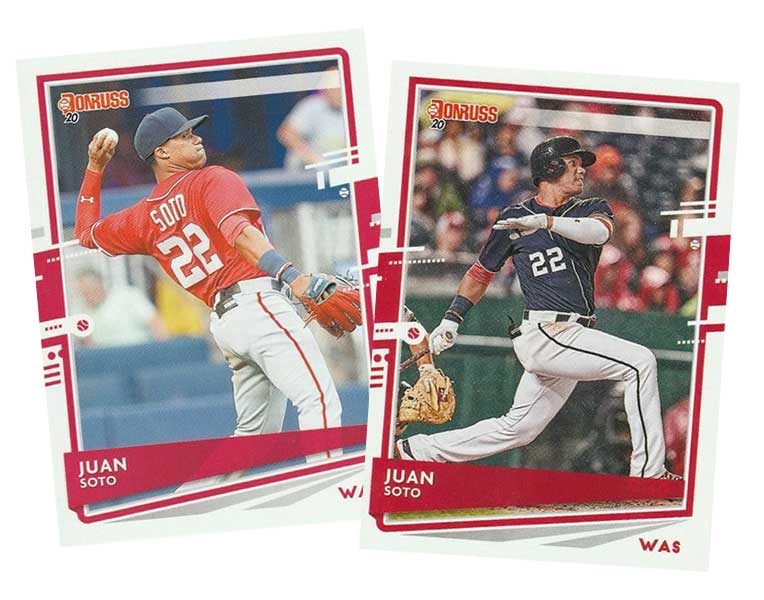 Nickname Variations are even more obvious. These have an alternate name in place on the front of the card. Pete Alonso becomes 'Polar Bear.' Cody Bellinger is 'Cody Love.' Rickey Henderson becomes, of course, 'Man of Steal.'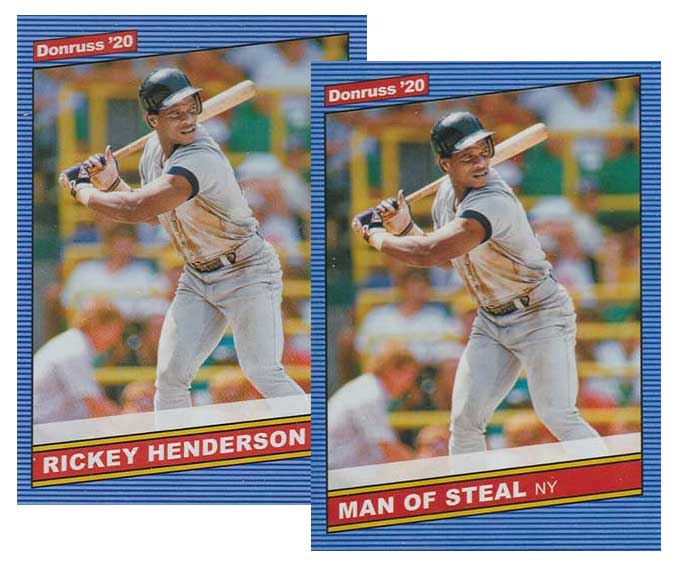 For a handful of cards, the city name is switched out on the back for the area's nickname (ie Boston becomes Beantown). Some of these have slight differences on the front, but it's usually a little bit of cropping that can be tough to notice like a slight shift to the side.
2020 Donruss Baseball aren't all together rare. This is in line with past years.
Parallels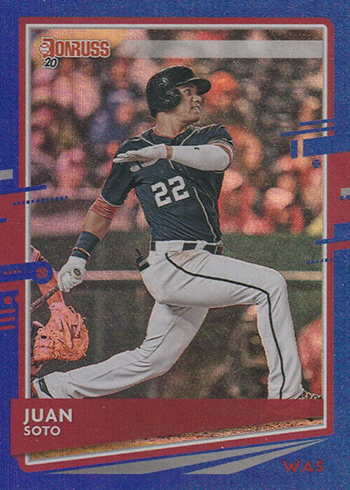 Like the base set, variations also have a fair number of parallels. This includes cards with the debuting emoji-themed borders.
Career Stat Line – /# varies
Milestone Stat Line – /# varies
Season Stat Line – /# varies
Baby Shark
Blue Holo
Independence Day
Orange Holo
Pink Holo
Purple Holo
Red Holo
Yellow
One Hundred – /100
On Fire – /75
Presidential Collection – /50
Look at This – /25
Artist Proof – /10
Press Proof – /5
Number 1 – 1/1
Printing Plates – 1/1 (each has Black, Cyan, Magenta and Yellow versions)
How to Tell a 2020 Donruss Baseball Variation from a Base Card
The Nickname Variations are easy to spot at a glance. Photo Variations? Not so much unless you've got them all memorized.
Backs do hold a simple code of sorts that offer some additional certainty, at least for the main player cards. Take a look at the logo. If it's the black Donruss logo, it's a base card. If it's the red icon with the baseball, it's a variation.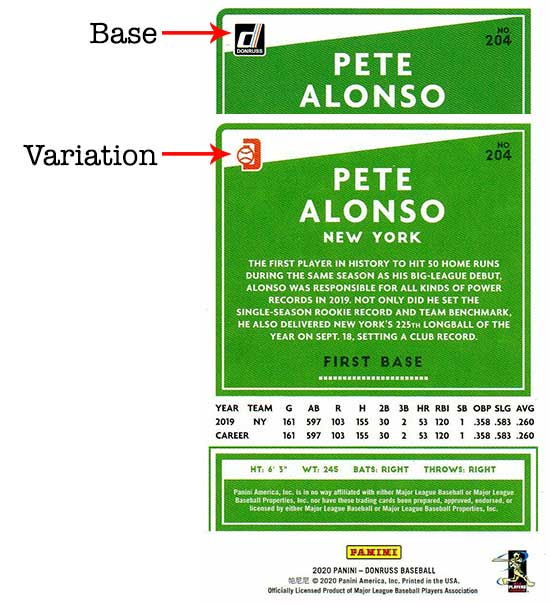 It's similar but a little different for the Retro 1986 variations at the end of the checklist. The key here is the baseball icon the card number sits in. For regular cards, it's just an outline. Variations have a black baseball.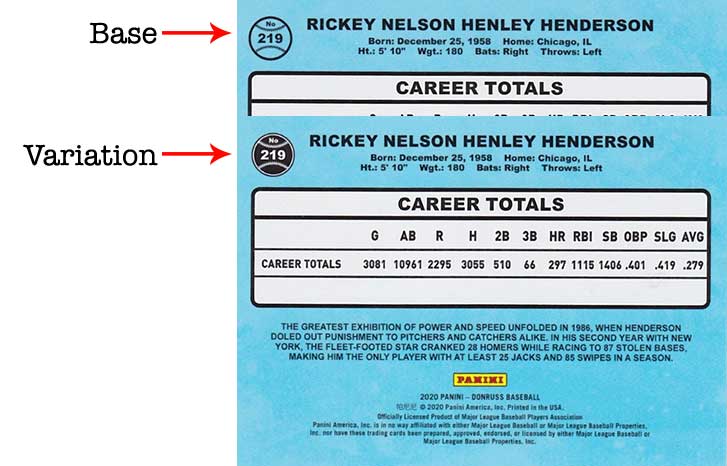 2020 Donruss Baseball Variations Checklist
Here's a list of players with variations in 2020 Donruss Baseball. If you're looking for a specific card, click on the link to see what's currently available on eBay.
71 Jacob deGrom
77 Mookie Betts
78 Ketel Marte
83 Fernando Tatis Jr.
84 Cody Bellinger
90 Javier Baez
91 Gleyber Torres
94 Shohei Ohtani
102 Vladimir Guerrero Jr.
108 Trea Turner
110 Christian Yelich
111 Aaron Judge
112 Alex Bregman
118 Clayton Kershaw
121 Eloy Jimenez
123 Max Scherzer
127 Paul Goldschmidt
129 Mike Trout
132 Anthony Rizzo
146 Josh Bell
148 Francisco Lindor
159 Jose Altuve
162 Juan Soto
164 Rafael Devers
170 Ronald Acuna Jr.
180 Kris Bryant
193 Bryce Harper
204 Pete Alonso
Retro 1986
217 Kirby Puckett
218 Tony Gwynn
219 Rickey Henderson
224 Cal Ripken
242 Bobby Bradley
243 Logan Allen
247 Zack Collins
250 Travis Demeritte
258 Adbert Alzolay
259 Yu Chang
2020 Donruss Baseball Variations Gallery
71 Jacob deGrom, New York Mets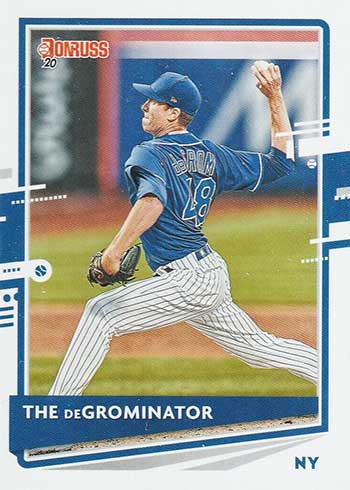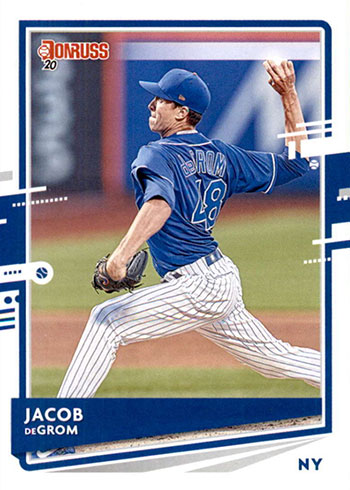 77 Mookie Betts, Boston Red Sox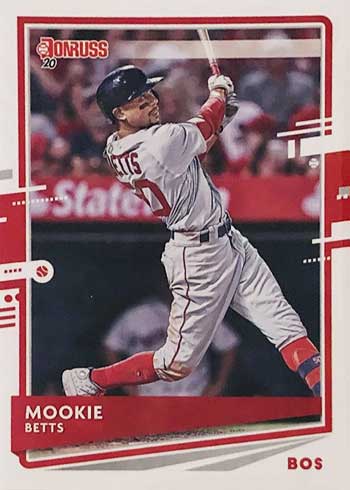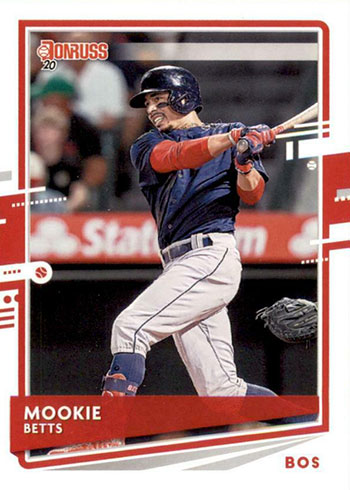 78 Ketel Marte, Arizona Diamondbacks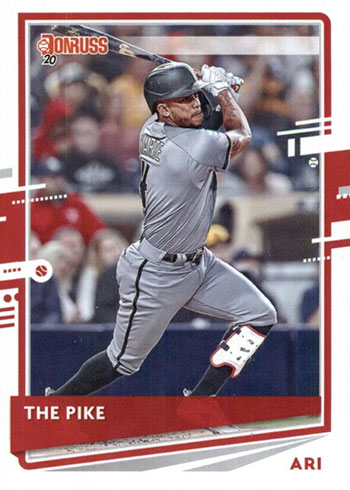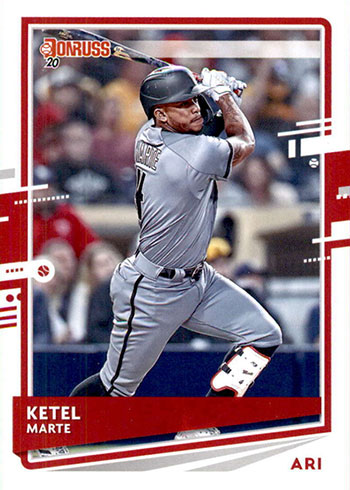 83 Fernando Tatis Jr., San Diego Padres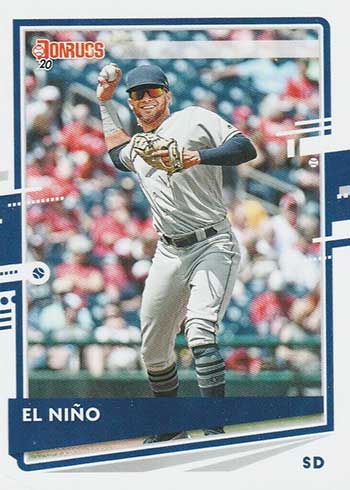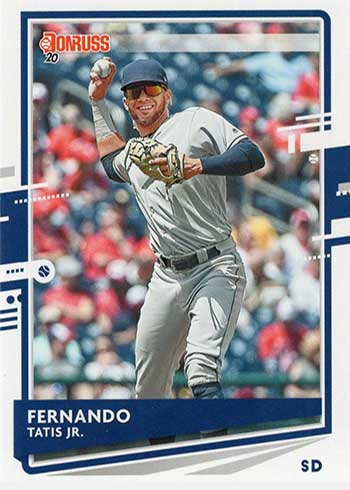 84 Cody Bellinger, Los Angeles Dodgers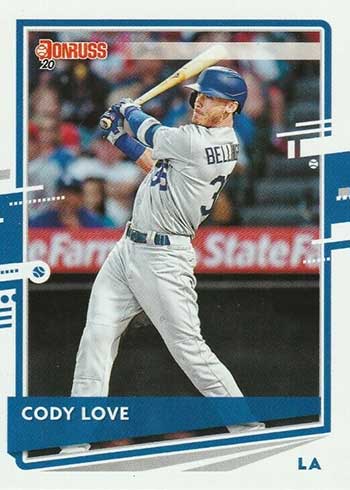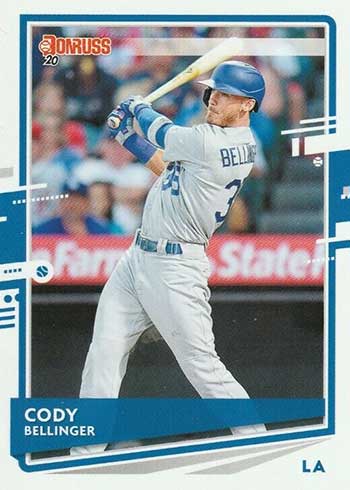 90 Javier Baez, Chicago Cubs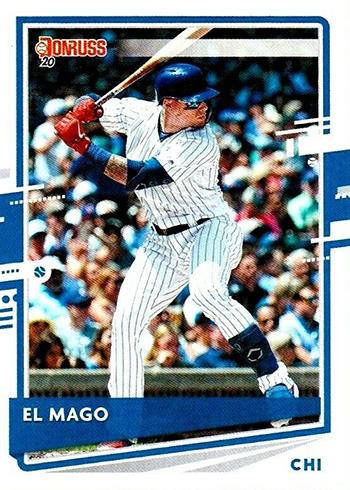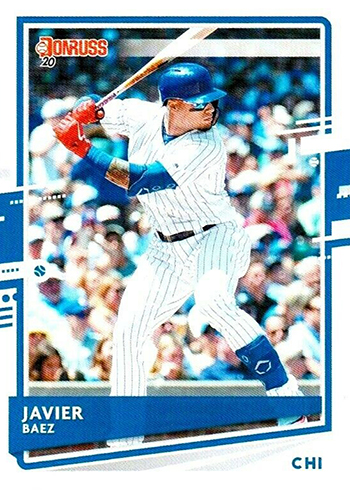 91 Gleyber Torres, New York Yankees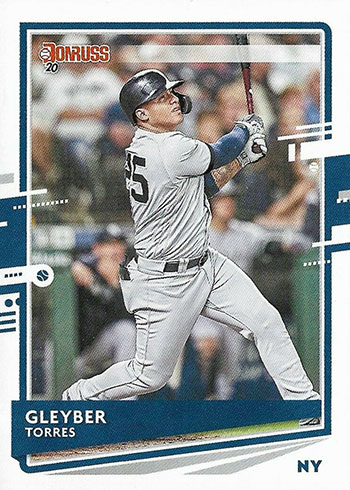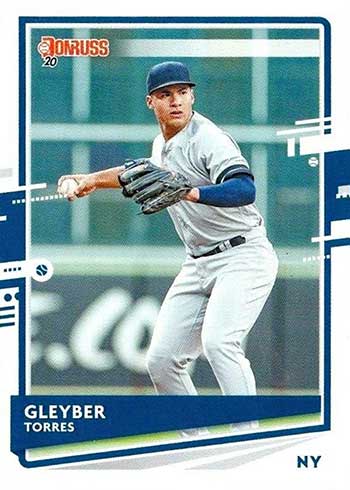 94 Shohei Ohtani, Los Angeles Angels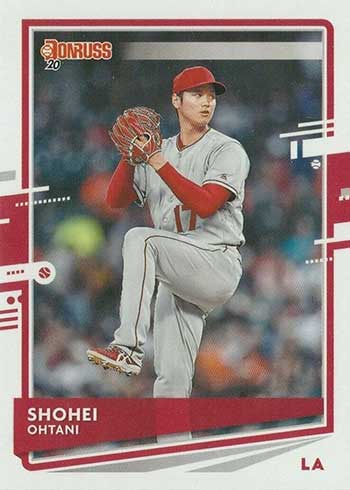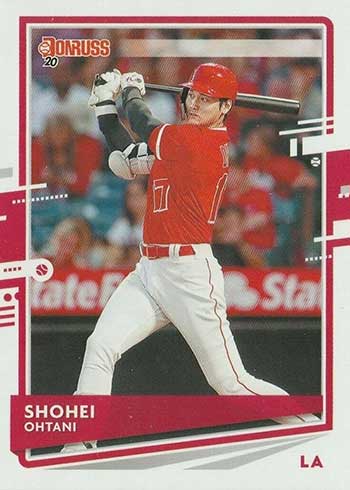 102 Vladimir Guerrero Jr., Toronto Blue Jays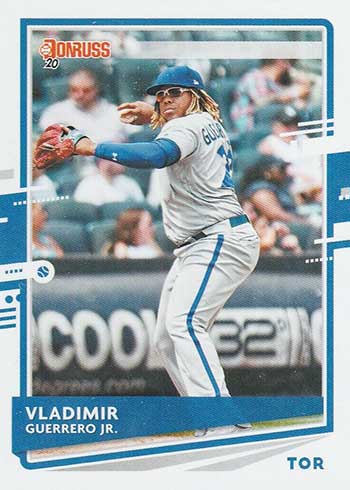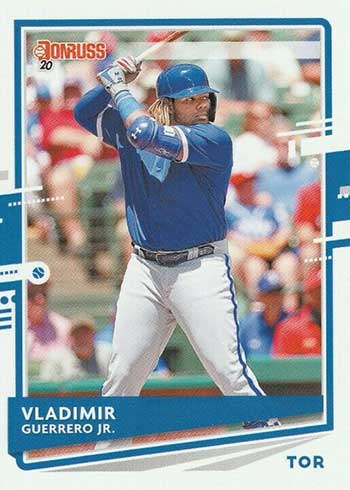 108 Trea Turner, Washington Nationals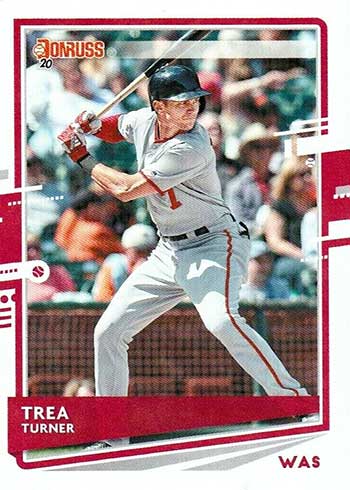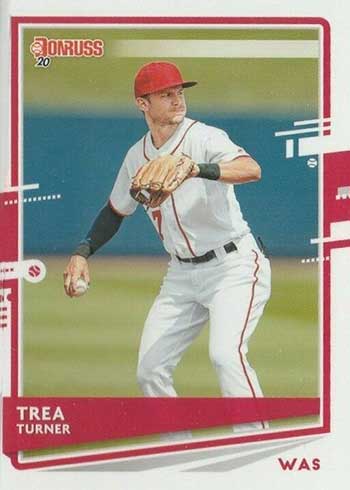 110 Christian Yelich, Milwaukee Brewers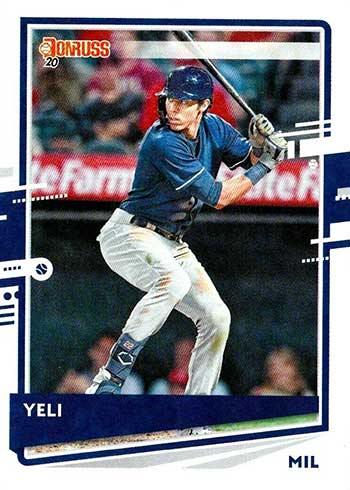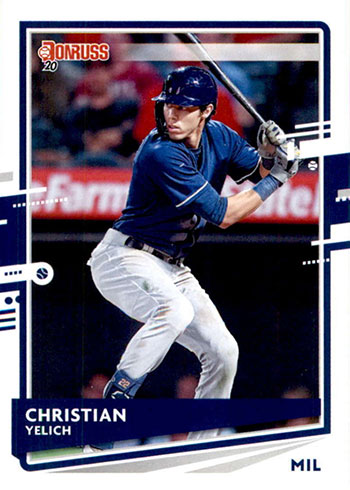 111 Aaron Judge, New York Yankees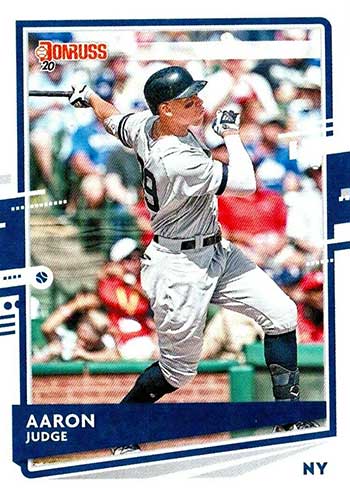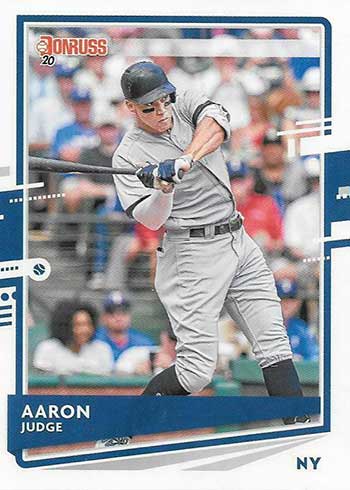 112 Alex Bregman, Houston Astros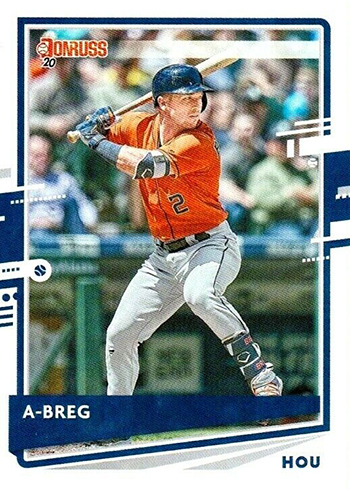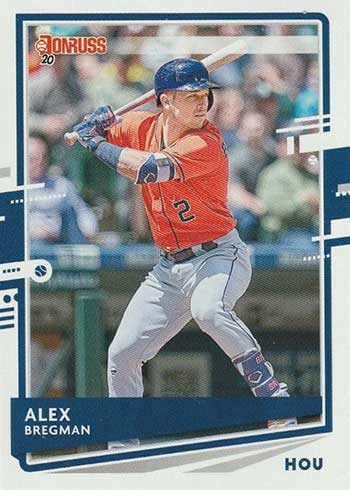 118 Clayton Kershaw, Los Angeles Dodgers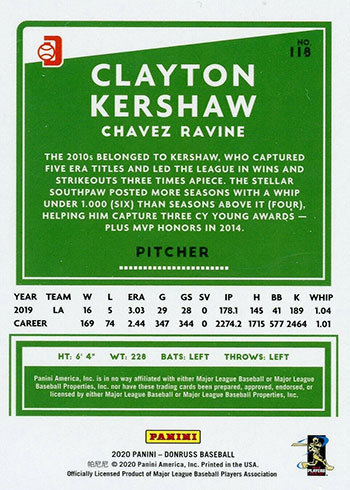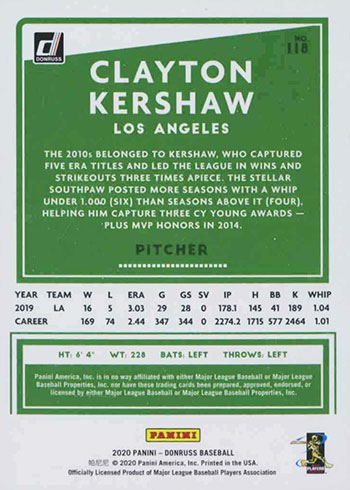 121 Eloy Jimenez, Chicago White Sox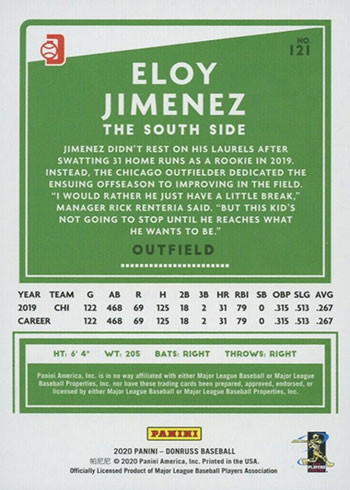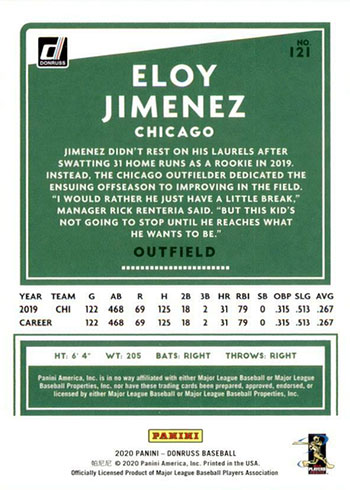 123 Max Scherzer, Washington Nationals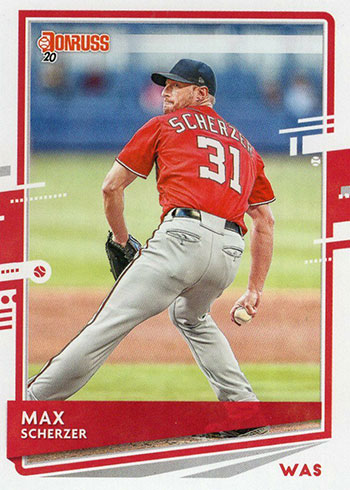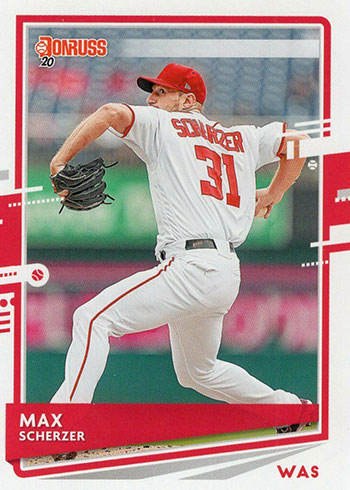 127 Paul Goldschmidt, St. Louis Cardinals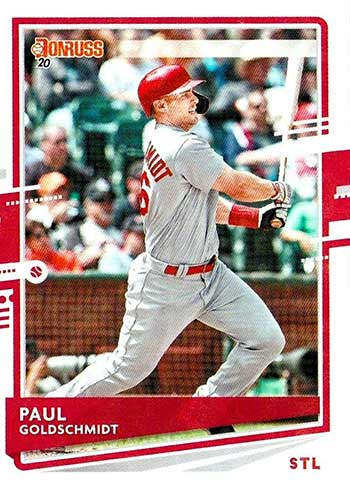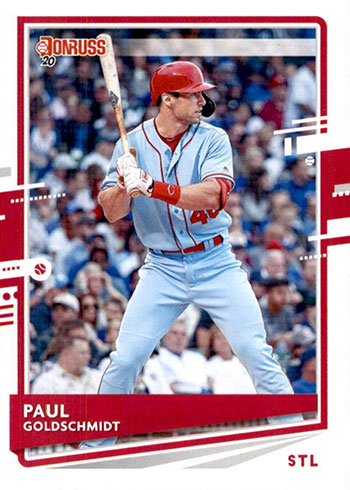 129 Mike Trout, Los Angeles Angels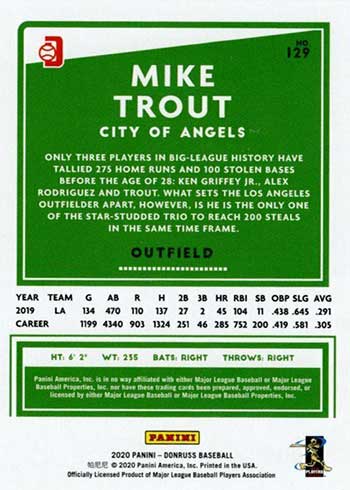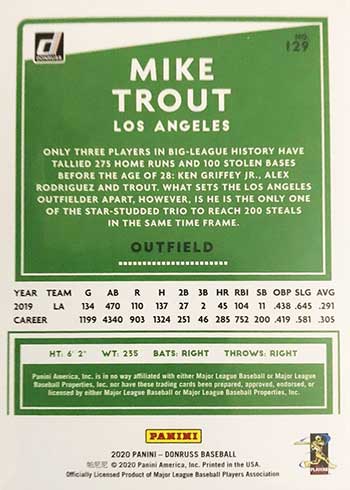 132 Anthony Rizzo, Chicago Cubs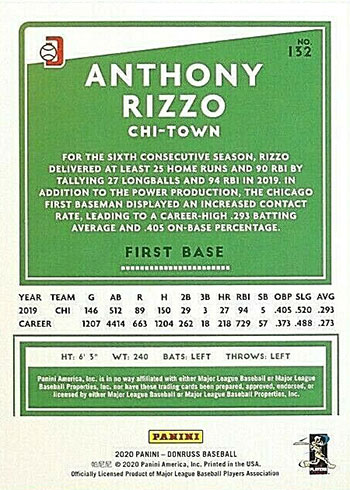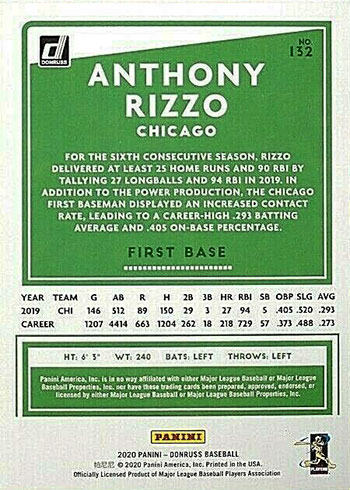 146 Josh Bell, Pittsburgh Pirates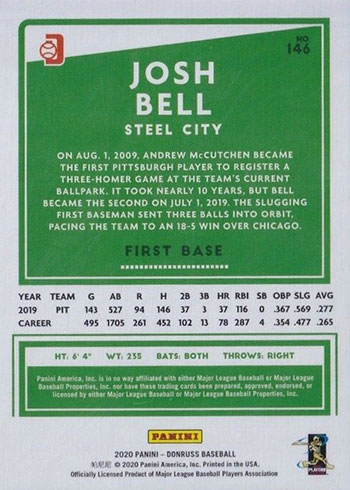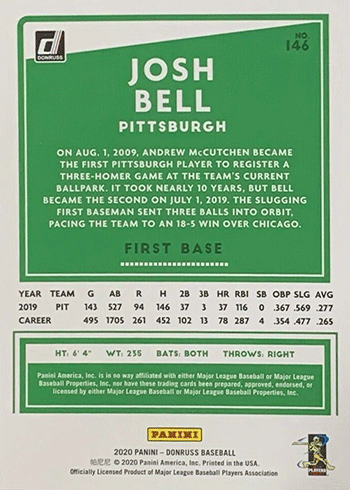 148 Francisco Lindor, Cleveland Indians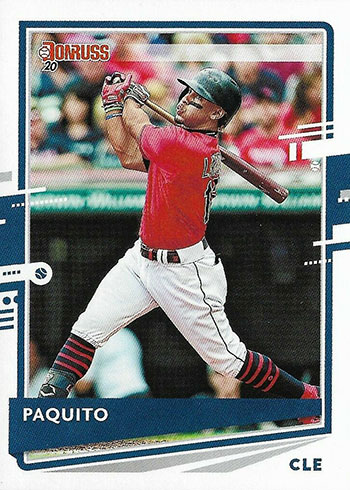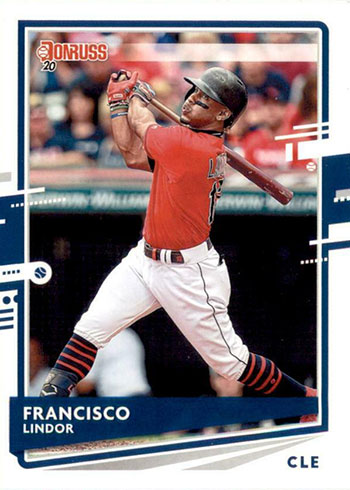 159 Jose Altuve, Houston Astros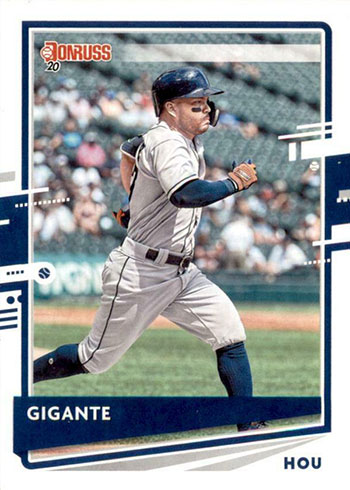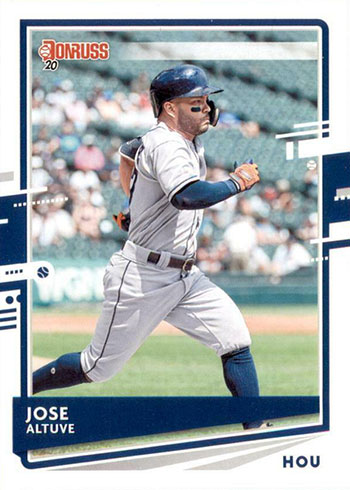 162 Juan Soto, Washington Nationals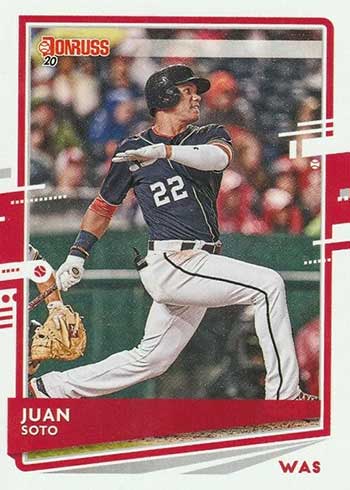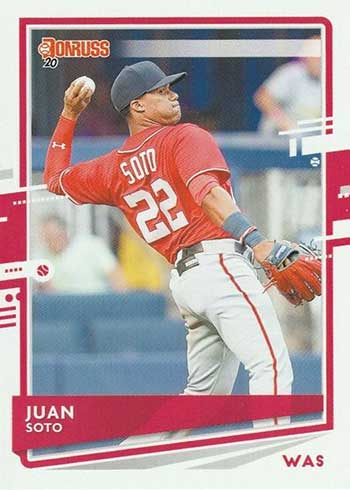 164 Rafael Devers, Boston Red Sox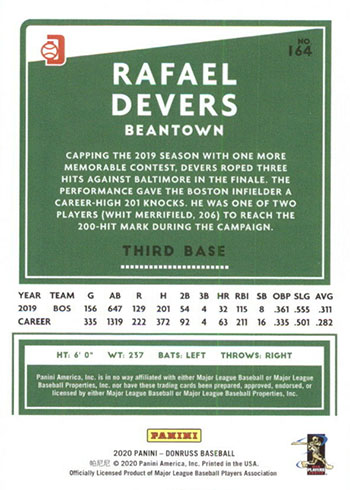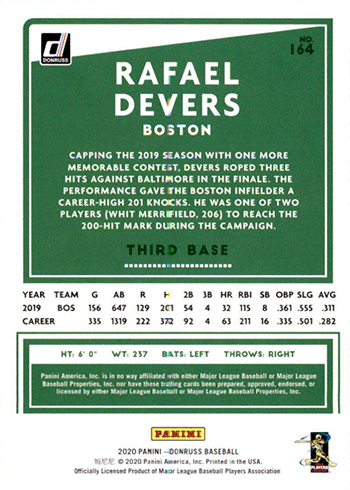 170 Ronald Acuna Jr., Atlanta Braves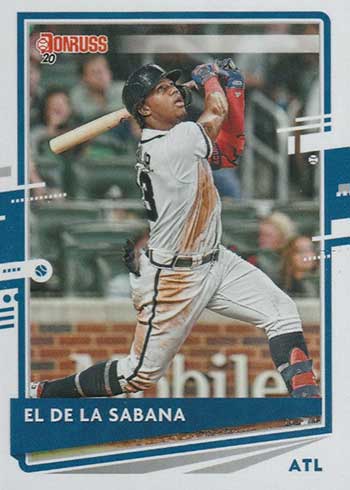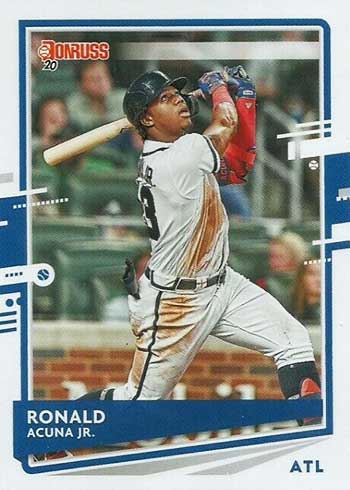 180 Kris Bryant, Chicago Cubs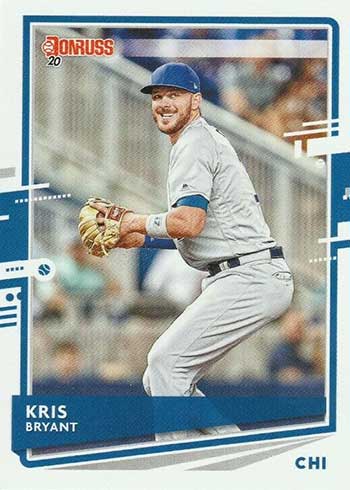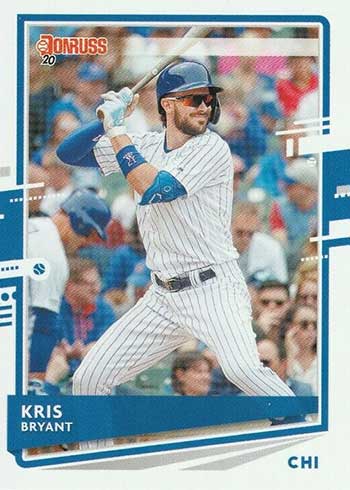 193 Bryce Harper, Philadelphia Phillies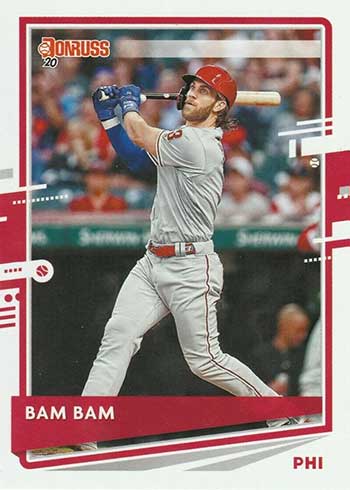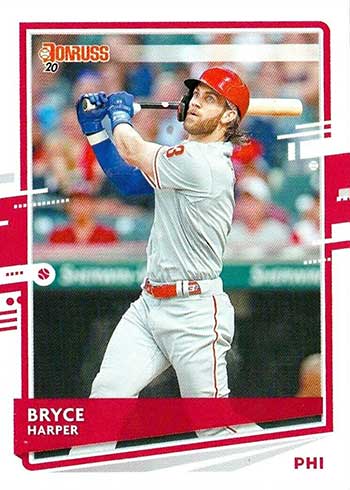 204 Pete Alonso, New York Mets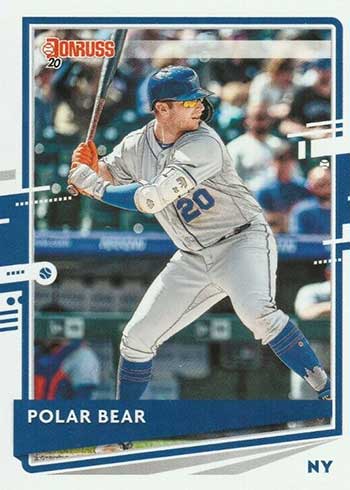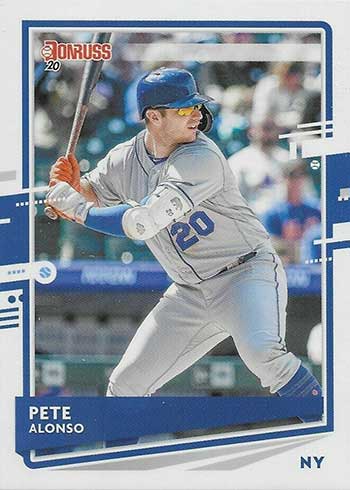 217 Kirby Puckett, Minnesota Twins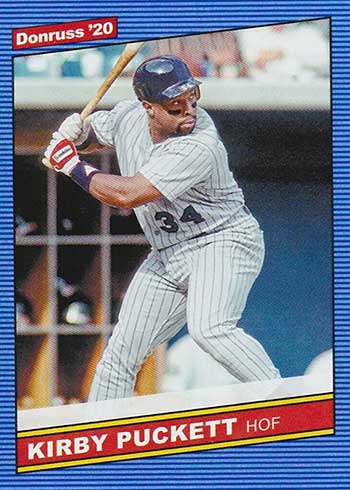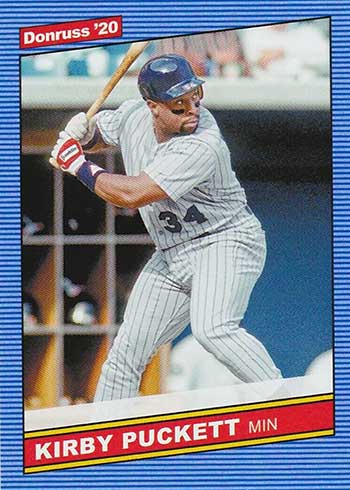 218 Tony Gwynn, San Diego Padres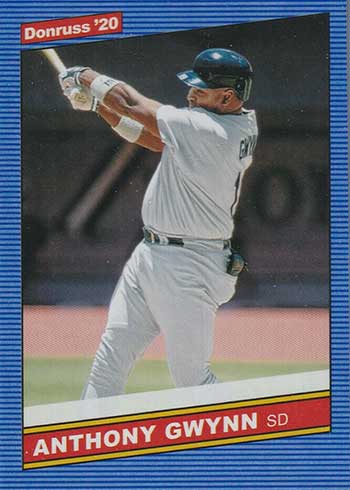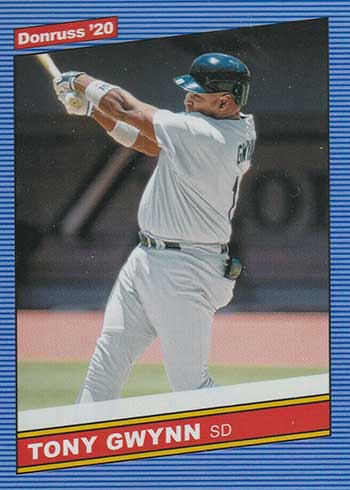 219 Rickey Henderson, New York Yankees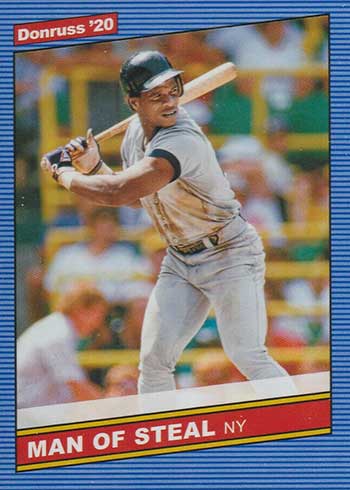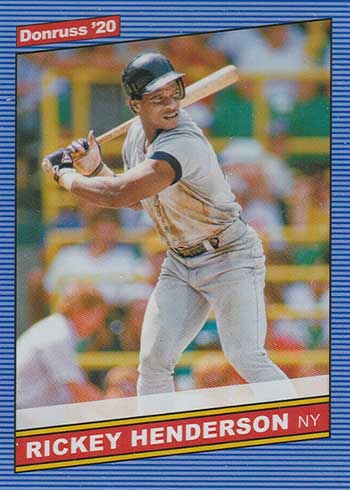 224 Cal Ripken, Baltimore Orioles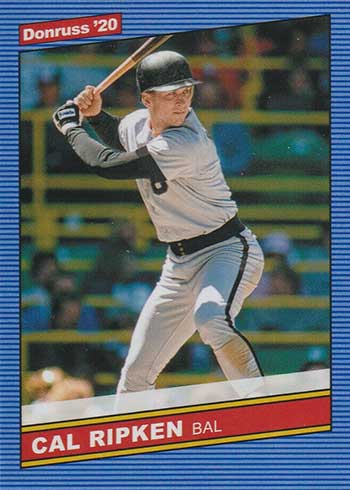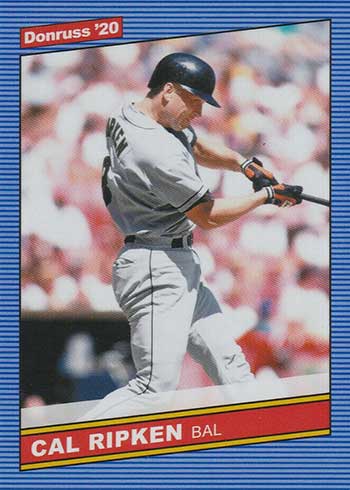 242 Bobby Bradley, Cleveland Indians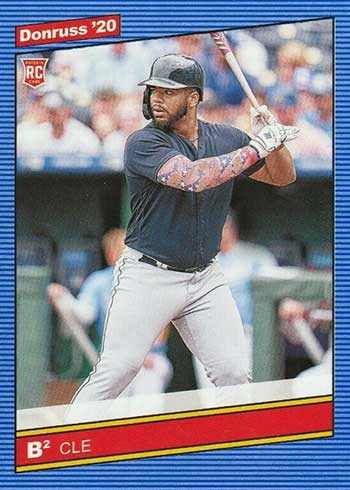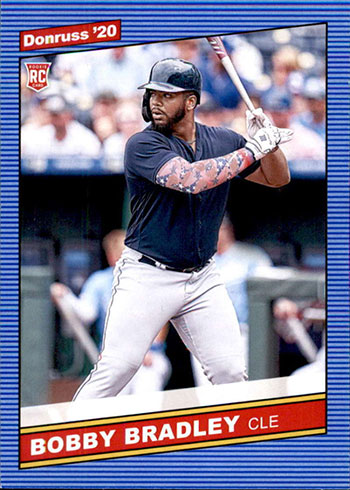 243 Logan Allen, Cleveland Indians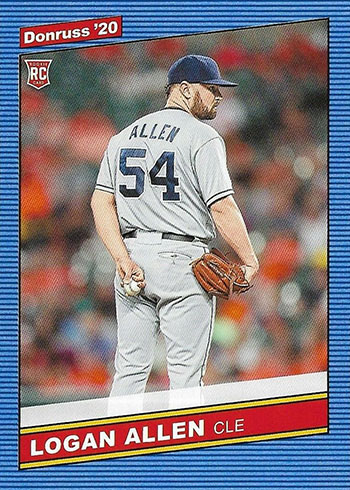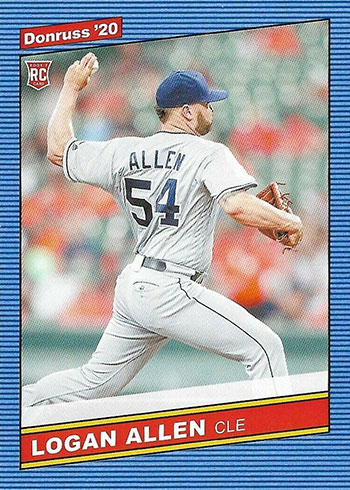 247 Zack Collins, Chicago White Sox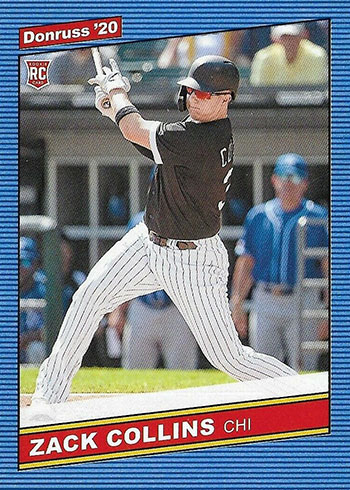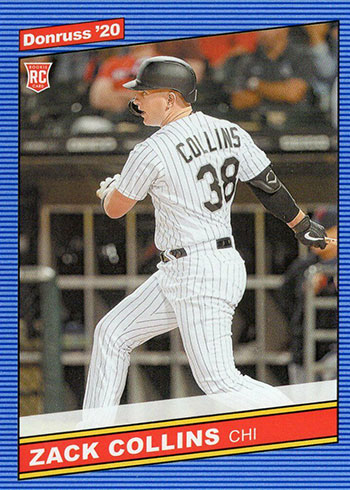 250 Travis Demeritte, Detroit Tigers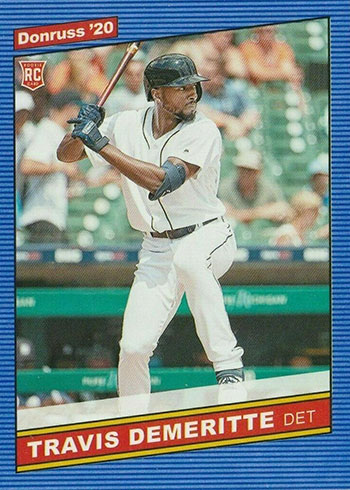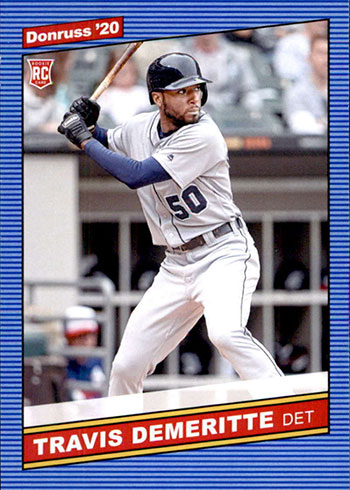 258 Adbert Alzolay, Chicago Cubs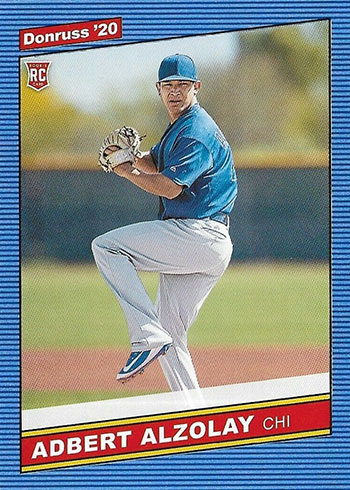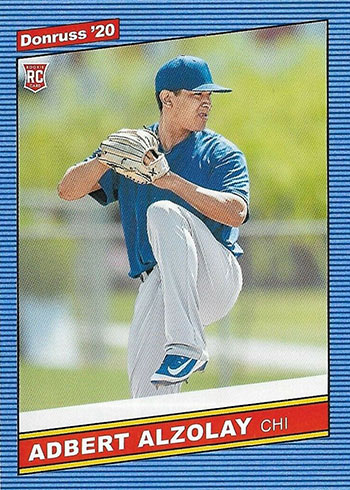 259 Yu Chang, Cleveland Indians